"Download File" link contains half of this leaderhead modpack, get the second half here:

http://www.civfanatics.net/downloads/civ3/civs/carib02.zip
Civilization:
Carib
Bonuses:
Militaristic and Seafaring (Expansionist)
Title and leader:
Cacique Jaureybo
Best/shunned government:
Feudalism (Despotism) and Republic
Aggression:
05 (too high)
Cultural group:
American
Noun:
Carib
Adjective:
Caribbean
Colors:
Pink and Light Green.
UU:
Kalipuna
Civilopedia entry:
RACE_CARIB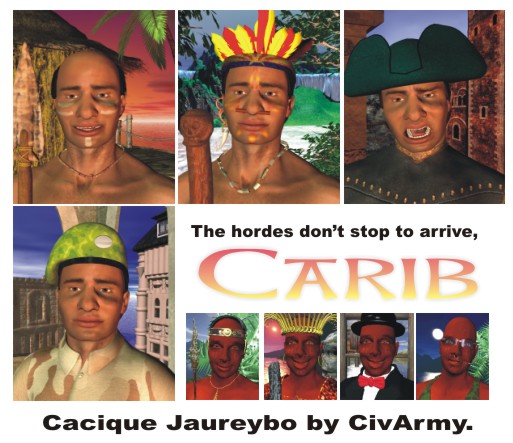 Cities:
Karie
Tarquba bay
Yarra
Airpo
Charuma
Tacarib bay
Guanapo
Makeripe
Talparo
Guatoapajaro
Siparia
Palmiste
Aruaca
Carapanchima
Guayaguayare
Matelot
Irois
Caroni
Tabaquite
Paria
Oropuche
Turure
Navet
Maruga
Tacarigua
Cuesa
Guatauro point
Mayaro
Igneri
Vega de Tani
Hayuya
Utuado
Bakairi
Nahuquas
Kalipuna
Yaio
Nepuyo
Chaima
Warao,
Carinepogoto
Garini
Cassava
Maize
Cacao
Tobacco
Fauna
Manicou
Agouti
Military leaders:
Caonabo
Hyarima
Queskeya
Hyarema
Ahameke
Scientific ones:
Cazimes
Garnet Joseph
Greneau
Guiakan
Civilopedia:
The Carib, after whom the Caribbean was named, formerly lived throughout the Lesser Antilles. The Carib language is now extinct, although Carib still live on Dominica. Garífuna, which is thought to have about 190,000 speakers, is spoken on the north coast of Honduras, by the descendants of Carib brought from Saint Vincent in 1796.
The Dominica Island was the last of the Caribbean islands to be colonized by Europeans, due chiefly to the fierce resistance of the native Carib. France ceded possession to Great Britain in 1763, which made the island a colony in 1805. In 1980, two years after independence, Dominica's fortunes improved when a corrupt and tyrannical administration was replaced by that of Mary Eugenia Charles, the first female prime minister in the Caribbean, who remained in office for 15 years.
The history of the Garifuna, however, began long before the year 1635. Saint Vincent was inhabited by a tribe of Indians who called themselves Arawaks. On arriving on the island Carib Indians fought and defeated the Arawak Indians. The Arawak men were all killed and the Kalipuna (Carib) warriors took the Arawak women as wives. The inhabitants of the island were then the result of the union of these two tribes. Because of this, the Garifuna speak an Arawak-based language and not a Caribbean-based language. Today many Garifuna are settled around the Bay of Honduras, especially in southern Belize, on the coast of Guatemala around Livingston, and on the island of Roatan, and coastal towns of Honduras.
Kalipuna, Carib UU:
Replaces Swordsman and don't need iron to be done. The Carib were a aggressive native root that inhabited Caribbean Islands and part of continental area of Americas. The most furious attack done by this root was against the peaceful Arawak root that inhabited the same region. Kalipuna is the name of the main Caribbean tribe responsible for this big attack.
Icon

Attack

Death

Victory

Forify

Default

Run