"Download File" link has half of this leaderhead pack, get the second hafl here:

http://www.civfanatics.net/downloads/civ3/civs/manchu02.zip
Civilization:
Manchu
Bonuses:
Industrious and Militaristic
Title and leader:
Emperor K'ang-Hsi
Best/shunned government:
Monarchy and Democracy
Aggression:
04 (high)
Cultural group:
Asian
Noun:
Manchu
Adjective:
Manchu
Colors:
Yellow (Egypt) and Dark Yellow (Mongols)
UU:
Banner
Civilopedia entry:
RACE_MANCHU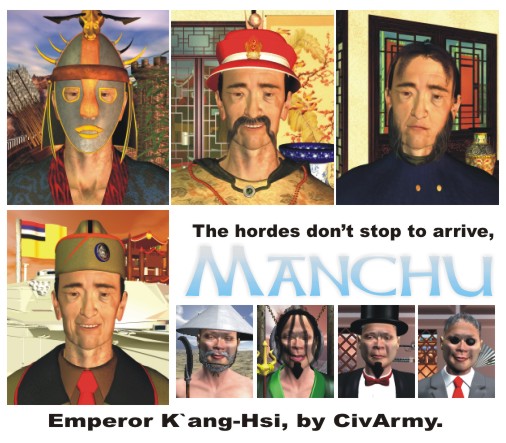 Cities:
Shenyang
Changchun
Harbin
Anshan
Fushun
Dalian
Daqing
Liutiaohu
Dandong
Hegang
Mohe
Antung
Shanhaikwan
Jehol
Peiping
Tientsin
Dairen
Kirin
Manchouli
Laha
Tsitsihar
Military leaders:
Chang Tso-lin
Chang Hsüeh-liang
Wu P'ei-fu
Feng Yü-hsiang
Nurhachu
Scientific ones:
Kang Yowei
Kuang-hsu
Li Hung-chang
Tseng Kuo-fan
Tz'u Hsi
Civilopedia:
The Manchu were originally nomads from Manchuria, North East of present China. They conquered China from 1634, when replaced the Ming Dynasty and ruled until 1911, when the democracy was declared. This region lies in the boarders with Russia, Koreas and Mongolia and was ruled by different powers in different eras. Emperor K'ang-Hsi was the first great emperor of the Manchu, he got many military victories and kept his territory safe of the enemies control.
In the first 150 years of the Manchu Dynasty, China stayed isolate of the rest of the World, every stranger traders were expulsed from the country. Just Catao harbor was opened to foreign commerce. It just changed when the Europeans made them Imperialist Empires and starts the Opio Commerce, a popular narcotic in China. After several wars, China was opened again to Occidental World. Some results of these wars were the absolute control of the ports of Honk Kong and Macao by Europeans.
The Manchu Dynasty just felt down when the Nationalist Movement got power, a movement against the monarchy and the Foreign nations. Sun Yat-Sen, its leader, was declared the first president of the Republic of China. After this, Manchuria lived few moments like a independent country, one example was in the II World War.
Today Manchuria is part of China and Russia, it is a important industrial area, its vegetation is damaged by excessive cutting and the region is rich of minerals, like iron, coal, copper, lead, zinc, magnetite, gold and uranium. There the agriculture is also present (mainly sweet potatoes, beans and cereals) and the region has a good system of transportation.
Banner, the UU:
The unit was done by Kinoat, it is part of the Mongol Units Pack
Banner replaces horseman and has one extra movement per turn.