Donwload File link only contains half of this leaderhead pack, download the second half here:

http://www.civfanatics.net/downloads/civ3/civs/jes02.zip
Name:
Jês
Combo:
Agriculture and Seafaring (Militaristic and Expansionist)
Title and leader:
Wazuriwa Sereburã
Best/shunned government type:
Despotism and Facism (Monarchy)
Agression:
02 (low).
Cultural group:
American
Noun:
Jês
Adjective:
Jês
Colors:
Dark green and Light Green ;
UU:
Zarabataneiro
Civilopedia entry:
RACE_JES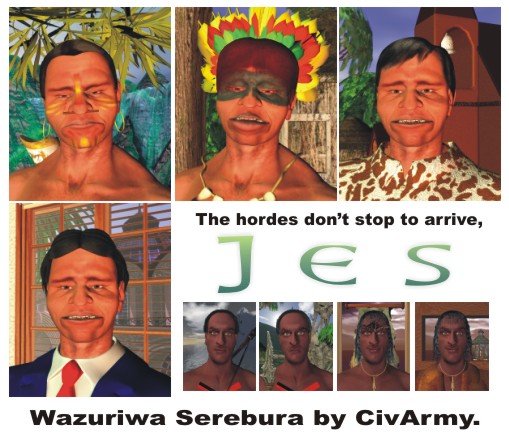 Military leaders:
Zulca
Kuiussi
Scientific leader:
Aroldo Nambiquara
Zoraide
City list:
Etêniritipa
Sõrepé
Riko
Aweti
Kapalo
Kuikuru
Ikpeng
Malipu
Juruna
Mahinaku
Aldeia Borda da Mata
Waurá
Yawalapiti
Kayapó
Kayabi
Suyá
Trumiai
Mahukará
Kauayurá
Yanómami
Tukano
Arawá
Makú
Sarewa
Apinagé
Cherente
Canoeiro
Karajá
Marãiwasede
Aragarças
Barra das Garças
Nova Xavantina
Krahô
Gavião-Pykopjê
Krikati
Canela-Apãnjêkra
Canela-Ramkokamekra
Matis
Kaingáng
Manchineri
Nambikwara
Rikbaktsa
Tapirapé
Paresi
Ticuna
Kamaiurá
Baniwa
Umutina
Xokleng
Caipó
Cataguases
Xicrin
Panará
Civilopedia, Jês:
Scientist research until today when the Human Being had arrived in Americas: some of them say it had happened12.000 years ago, other says 62.000 years ago. The modern studies say that the Jê root is the descendent of the people that inhabited present Mongolia and had arrived in the Americas by Bering Straits 12.000 years ago. It was the first great immigration route of these people, years after that happen more two ones.
The Macro-Jê root is formed by Jês, Aruaks and Karibs, three of the main native races from present Brazil and neighbor countries. The Tupi root is another one. They are divided in many groups, the Xavantes, Caipós and Yanomamis are example of groups of the Jê root: they are physically close, have cultural links and their languages have similar tracks. The Jês had inhabited almost all the present country and had had large concentration in the north of the continent. Their territory occupied since the Easter South America coast until Amazon forest. Jês lives in small groups and has not had a central command, great leader or king. Centuries before the Europeans arrived in Americas, Jês have been expelled from the coast by Tupi groups, when the Portuguese came, almost of all this native race was in the interior. Jês were called the Tapuias that means "the others" in Tupi language.
The Jês groups are peaceful, but some of them are more militaristic and aggressive then other. They are good farmer, expansionists, some groups are nomads and almost all these groups are not cannibal. They seafaring in the rivers of the tropical forest, mainly in Amazon and have extreme relationship with their rivers to survive.
Tupis started trade with the Europeans when they have arrived, they were more sociable then Jês, they were in the interior of the rain forests, they had less contact with the White Man. Some tribes live until today as those ancestral lived centuries ago, most of them do not have contact with the Civilized World until the present days.
How was typed, Jês never had a great leader that has promoted them union, in the XX century it was changed: some Jê tribes are concern to defend those rights, theirs leaders are turning politicians or creating ONGs. One of these new Jês
Leadership is Sereburã of the Xavante group: he has promoted its culture in the music, art exposition in Brazil and foreign nations and fight for the rights of his tribe. In Civilization 3 he got the title Wazuriwa that means "the massager" in Jê language, part of an old legend of his people. The chosen capital was Etêniritipa that means in this same language "the mother city", the last Xavante tribe that had contact with the Civilized World.
Zarabataneiro:
It replaces Longbowman and has one extra movement per turn (and do forest and jungle like roads).
Icon

Attack

Death

Default

Fortify

Run

Victory

[/QUOTE]