"Download File" link has the first half of this modpack, get the second half, right here!:

http://www.civfanatics.net/downloads/civ3/civs/bulgaria02.zip
Civilization:
Bulgaria
Bonuses:
Militaristic and Agricultural (Religious)
Title and leader:
Khan Boris I Michail
Best/shunned government:
Monarchy and Communism
Agression:
04 (high)
Cultural group:
European
Noun:
Bulgar
Adjective:
Bulgarian
Colors:
Dark Green (Aztecs) and Dark Red (Catharge)
UU:
Bulgar Horseman
Civilopedia entry:
RACE_BULGARIA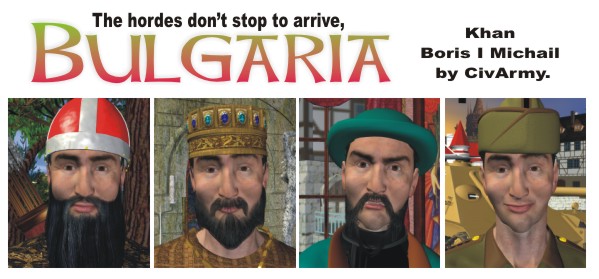 Cities:
Pliska
Preslav
Ohrid
Turnovo
Sofija
Plovdiv
Haskovo
Lovec
Montana
Razgrad
Varna
Burgas
Sliven
Tvardica
Kotel
Klokotnitsa
Trapezitsa
Ivanovo
Kutmichevista
Bankja
Pernik
Breznik
Tran
Slivnica
Svogel
Botevgrad
Elin Pelin
Pirdop
Srednogorie
Ihtiman
Samokov
Dupnica
Radomir
Kjustendil
Gjusevo
Manastir
Blagoevgrad
Razlog
Bansko
Sandanski
Goce Delcev
Petric
Kostenec
Pazardžik
Velingrad
Peštera
Batak
Devin
Cepelare
Asenovgrad
Smoljan
Rudozem
Madan
Parvomaj
Rakovski
Karlovo
Popinci
Panagjurište
Klisura
Cirpan
Dimitrovgrad
Kardžali
Momcilgrad
Zlatograd
Krumovsgrad
Ljubimec
Harmanli
Simeonovgrad
Radnevo
Stara Zagora
Kazanlak
Kalofer
Trojan
Teteven
Mikre
Ugarcin
Lukovit
Cerven Brjag
Dolni Dabnik
Trastenik
Pleven
Pordim
Brest
Gigen
Guljanci
Nikopol
Belene
Obnova
Levski
Svištov
Trambeš
Pavlikeni
Gorna Orjanovica
Veliko Tarnovo
Elena
Drjanovo
Gabrovo
Prohod
Vraca
Mezdra
Military leaders:
Kubrat Dulo
Omurtag Juvigi
Krum Dulo
Ivan Stefan Šišman
Georgi Dimitrov
Scientific ones:
Ioan Koukouzel
Konstantin Kostenecki
Grigor Tsamblak
Dimitar Kratovski
Vasil Bogomil
Civilopedia:
Evidence, including pottery shards, a fireplace and flint tools, of ancient Bulgar Bronze Age civilization dating back to at least 2700 BC (and possibly several thousand years earlier) exists in sites such as Magura Cave in the Stara Planina. Thracian tribes have left wall carvings and cave paintings, made with bat guano, which portray people hunting and dancing as well as
creatures curiously resembling giraffes and kangaroos.
Long a crossroads of civilizations (archaeological finds date back to 4600 B.C.), Danube Bulgaria (Bulgaria of present) was first recognized as an independent state in AD 681 and is among the countries in Europe, which survived and kept their original name from the longest time ago. Bulgarian Orthodox Christianity, which became a hallmark of national identity, was
established in the 9th century. Bulgaria was ruled by the Byzantine Empire from 1018 to 1185 and the Ottoman Empire from 1396 to 1878. In 1879, Bulgaria adopted a democratic constitution and invited a German nobleman, Alexander of Battenberg, to be prince.
The present-day Republic of Bulgaria is situated in South-eastern Europe, to the right of the lower reaches of the Danube River. Her Black Sea coastline is famous for its resorts. The distinguishing geographic feature of the Balkan Peninsula - the Balkan Range (the Haemus, the Balkan) - stretches within its borders. The mountain massifs the Balkan Range, Sredna Gora, Strandja, the Rhodopes, Rila and the Pirin mountains - and the open plains make up the relief of this country which, over the elapsed thirteen centuries, has more than once discovered, rediscovered and revived itself; it has been discovered and rediscovered by other nations and countries as well. Bulgaria emerged and received official recognition following two victories over the cosmopolitan Byzantine empire. The first battles took place in the Danube delta area in the year 680 A.D. The conflicts continued in the following year, spreading south of the Balkan Range. This is cited in the Acts of the Sixth Oecumenical Council of the Christian Church in Constantinople (present-day Istanbul).
Bulgar Horseman, the UU:
This unit was done by Utahjazz and the original name is Slavic Horseman
This unit replaces Horseman and has one extra moviment per turn.