"Download File" link contains half of this leaderhead modpack, get the second half here:

http://www.civfanatics.net/downloads/civ3/civs/sweden02.zip
Special thanks for all the fellows that helped me in the "Swedish Civilization Preview treat", posting good tips and enjoying this civ. Thank you!!!
Civilization:
Sweden
Bonuses:
Industrial and Scientific
Title and leader:
King Gustav II Adolf
Best/shunned government:
Monarchy and Despotism
Agression:
04 (high)
Cultural group:
Europeans
Noun:
Swedes
Adjective:
Swedish
Colors:
Blue (Persia) and Dark yellow (Mongols).
UU:
Caroline
Civilopedia entry:
RACE_SWEDEN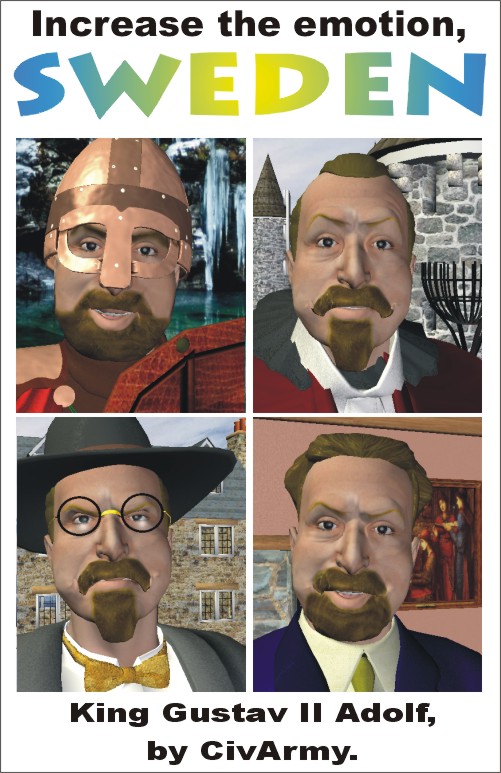 Cities:
Stockholm
Göteborg
Uppsala
Linköping
Skara
Västerås
Kalmar
Lund
Norrköping
Malmö
Örebro
Visby
Falun
Sigtuna
Karlskrona
Jönköping
Gävle
Nyköping
Karlstad
Strängnäs
Växjö
Helsingborg
Arboga
Sala
Varberg
Sundsvall
Vadstena
Härnösand
Borås
Halmstad
Mariestad
Södertälje
Västervik
Eskilstuna
Umeå
Skövde
Vänersborg
Luleå
Uddevalla
Karlshamn
Ystad
Söderköping
Hudiksvall
Ronneby
Lidköping
Östersund
Kristianstad
Köping
Alingsås
Landskrona
Eksjö
Enköping
Piteå
Vimmerby
Falköping
Ängelholm
Ulricehamn
Norrtälje
Skellefteå
Trelleborg
Kristinehamn
Strömstad
Kiruna
Borlänge
Motala
Örnsköldsvik
Military leaders:
Eric the Victorious
Emund the Old
Stenkil Ragnvaldsson
Hakon the Red
Gustav Vasa
Scientific ones:
Georg Stierhielm
Johannes Magnus
Johan Ericsson
Linnaeus
Anders Celsius
Civilopedia:
By St. Galven, thanks again friend!
Even though official Swedish history begins as late as possible we can note that Tacitus (about 90 AD) described a nation called "Suiones" living on an island in Sea. These Suiones had ships that were peculiar because they had a prow in both ends (the shape we recognise as Viking ships). We can also note that Rome received gifts from a people called "Suethidi"(cf. the Old Norse name for Sweden: Suithioth). The Goths also mentioned a people in Scandinavia called Suehans. We can conclude that although written sources in Sweden appear late, the country has much older roots.
During the 12th century, Sweden gradually became a unified Christian kingdom that would also come to include Finland. Queen Margaret I of Denmark united the Nordic countries in the Kalmar Union in 1397. Continual tension within the countries and within the union gradually led to open conflict between the Swedes and the Danes in the 15th century. The union's final disintegration in the early 16th century brought on a long-lived rivalry between Denmark on one side and Sweden on the other.
Sweden's predominantly agricultural economy shifted gradually from village to private farm-based agriculture during the Industrial Revolution, but this change failed to bring economic and social improvements commensurate with the rate of population growth. About 1 million Swedes immigrated to the United States between 1850 and 1890. The 19th century was marked by the emergence of a liberal opposition press, the abolition of guild monopolies in trade and manufacturing in favour of free enterprise, the introduction of taxation and voting reforms, the installation of national military service.
During and after World War I, in which Sweden remained neutral, the country benefited from the world-wide demand for Swedish steel, ball-bearings, wood pulp, and matches. Post-war prosperity provided the foundations for the social welfare policies characteristic of modern Sweden.
Sweden followed a policy of armed neutrality during World War II and currently remains non-aligned. Sweden became a member of the European Union in 1995.
Caroline, the UU:
It replaces Musketman , has 2 extra defensive points and cost 10 shields more.