This is the Hopper, also for Sween's World of Conflict scenerio. Hopefully, Sween can give some information about the unit because I can't say much. As far as I know, it's a marine with a communications backpack. Enjoy.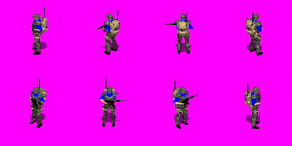 I haven't tested this unit either. Please, inform me of any problems. Oh, here's one problem. His legs rip through his pants during the fortify animation's NW, N, and NE views. Sorry.
Get the fixed animation here.
http://forums.civfanatics.com/showpost.php?p=4018786&postcount=14