NOTE: I NEED TO CLEAN UP THIS MODCOMP'S CODE AS THERE IS A LOT OF USELESS CODE CURRENTLY IN THE UPLOAD. I WILL GET TO THIS WHEN I HAVE TIME.
This unit acts like the popular Inquisitor mod going around, but for corporations.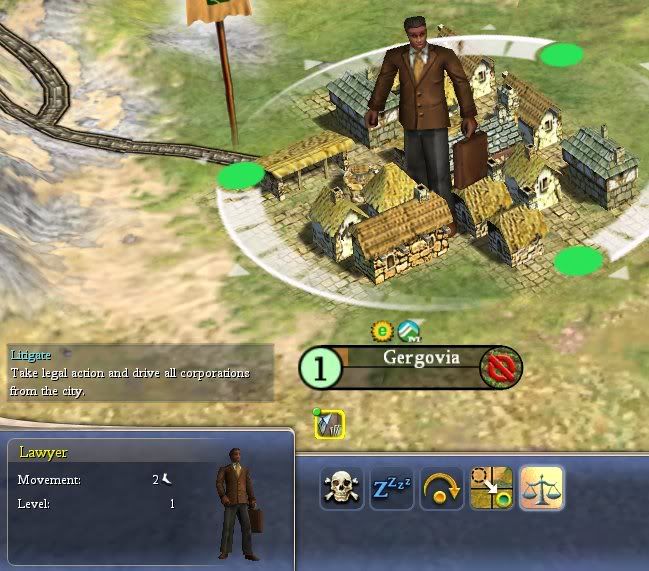 Great for Modern Crossroads of the World mods or mods with a Commerce Victory!
To install, just unzip to your MODS folder.
Multiplayer Compatible
This is another unit I made for my big total mod coming out soon.
Here are the stats:
Lawyer - 2 Movement
National Unit (2 Allowed)
150 Hammers
Abilities:
Litigate: Removes all corporations from the target city
Available at Corporation
Note:
I made this unit primarily for my upcoming total mod, so therefore he is formated to fit it.
- Can only litigate in your own or your vassal's cities
- Removes all corporations - no choice
- Can remove a Corporate Headquarters, however this drastically reduced the chance that litigation will succeed. Additionally, doing so removes the Corporate Headquarter's Building.
If someone wants to tweak and refine the unit, please do. I wanted to add a gold cost to the ability but couldn't figure out the python. Additionally, there's currently no AI for the unit. I might do this for version 2.0 but am very busy at the moment so can't promise it anytime soon. If someone wants to take a crack at it I figure something like: loop through opponents, check their gold slider, if below x%, form a corp loop with their cities, if has a headquarters ignore, if doesn't and they don't own the headquarters use Lawyer, etc, but that has a lot of holes in it.
All the python changes should be marked. (The python also includes my other Great People mods, but that's also marked and can be ignored).
Credits:
Modern African Settler Model: Chugginator
Thread