"Download File" link only contains half of this two-part leaderhead modpack, get the second half right under this:

http://www.civfanatics.net/downloads/civ3/civs/tupi202.zip
Civ Name:
Tupi
Bonuses:
Militaristic and Agricultural (Expansionist)
Title and Leader Name:
Aiyra Paraguaçu
Favorite and Shunned Government:
Despotism and Fascism (Monarchy)
Aggression Level:
04 (high).
Culture Group:
American.
Noun:
Tupi
Adjective:
Tupi.
Default and Alternative colors:
Dark Green and Light Green.
Unique Unit:
Tabusuguara
Civilopedia entry:
RACE_TUPI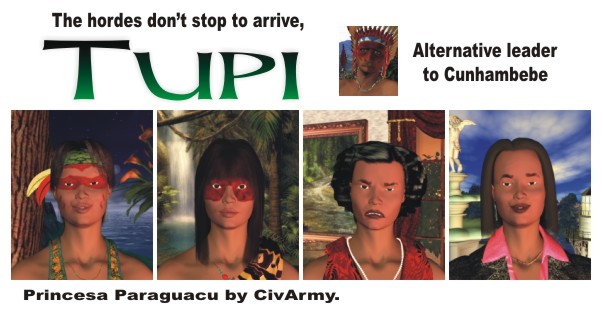 City names list:
Tupinambá
Yperoig
Guarani
Tapes
Carijós
Arachãs
Tabajara
Potiguara
Tupinikim
Caeté
Goitaká
Guajá
Xeta
Pernambuco
Potiú
Kuruaya
Sateré-Mawé
Cinta Larga
Paiter
Gavião
Amanayé
Tupari
Anambé
Aweti
Kuruaya
Macurap
Zoró
Karo
Xipaya
Amondawa
Karitiana
Sakurabiat
Ajuru
Yudjá
Aruá
Aldeia Rio Branco
Military leaders list:
Japiaçu
Caokira
Pindobuçu
Marçal Tupã-y
Seathle
Scientific leaders list:
Aimberê
Momboré-Guaçu
Catarina Paraguaçu
Pajé Guirá Pepó
Momboré-uaçu
Civilopedia The Tupis:
The Tupis are the most important Brazilian Native Indian race, Jês, Caribs and Arawaks being the other ones. They have many divisions. The Tupi root, for example, is divided between the Guaranís, Tabajaras, Tamoios and dozens of other tribes. The Tupi groups are linked by language, social organization and some cultural links. They inhabited the eastern coast of South America and parts of the interior, having borders with The Jês and other races. They live in small villages and never had a King or Great Leader who promoted their unification. Today, Brazil has 350.000 Native Indians, they continue living in small villages inside the forest (protected by government laws) or in big cities. Before the Portuguese and Europeans conquered theirs land 500 years ago, they were more than 5 million, just on present day Brazilian territory.
Cacique Cunhambebe is the great leader of this Civ in Civilization 3. The cacique is the most import person on Tupi society, they are the leaders of their tribes. Cunhambebe, cacique of the Tamoios, fought against the Portuguese in XVI century, in the biggest Indian rebellion against the abuses of the Europeans in Brazilian lands. He organized his tribe and allies to fight for freedom. This war was in the coast of nowadays São Paulo and Rio de Janeiro states. The Tupi won the starting battles, but, after having signed a peace agreement, they were betrayed by the Colonists and destroyed. Tupinambá, the main village of this group was totally destroyed, as well as the little and allied ones. This village was the most important settlement in Tupi history, its power is compared with the most powerful cities of The Aztecs and Incas. After this episode, Tupi survivors fled to the interior, where they were enslaved or married with the Europeans to promote the occupation of the colony. Cunhambebe died of a strong flu after the wars, he gathered many Tupi Tribes for a short time, as a Great Leader.
Tupi have the bonuses Agricultural (they survive by agriculture, fishing and hunting) and Militaristic (the war is a holy tradition of their culture). In spite of the peaceful way of life, Tupi are warriors and are concerned with the art of war. In Vanilla and PTW versions, Tupi are considerate Militaristic and Religious.
Tabusuguara (UU):
It replaces settler and has one extra movement per turn.
Icon

Build

Captured

Run

Default

Death