"Download File" link contains half of this leaderhead, download the second half here

http://www.civfanatics.net/downloads/civ3/civs/brazilians0302.zip
Civilization:
Brazilians (version 3)
Bonuses:
Religious and Agricultural (Commercial)
Title and leader:
Princess Isabel
Best/shunned government:
Republic and Feudalism (Monarchy)
Agression:
03 (neutral)
Cultural group:
American
Noun:
Brazilians
Adjective:
Brazilian
Colors:
Yellow (Egypt) and Blue (German)
UU:
Soldado da Floresta
Civilopedia entry:
RACE_BRAZILIANS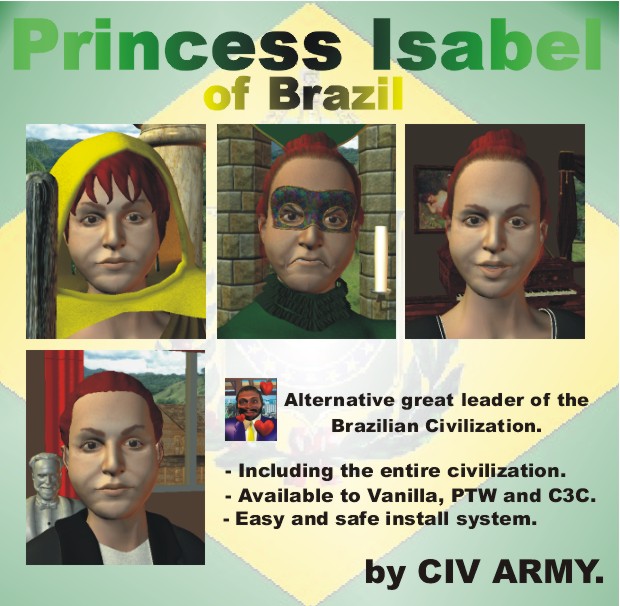 Cities:
Brasília
São Paulo
Rio de Janeiro
Belo Horizonte
Salvador
Porto Alegre
Fortaleza
Recife
Curitiba
Campinas
Goiânia
Belém
Manaus
São Luiz
Guarulhos
Santos
Santo André
São Bernardo do Campo
Osasco
Barueri
São José dos Campos
Vitória
Campo Grande
Florianópolis
Cuiabá
Natal
Maceió
João Pessoa
Teresina
Aracajú
Palmas
Rio Branco
Macapá
Porto Velho
Boa Vista
Sorocaba
Ribeirão Preto
Bauru
Presidente Prudente
Jundiaí
Piracicaba
São Carlos
Araçatuba
São José do Rio Preto
Niterói
São Gonçalo
Campos
Petrópolis
Uberlândia
Uberaba
Betim
Juiz de Fora
Londrina
Maringá
Caxias do Sul
Gramado
Pelotas
Camboriú
Blumenau
Olinda
Campina Grande
Porto Seguro
Juazeiro
Petrolina
Santarém
São Caetano do Sul
Diadema
Limeira
Taubaté
São Sebastião
Jacareí
Mogi das Cruzes
Rio Claro
Americana
Paulínia
Jaguariúna
Vinhedo
Indaiatuba
Itu
Franca
Araraquara
Barretos
Botucatu
Barra Bonita
Military leaders:
Duque de Caxias
Deodoro da Fonseca
Floriano Peixoto
Dom Pedro II
Getúlio Vargas
Scientific ones:
Santos Dummond
Vital Brasil
Herculano Florence
Padre Roberto Landell de Moura
Machado de Assis
Civilopedia:
The mix of European, African, Native American and Asiatic cultures results in the Brazilian Civilization. It started in XV century, when pioneer sailors coming from Portugal arrived in present day Brazilian territory.
These lands were inhabitant by native Indian races, as the Tupis, Jês, Karibs and Aruaks, that were killed by the superior European armies. The survivors were enslaved or were married to their new masters. First, the Portuguese arrived, to explore the unique wood Pau-Brasil (origin of the name Brazil) and plant crops, then later the French, English, Dutch, Spanish and other nations, to plunder and conquer new lands.
There were many wars in this Portuguese colony, because it had natural resources and rich soil for agriculture. These wars happened between Portugal, rival nations and the colonists. The economical activities were based on things such as wood, sugar, exotic plants, gold and cafe. These activities were all important in Brazil. In the cycle of sugar, for example, the northeast coast, the main area of this activity, ruled all the life in colony. When the importance of sugar died down and the gold rush began, the southeast became the economical, political and cultural heart of Brazil.
The main method originally used by the Portuguese to support their economy in Brazil was slavery. Africans were enslaved in their continent, to work in the crops and mines in colony. They came mainly from nowadays Mozambique and Angola, former Portuguese colonies in south of Africa. Slavery was abolished only in XIX century, creating many chances for poor Europeans and Asians that dreamed of a better life. So, people from Italy, Japan, Middle East, Korea, more Portuguese, Spanish and others arrived in the country.
Brazil attained political independence in 1822, when Dom Pedro I, A PORTUGUESE PRINCE, declared Brazil and Portugal two separated kingdoms. He did that so his family could continue to rule both countries. When his father died, Dom Pedro I went back to Portugal to take over the royal seat, his son, Dom Pedro II, continued ruling in Brazil. The Empire was replaced when the Republic was declared in 1889. The Republic continues today, but stopped in two periods: from 1930 until 1945, when the popular farmer Getúlio Vargas ran a bloody dictatorship and from 1964 until 1986, when the army took over the country, supported by United States of America government, saying that URSS had a plan to invade Brazilian boarders.
Brazil today has one of the 15th largest GNP of the entire world and has good prospects for the future, in spite of the constant crises: agribusiness, commerce, factories and tourism developed quickly in the XX century, along with the highest tax rate in the Western World, higher than in the United States. The natural resources, such as drinking water, are abundance in the rain forests and attract International interests. The worst problem of the country is the division of the wealth, resulting in favelas (shantytowns), urban violence, landless people, starvation and diseases. Because of this problem and its consequences, people say that Brazil is a sleeping giant.
In Civilizaton 3 Conquests, the Brazilians are considered Religious (the country has the biggest concentration of the Christian people around the Planet) and Agricultural (agriculture and extractives are important activities in the history of the nation). In the Vanilla and Play the World version, they are Religious and Commercial.
Soldado da Floresta, the UU:
It replaces Marine and has one extra movement per turn. They are the elite corp. of the Brazilian army and it specialty is fight in forests and jungles.
Icon

Default

Run

Death

Fortify

Victory

Attack