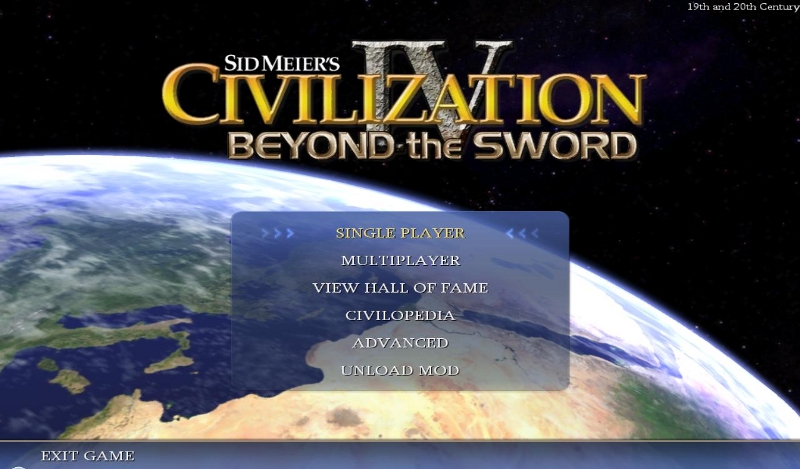 19th and 20th Century mod
​
Current version 2.3(BTS 3.19)
Download
Mirror download
http://www.atomicgamer.com/files/87546/19th-and-20th-century-mod-2-3
Older versions
1.2(BTS 3.17)
Download
This mod supports only English.
About the mod
The idea for this mod started, because I have myself always prefered the late game in civ. Unfortunately it always took SOO much time to get there, and the late game start, where you start in any other than ancient era, weren't realistic at all. So I decided to make a mod focusing the late game. Like the name says it focuses to 19th and 20th centuries. The name may sound stupid and wierd because I didn't have any better ideas, but that shouldn't change the game play.

I started making it by asking what do you other people want in it. I have myself always lacked ideas. But anyway, I got lots of great answeres and help from these great forums. In the future I'm going to focus more coding than graphics but not going to forget them totally.
I have redone nearly the entire tech tree, but the late game might still need some fixing and balancing. Also because I have deleted old parts (buildings, eras, tech, units, etc...) the events and quests can have wrong text messages and even effects.
I recommend you to play with many civs and large or huge map with epic or marathon speed. The research speed has been made in the noble difficulty to
almost
represent the real history. (I have tested it myself, and it's fairly possible that you play better than me

)
And in the end enormous thanks to jdog5000, without the help I got this mod wouldn't have been finished.
This is my first mod so I would like to know what you think about it. If there are problems with the mod or if you would like to change something, post here! And please, if you download give me some feedback.
Customizing the mod
Because of the incorporated BUG, there is now more user friendly interface where to modify the options. I have moved the options from xml to the BUG screen.
Current features
Better BTS AI
Better BUG AI
Cultural Citystyles
Route Air Bombing
Ranged Bombard
Hire Units Advisor
Global Warming
Ruthless AI
Occasional promotions
And that's only few of them. You will find lots of interesting things that makes the game even more enjoyable.
Known issues
-There is still missing some buttons
Future plans
-bug fixing
Please inform me if you find any bugs or errors. Also tell me everything you think should be changed. New ideas and suggestions are still welcome.
Version History:
Credits:
Have fun playing and I hope you enfoy!