Joined

Apr 27, 2004
Messages

6,374
Location
All Leaders Challenge Game #26:
Willem van Oranje/Dutch
​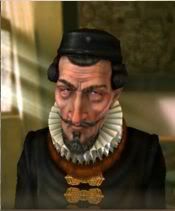 ​
Pre-Game Thread
Starting Position (this post, below)
First Moves: 4000 BC
Early Days: 4000 BC to 2825 BC (47 turns)
Wars and Wonders: 2825 BC to 1375 BC (58 turns)
England's End: 1375 BC to 800 BC (23 turns)
Exploration and Expansion: 800 BC to 580 AD (84 turns)
World War One: 580 AD to 1130 AD (46 turns)
First of all, for those of you wondering - no, I'm not Sisiutil.

As of Game 25, Sisiutil has decided to retire from the ALC series. You can read more about the reasons behind his retirement in the first post of the ALC Bullpen thread (
click here
).
But even though Sisiutil is retiring from the series, many people (including Sisiutil himself) have expressed their desire that the ALC series should continue... right through the remaining 27 leaders! Hence, from this game onwards, a few experienced and dedicated CFC members (including myself) will be taking the liberty of writing up alternate ALC games. (In other words, one person might do game 26, another game 27, and so on.) None of us are Sisiutil, so we may have slightly different styles of writing and storytelling to what you've been used to in the past - but nevertheless, the series will continue to be fun, entertaining and informative!

The idea of the All Leaders Challenge is to play through a full game with each of the Civ IV leaders. With the help of all the posters who participate, we will attempt to make the most of each leader's unique characteristics: traits, starting techs, unit, and building. Aside from the leader, the other game settings are (mostly) kept constant for the sake of comparison. Saved game files, screenshots, and status reports will be posted here as the game progresses. This way everyone has a chance to chime in with their strategy ideas, or to voice their frustration (or glee) when the person playing the game makes a mistake.

Everyone is invited to offer opinions and advice, and to make their own attempts at playing the same game. But if you do play a "shadow game", it is kindly requested that you
refrain from posting spoilers
- in other words, any facts or even hints about the map, opponents, and so on - before that piece of information is common knowledge in this thread. We're trying to play these games as authentically as possible, so we don't want future events in the game spoiled for us, thanks.

In this ALC game, I'll be playing as
Willem van Oranje
, leader of the Dutch. I'm playing the game using the
Beyond the Sword
expansion pack, its latest patch (
3.17
), and version 3.6 of the
BUG mod
. Note that I am not using any unofficial patches.
The difficulty level is
Immortal
for this game, and the speed is
Epic
. We are playing on a
Standard
size map, which uses the
Big & Small
(Snaky Continents / Islands / Islands Mixed In) map script. The number of players has been set to
7
(i.e. 6 AI players), and a
low
sea level has been chosen to make the game slightly more challenging for us (as the Immortal AI tend to do better if they have more land available). All other game options not mentioned have been left at the default settings.
These settings should lead to a map with a few large islands and several smaller islands. There should be around 1-4 civs per island, and many civs should be able to meet by coast. All in all, it should be a great game!

The details of the map configuration are below.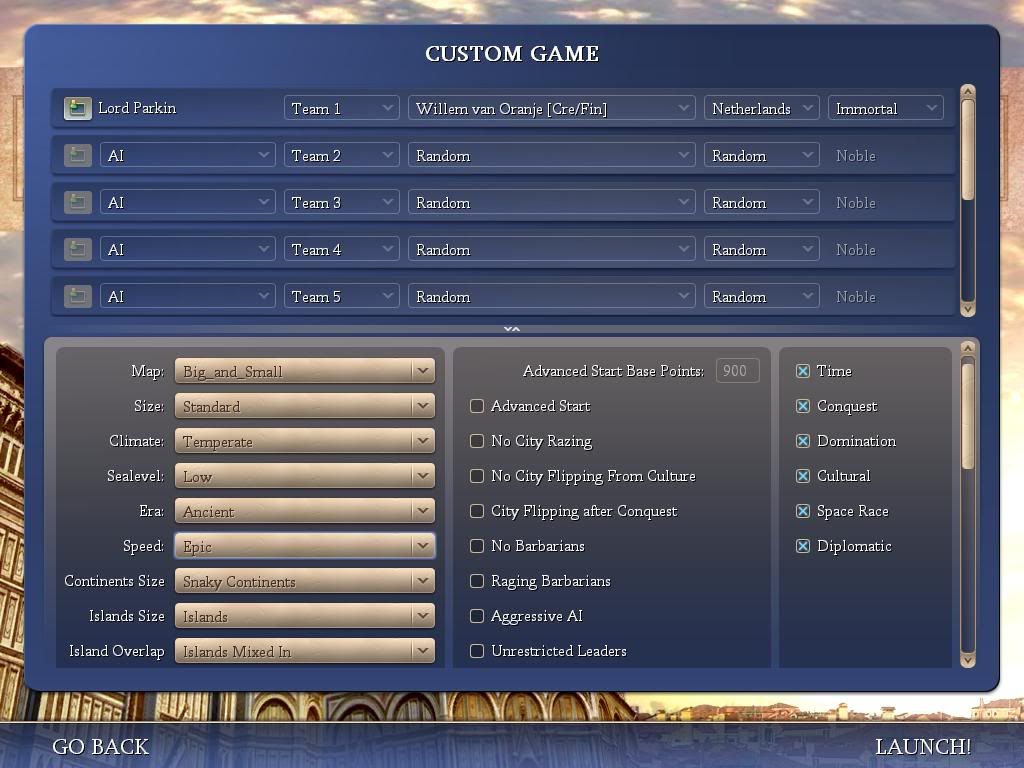 A reminder as to Willem's unique characteristics: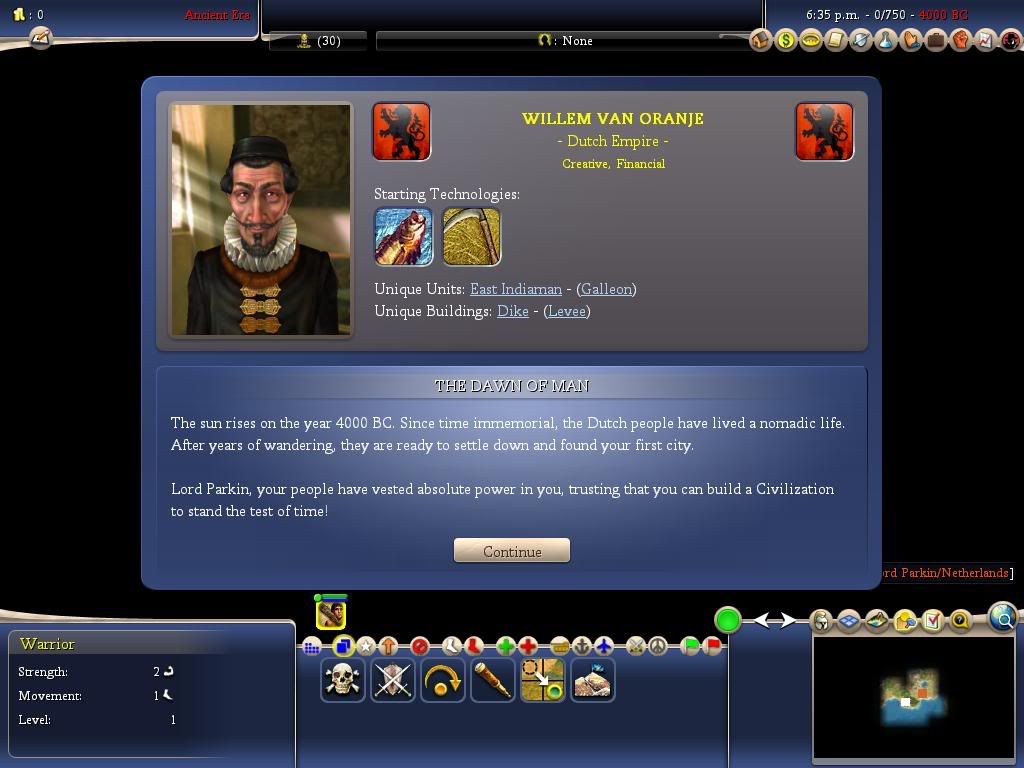 So, we start with the ability to build Work Boats and farms, as well as Animal Husbandry being easily accessible if we need pastures. The UU (the East Indiaman) comes into play at Astronomy, improving on the Galleon. The UB (the Dike) comes fairly late in the game at Steam Power, but is extremely powerful. See the first post of
this thread
for a slightly more detailed discussion of the Dutch UU and UB.

And now... the moment we've all been waiting for!

Here is the starting location: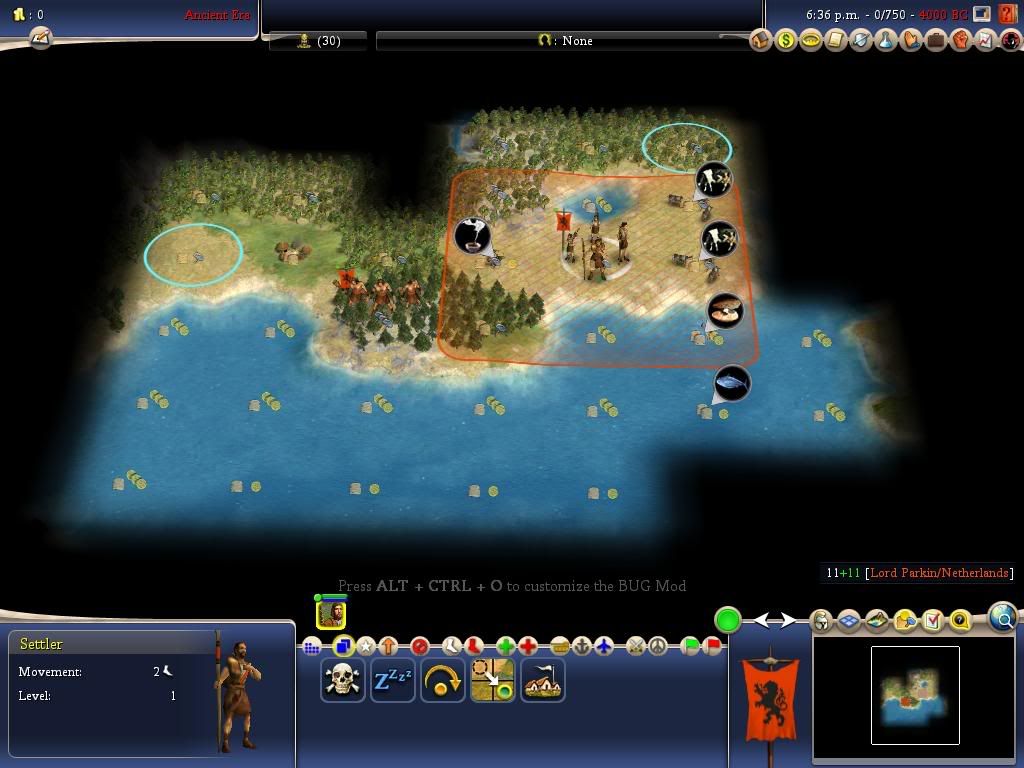 Wa-wa-wee-wa! I like!

Seriously though, that's a rather good starting position for Immortal difficulty on a non-regenerated map. A coastal location, with
two
Cows,
and
two sources of seafood! There's a plains-Incense, which will be handy for happiness post-Calendar. Plus there's a healthy selection of forests for chopping and hills for mining, so we'll have no shortage of early game hammers. And we can't even see everything yet!

Far out, this could be one of the best starts I've ever seen for Immortal level.

So, to the discussion! Oh, it's so nice to start with Fishing.

I'm assuming we all agree to settle in place, since it gives us access to all the resources? Obviously Animal Husbandry is going to be a huge priority - I'm guessing we probably want to research that either first or (at latest) second. Thoughts? The other main question is what to build first: a Worker or a Work Boat? I genuinely can't tell which will be better at first glance, so I'll leave that question open for the moment and perhaps analyse it myself later. In the meantime, I'm sure you guys will keep yourselves busy deciding which order is likely to be the most beneficial (Work Boat -> Worker or Worker -> Work Boat... or even something else!).

The Warrior's move seems fairly clear... it should get the hut to the NW. There's a 0% chance of barbs, because the hut is within the "safe" zone. (For those who don't know, the "safe" zone for huts extends around your starting location to 1 tile beyond where legendary culture borders would be if you settled in place. It's a useful thing to keep in mind when you start with a Warrior instead of a Scout.)
The initial saved game file from 4000 BC is below. I'll probably play the first round in the next day or two, so if you have some suggestions then make sure you speak up now or forever hold your peace!