Version: C3C 1.22
Nationality: Babylon
Level: Emperor
Variant: Arathorn's One Built City
Arathorn said:

One Built City (OBC): You may never build settlers…from any city.
Map Settings:
Climate: ARID
Temperature: Cool
World Age: 3 BILLION YEARS.
LandForm: PANGAEA.
Map Size: SMALL.
Ocean Coverage: 60%.
Barbarians: Sedentary
The Start: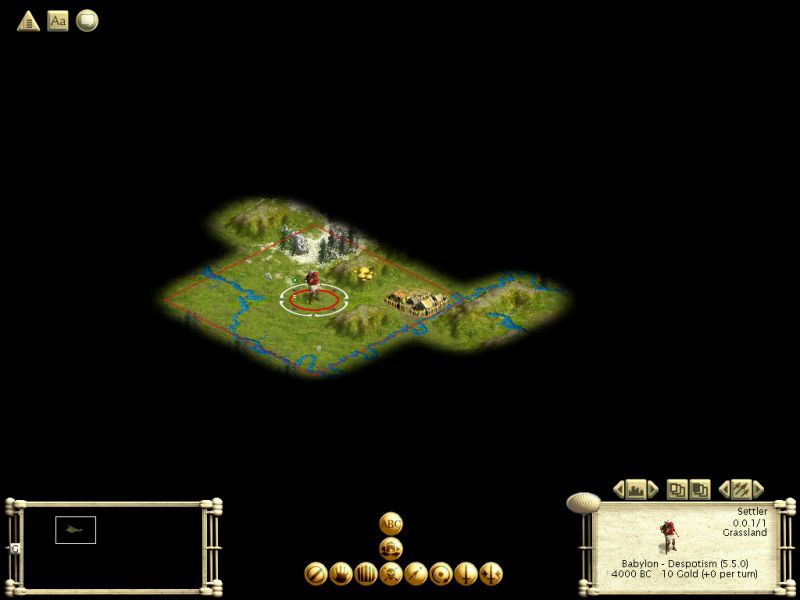 The Opponents:
Celts
Aztecs
Sumeria
Maya
Inca
Roster:
Sir Bugsy
TimBentley
fbouthil
dmanakho
Bede
String your bows and sharpen your arrowheads!
House rules:
24hrs got it. 48hrs to play. 72hrs total. Automatic skip after first twenty four.
LKendter Ruleset:
The following tactics are PROHIBITED:
RoP Rape
RoP Abuse that includes things such as irrigating all tiles with a city building wonders, denying resources with a RoP, putting a unit to block a land bridge, etc.
Scout resource denial - parking a scout on a resource, as the AI won't ask scouts to leave. The same scenario also applies to workers.
False Peace Treaties (must wait for the 20 years to end).
The negative science exploit - you can run a huge deficit (-250 / turn) of negative cash with a token penalty of one lost worker / cheap building. If cash will go below zero, the research level must be dropped.
Ship chaining exploit - you can move a ship, unload troops to another ship, move that ship, etc. This allows you to ship an indefinite distance, and that is why I consider it an exploit.
Resources disconnect / connect exploit - Most resource tactics are fine. Delaying to hook a resource, trading it away etc is fine. The exploit is to do this every turn. Build a stack of horses, connect saltpeter, upgrade to cavalry, and disconnect.
Palace Jump - You abandon the capital city to move the palace to a new location. If you want to move the palace, build a new palace.