Administrator
Administrator
Joined

Oct 25, 2000
Messages

12,473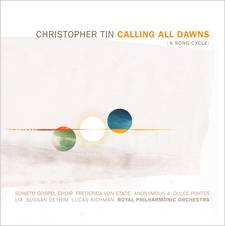 Christopher Tin, composer of the Civilization IV theme song "Baba Yetu", today announced that his debut album
Calling All Dawns
is now available for pre-order
. CDs sold during the pre-order period will be individually signed and numbered by Christopher Tin. The CDs will ship on the album's official release date of October 1st; and on that day, those who have pre-ordered will be e-mailed a link to a complimentary download of the full album.
Calling All Dawns
consists of twelve songs in twelve different languages. It is a narrative told in three parts--day, night, and dawn--about life, death and rebirth. Each song flows seamlessly into the next, and the album ends on the same chord that it opens with--thereby representing the fluid, cyclical nature of the universe. It carries a strong message of unity: that regardless of race, culture and religious belief, we are all connected through our common human experience:
01. Baba Yetu (Swahili)
02. Mado Kara Mieru (Japanese)
03. Dao Zai Fan Ye (Mandarin)
04. Se E Pra Vir Que Venha (Portuguese)
05. Rassemblons-Nous (French)
06. Lux Aeterna (Latin)
07. Caoineadh (Irish)
08. Hymn Do Trojcy Swietej (Polish)
09. Hayom Kadosh (Hebrew)
10. Hamsafar (Farsi)
11. Sukla-Krsne (Sanskrit)
12. Kia Hora Te Marino (Maori)
The album was recorded at the world-famous Abbey Road Studios with the Royal Philharmonic Orchestra. Performers on the album include the Grammy-winning Soweto Gospel Choir, Grammy-nominated opera singer Frederica von Stade, Portuguese fado sensation Dulce Pontes, early-music quartet Anonymous 4, and Iranian singer Sussan Deyhim, among many others. Calling All Dawns was recorded and mixed by three-time Grammy-winning engineer John Kurlander.
To hear a preview of Calling All Dawns, visit the
samples page
on Christopher Tin's website.

When you pre-order, you can use promo code CIVFANATICS to save $1 off a single album purchase! If you order more than one CD, then the code should NOT be used since there is already discount for that.