Joined

Jan 10, 2019
Messages

1,642
Should basic city walls require a technology to build?
In Civ games (and similiar civbuilding 4x games), city walls require a technology / advancements to build which generally becomes available by the latter stage of default 'Ancient Era' (usually 4,000 BC but the Humankind set the beginnings at 10,000 BC instead) and the technology in question is Masonry (Except Humankind where required tech to build First Wall is City Defense and the wall in question is Palisades). Archaeologists however had found that city walls were actually more ancient than standard 4,000 BC Game begins. Ruins of walls and towers of Jericho dated back as far as 8,000 BC. Even if game begins at 10,000 BC the first city walls should be finished in the first FIVE turns right after the settlement is founded.
Also graphical representations of basic wall in Civ6 is this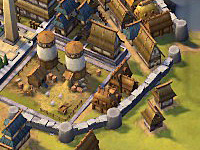 Cyclopean walls sans ramparts (or maybe not. but think of 'barbaric city walls' or Orc city walls in other games). and surely no crenellations. I'm not sure when did crenelations invented.
But since the Warcraft setting (This is the walls of Orgrimmar, Capitol of The Horde faction in World of Warcraft) is Fantasy with steampunk settings. I don't think the actual ancient city walls will have THIS Many iron bracings or supports like this one but cyclopean stone 'masonry' is correct. ANY ancient city built at the Game Begins should have walls that looks that way.
This came to the conclusions over in game techs requires to build Ancient Walls. or should such walls made available for build from the start? (If mankind learned to leave behind cavern dwellings into the open, and eventually learned to build a strong dwellings with walls and rooftops. then at this point the first settlements should already figure out how to build defensive obstructions to substitute the safety of caves they had left behind. in the same manner.
Well actually when did Tech Masonry first came to exists?
And regarding to wall developments, how should a wall that's as strong as Trojan Wall came to be? Should 'Classical era' has its own walls? Should in-game walls and city defense upgrade player's responsibility to order such construction projects? And what should city defense be when it comes to gunpowder with Big Bombards developed (This should take place BEFORE the first arquebuses invented)? Should diamondshape/arrowshape bastions be a separate buildings to the walls (building ones is not considered 'upgrade' ) or part of upgrade trees like in Civ6 & Humankind?
And when it comes to Contemporary Era with air attacks becomes real. Should Air Defense systems be built manually? and when AA Guns gave way to SAMs, what should upgrading schemes be? automatic when techs is researched or manual?