Earth
Download for Vanilla
Download for Warlords
Download for BtS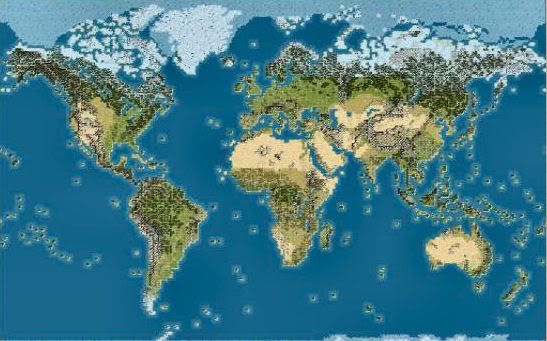 The Map:
This is an earth map made with the worldbuilder and notepad.
In a speculative attempt to improve performance on such a large
map I've kept it under 24,000 tiles and used a 1.6:1 X:Y ratio.
I've left the proportions of the projection unaltered other
than slight enlargement of a few areas for gameplay or to
preserve character e.g. UK, Japan, Great Lakes and I've left
out everything south of the antarctic circle.
The Mod:
Adds map size 'Planetary' (192x120),
Max civs 18, 24 and 32,
Changes a few city names to suit ai placement,
Adjusts domination victory parameters to scale,
Adds game speed 'Odyssey' ('Marathon' turns, 'Epic' production/
growth/G.P.) to cater for more civs and expansion.
Patch compatibility:
Vanilla v1.74
Warlords v2.13
BtS All versions.
To Install:
Download the .rar file for your version of Civilization IV,
Extract the contents,
Vanilla;
Place the 'CarterEarth(18)' folder in your
"...My Documents\My Games\Sid Meier's Civilization 4\Mods" folder.
Warlords;
Place the 'CarterEarth(18w)' and 'CarterEarth(24w)' folders in your
"...My Documents\My Games\Warlords\Mods" folder.
Beyond The Sword;
Place the 'CarterEarth(18BtS)', 'CarterEarth(24BtS)' and 'CarterEarth(32BtS)'
folders in your "...My Documents\My Games\Beyond the Sword\Mods" folder.
To Run:
Start CivIV, Warlords or Beyond the Sword.
Go to 'Advanced\Load a mod',
Select a mod e.g. 'CarterEarth(32BtS)' and load,
When the game reloads, go to 'Single Player\Custom Scenario'
(or MultiPlayer then select 'new scenario' in the lobby),
Select a map e.g. 'CarterEarth(32BtS)', choose your civ and select
your options or retain the recommended settings.
There are 2 versions of the map. One with civs starting in fixed locations,
the other 'random' (no fixed start locations or barbarians) for customised games.
Multiplayer has been successfully tested with a direct IP connection
over a vpn (if you experience oos errors, save the game, quit to desktop,
reload and rejoin. Using a standard gamespeed might also help).
To Improve Performance:
Update graphics drivers,
Reduce graphics settings,
Select 'Single Unit Graphics' in options,
Always quit to desktop before reloading/beginning a game,
Destroy civilizations by war or in the worldbuilder
for significant performance improvements.
Thanks To:
Firaxis
CivFanatics.com and Community
The Times Concise Atlas of the World
www.Wikipedia.org
www.theodora.com/maps
http://earthobservatory.nasa.gov/Newsroom/BlueMarble
http://visibleearth.nasa.gov
http://blueplanetbiomes.org
www.lib.utexas.edu/maps
www.unep-wcmc.org
www.usgs.gov
www.microsoft.com/virtualearth/default.mspx
www.fourmilab.ch/cgi-bin/uncgi/Earth/
Blue Marble terrains are available
here
.
Download for Vanilla
Download for Warlords
Download for BtS