Joined

Sep 11, 2008
Messages

9,867
WELCOME TO TODAY!​
Well, almost today... It is October 2010 AD. Planet Earth. The world as we know it. Chose to be the leader of USA, China, Russia, Europe, or Muslim World and chose your path to victory:
This PBEM game is based on my adaptation of excellent
Earth 2010
BTS scenario by Barbarian King. I did few alterations with the original scenario, like made sure that every country starts with SDI (75% interception) to prevent overuse of nukes. Marathon speed, terrorists in few troubled places (including Osama bin Laden

), few changes with the map, etc...
Players have absolute freedom in the way they chose to win, Earth2010 does not have to be WW3 or Nuclear Winter

, as you can see we have 3 more Victory Options defined under "House rules". To preserve the balance there are only 3 additional house rules -- everything else is regulated by the game settings:
House Rule 1:
Human leaders of USA, China, Russia, and EU CANNOT declare war on AI civs (vassal AIs are excluded).
House Rule 2:
All Human players CANNOT trade cities with non-vassal AI civs. City liberation is excluded.
House Rule 3:
Human leaders of USA, China, Russia, and EU CANNOT declare war (or bribe AI to declare war) during the FIRST turn.
Everything else is allowed, including 2 or more human players agreeing in private to act against the other human player (like leaders in the real world often do). I want total freedom of action for the players, as much as possible, even if it leads to chaos -- many times real world feels like a chaos anyway! Any particular exploit will be banned or new house rule will be created only after the vote of 5 players. Game must be able to enforce its rules. We would need at least 3 "for" votes to pass anything, so please be active. I suggest 48 hours max between getting an email from one player and sending it to another. I also suggest posting simple progress report in whatever format to make this fan for lurkers. Players will chose themselves what they will inform the World about after they played their turn.
And so... We HAVE 5 charismatic Human Leaders to make the World a better place as defined by the interests of the following factions:
Player 1 (
kiwitt
). American block:
USA
and Taiwan. US Vassals are Israel, South Korea, Iraq.
Player 2 (
Luthor_Saxburg
). Communist block & Iran:
China
. Vassals are Iran, North Korea.
Player 3 (
Tigranes
). Russian block:
Russia
with vassal Kazakhstan,
Player 4 (
Eclipse4449
) EU block: UK, France,
Germany
and EU as German Vassal.
Player 5
(
Nighthawk419
). Muslim block:
Saudi Arabia
, Pakistan, Indonesia, Egypt, Libya, Mali.
Resigned 02.25.2013.
Order of battle of USA, China, Russia and Germany is presented in the second post. No info is disclosed about the Muslim block

If you are interested:
1. Download latest version of
Earth 2010
and place it in your Beyond the Sword/Mods folder. If Gamefront fails you try
Mediafire
instead...
2. (Optional) Check out my adaptation by downloading and double-clicking the (regular) American save file attached bellow. You can also get familiar with the starting situation by downloading my
WordbuilderSave
file. Those files are
not
required for PBEM game. You will get your playable PBEM save file via email.
3. Chose your faction by posting here. I am reserving the USA for me but am willing to trade with any other faction.
4. PM me or post your email. Mine is atigr at yahoo dot com.
5. Have the greatest fun in this summer

Thanks to everyone! I had a blast for 1 year (62 turns)!

GAME OVER !!!
04.12.2013
And the winners are

: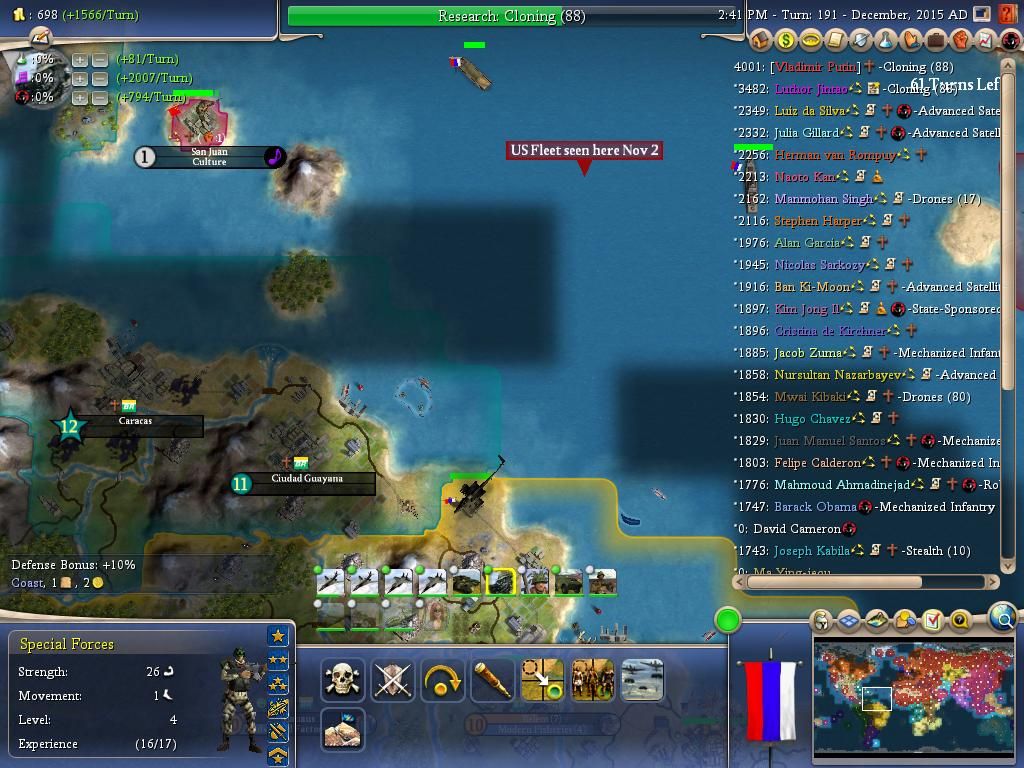 ​