Joined

Apr 22, 2003
Messages

398
Location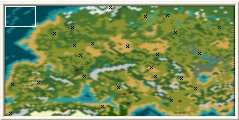 In the year of grace 4018, the humanity is very close to the gulf, wars, epidemics, the pollution disrupted all eco-systems. the humanity to little odds to survive this new test. Among survivors (of which you), some knew how to keep reason and tempted to restore splendor passes. Of others one sunk in the murderous madness and became barbarians. Mistrust of their big gatherings. And good luck, I will pray for you and for the survival of our race.
The map is europe with a very low level sea.
I made many change in the rules games the most important are :
infantry is now hidden nat.
Settlers needs Potatoes move 2 def 1
Workers needs Breeding an board no pop cost, move 2 A/D 1/1
legionary build road, fort and clear forest
Marine needs Rubber and Cotton
Mech unfantry needs Oil, Rubber and Cotton
There is a new unit : Mounted settlers, it cost 70 shiels and have a Attack /defense bonus of 2/2
THOSES BUILDINGS NEEDS QUARRY :
-------------------------------
granary, temple, marketplace, library, walls, aqueduct, cathedral,
Resources
---------
i made many change with the appearance and disappearance prob of each resources, i hope it can give some more interest about the management of resources and btw strategy.
i reduced the number of players to 12 because the size of the map.
I hope you enjoy playing this scenario as i did.
here is the file