Joined

Jan 14, 2007
Messages

123
Location
Exciting stuff in this update. We left off with Cassiel wiping out the bulk of Amelanchier's forces. Now Cassiel was taking cities left and right, but Amelanchier had a lot of cities to lose.
Amelanchier's plan was to retreat the majority of his defenders to make a last stand. The fleeing swordsmen almost couldn't get away, as Cassiel was overruning cities so quickly. Swordsmen and a few archers arrived in the capital from Amelanchier's other cities. With the additional troops, the capital would not be a pushover for Cassiel.
He approached the capital from the south, and Axemen reinforcements arrived from the west, on the other side of the lake just south of the capital. Amelanchier was recruiting archers as quickly as he could, to try to hold off Cassiel's advance.
As with the previous sieges, Cassiel began by bombarding the city with fireballs, weakening its static defenses at first, and then bombarding the defenders themselves. Rather than sending in the Pit Beasts, Cassiel waited, choosing to summon more fireballs instead.
The fireballs weakened the defenders, but it also made some of the archers more experienced. Also, the capital boasted an excellent triage system of medics and healers, so some of the wounds were healed before Cassiel could take advantage.
The siege continued, this time some Pit Beasts attacked, but they were outclassed by the archers. The fireball bombardment continued without halt, but the defenders were becoming clever. The longer the siege dragged on, the more accustomed they were to it. Their bows were well worm, and several arrow smiths had to be employed to keep the archers in arrows.
Cassiel considered making a heavier attack, committing his axemen. Before he could do that, Amelanchier decided to attack instead. Cassiel's forces were divided. The majority of his axemen were west of the city, and his mages were east of the city. They had only two axemen protecting them.
Amelanchier saw this as an opportunity to kill some mages. He sent his group of swordsmen, keeping the archers in the city on defense.
As it was, the swordsmen charged the mage lines, and the axemen protecting the mages fought furiously. Both axemen died, but two swordsmen died as well. Next the mages were vunerable, but they were stronger than Amelanchier expected.
Kimble the Quick and Father Jeon, heroes of the Grigori people, were forced to fight staff to sword, but they did not fall. Father Jeon was bloodied, being hit in the abdomen hard, but Amelanchier's plan had failed. The two swordsmen outside the city were cut down by fireballs and pit beasts.
If Amelanchier had sent some of his archers to attack as well, Cassiel may have lost several magi, or it could have weakened the city's defenses too far. Even with the swordsmen gone, Amelanchier's city could not be taken. Cassiel did not have enough magical firepower, and only a little physical might. He could not take the city without reinforcements.
After a few more bombardments, and having merged his two forces, he turned west, planning to gather more forces.
In the east, Faeryl Viconia went to war with Perpentach. Her inital plan was to take his northwestern city. Perpentach's capital was as well defended as Amelanchier's although with a much stranger composition of Octupus Overlords units, and freaks, and archers.
The four archers in Perpentach's second city were strong too. They killed two Nyxin and two Rangers, and injured the other four, but Faeryl was able to wipe out that city.
With only four rangers left, Faeryl backed off, to get reinforcements, and asked Perpentach for peace, offering Cartography. He accepted. Perpentach was turns away from unlocking Fanaticism.
Faeryl rebuilt her forces. She was busy building Baron Von Halfmorn, and Alakazam the Assassin was almost ready. But she waiting mostly for more rangers. Once she had nine, including the four veterans, she decided to try to wipe out Amelanchier herself.
Faeryl's rangers declared war, and approached the capital, at about the same time that Cassiel was retreating.
Cassiel turned his forces around, and approached again, to try to wipe out the good Elves, with help from the bad ones.
Both wanted to wipe out Amelanchier, even though they were adversaries, because it meant one less spot to qualify for the finals. Cassiel and Faeryl had never gone to war, but being the only large empires left on the map, they would almost certainly be battling for supremacy.
Faeryl's rangers had a lot of tough battles ahead, but unlike Cassiel's axemen, they had a decent shot at not dying. The rangers charged, and several were killed outright, but a few others took out some of Amelanchier's best archers. In total, Faeryl lost five rangers and killed four archers.
This gave Cassiel a chance to make a difference. He summoned four pit beasts and two fireballs, and attacked, wiping out two more archers.
Faeryl's surviving rangers regrouped, and made one last attack, one more ranger was lost, leaving three, but Amelanchier's defenses were hanging by a thread. Faeryl's rangers fled the battle, heading south to recover.
Cassiel made used his magic once more, and then his axemen went in, and they captured Amelanchier's capital.
Amelanchier, 4th place
Faeryl Viconia had explored almost the entire recon tree. It was time for a new tech focus, she began working on magic, and with her mighty empire, she was researching very quickly. Soon after Amelanchier was wiped out, Alakazan the Assassin was finished, and the first Mage Academy was being built.
Faeryl had two mana nodes in her lands, and one that was just outside her borders. Her first adept built a fire node, and a death node. More mage academies were built, and the adepts started piling up.
Faeryl unlocked Sorcery not much later, and her first adept became her first Illusionist. She focussed on Shadow, Fire and Death spellbooks for her adepts and mages.
Cassiel had gained a mana node in Amelanchier's old lands. He built an Air node. His mages and adepts were focusing on Fire, Entropy and now Air.
Even Perpentach started focussing on magic after unlocking Fanaticism. He had no mana nodes, but there was a special in his borders that provided death mana. He had only a few adepts by turn 300, but he was summoning skeletons with them to bolster his defenses. Perpentach was heading towards Sorcery but he wasn't there yet.
Cassiel began preparing a large army. His initial plan was to attack Perpentach, but with Faeryl's last war on the Balseraphs, she now completely surrounded Perpentach. Cassiel decided to go to war with Faeryl instead.
His army consisted of mages, adepts, and axemen. Cassiel had been training mages and adepts for a long time, and so he was far ahead of Faeryl in number of mages and the experience of those mages. He didn't have the special units Faeryl had however.
Faeryl was busy training assassins to take on Cassiel's mages. She was also building adepts as quickly as possible, and some rangers. Her army was composed of a wide variety of units, but only one illusionist so far.
Perpentach may end up making the final because of his survival ability. He's not attacked anyone, merely defended himself. Right now I'd give Cassiel the edge against Faeryl, for number of mages plus size of his army, but you never know.
Cassiel's army, on the move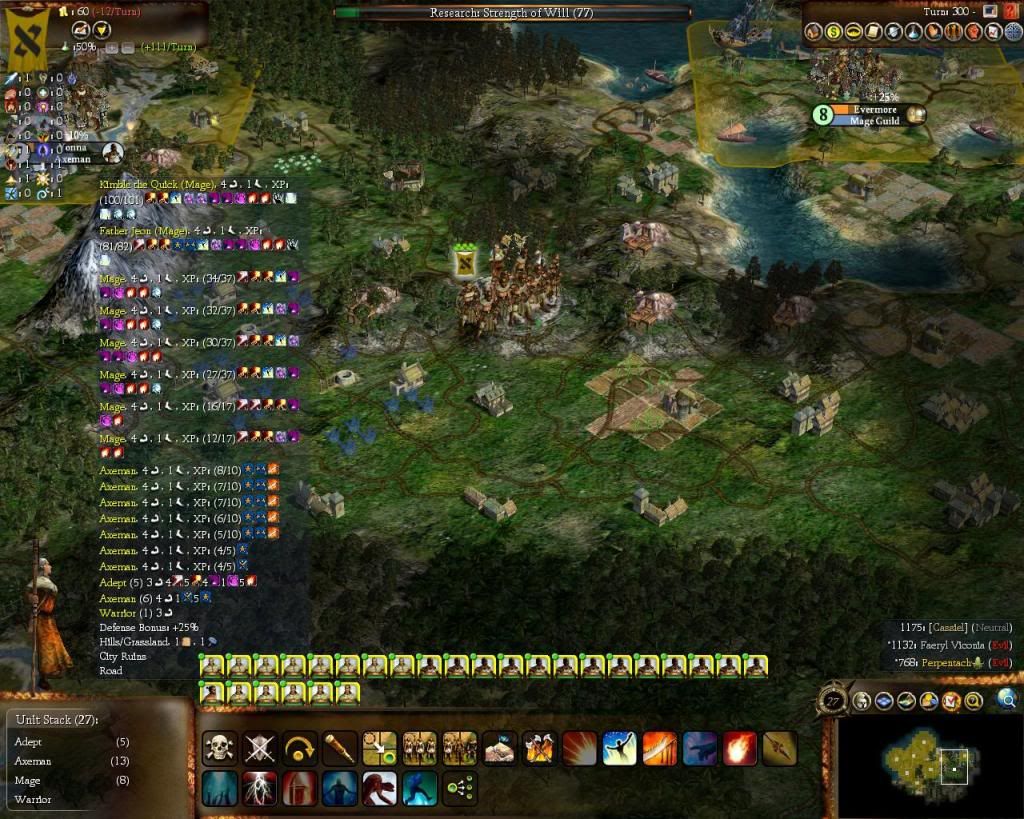 Faeryl's army: