Joined

Oct 11, 2007
Messages

2,503
Location
Round 0 (After settling).
Round 1, 4000 BC - 2920 BC (27 turns).
Round 2, 2920 BC - 875 BC (53 turns).
Round 3, 875 BC - 25 BC (34 turns).
Round 4, 25 BC - 600 AD (26 turns).
Round 5, 600 AD - 1100 AD (30 turns).
Round 6, 1100 AD - 1500 AD (40 turns, the end).
I have a little spare time now so I figure it's time I try my hand at deity, with some help. I've started a few games with Hatty and some of them looked good, others bad, but I felt like after the first 100 turns or so I started to lose focus and eventually made some bad choices. So I'm making a public game and inviting everyone to comment and discuss strategy as I play.
From my limited experience I feel that Creative is one of the strongest traits on deity so I wanted to go with that. Spiritual can be great for diplomacy when there are religion wars around. The leader I chose for this game is however Pericles. I've played Hatty so much lately that I wanted another leader and Philosophical is
always
a very useful trait imo. Greece also has a decent UU and UB. It's just to bad there are no Cre/Cha leader or I would have picked that one.
All settings left at default, fractal standard map, normal speed, 7 civs.
I use BTS 3.17+ Solver's latest patch, the BUG mod and Blue Marble.
The start after moving the scout: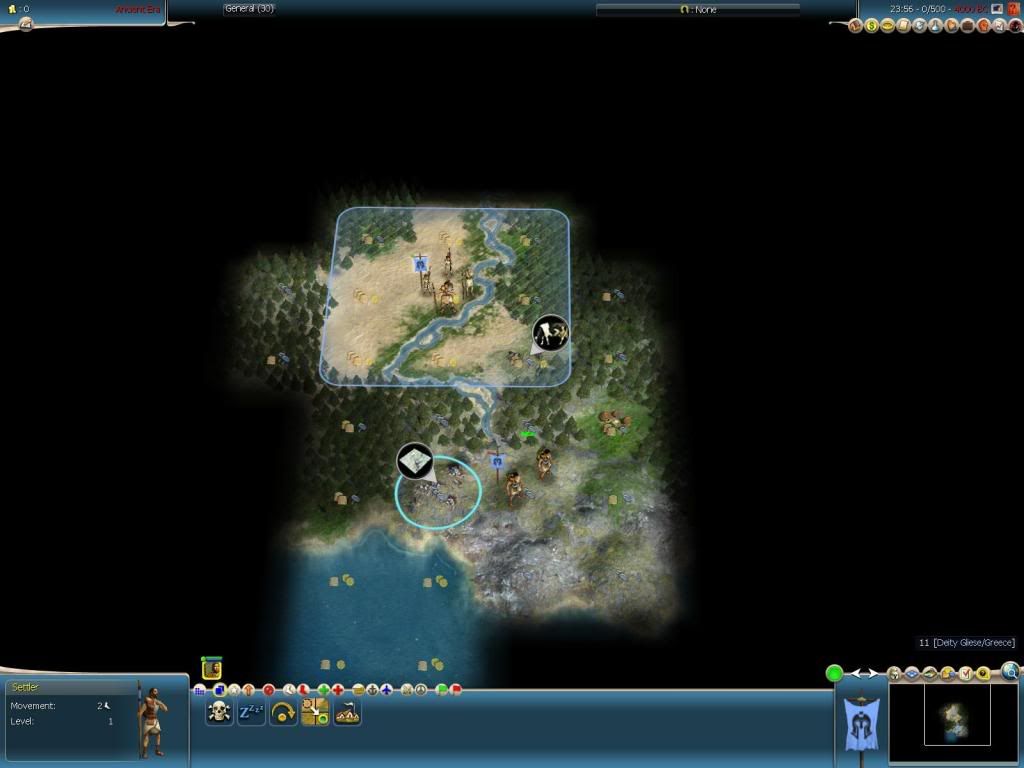 I could move 1S to get marble in 2nd ring though for marble hookup purposes being creative I'll get it in 3rd ring well in time to build any marble wonder so that would be mostly to work it I guess. I could also move 2S on top the plains hill there to get +1prod at cost of 2 useless coast tiles later. Settling in place might reveal additional resources.
Thoughts?