We had again a massive influx of new articles with also new images, and the actual info is scattered around, so we need a summary here, so that we can have a good overview here at CFC

.
Everyone who prefers the info more in a list form, is welcome to take directly a look at the summaries by cuc
here
and Ulthwithian
here
. This post is completely based upon these two other posts, and even partially stolen, so you will not miss anything if you skip the text here. Alternatively you might want to take a look at Arioch's overview site for G&K
here
.
Please don't forget that this here is only the new info, and does not cover what is already known. For the known info please consult the
overview thread
.
So...
Civilizations
The Celts
The Celtic UA was revealed, it's called Druidic Lore, and with it your cities will generate more faith near unimproved forests. They get the pictish warrior as their UU, and it receives a combat bonus outside of friendly territory, pillaging costs no movement for this unit, and it receives faith equal to half enemy strength upon eliminating an enemy unit. It seems to be a replacement for the spear man, with a strength of 11, one point more than the regular spear man.
The Celts also get a unique building, the Ceilidh Hall. It is unlocked by Acoustics and provides culture, happiness and an artist slot. It's speculated that it might replace the opera house, but this is not yet sure.
The Maya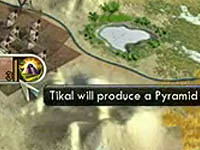 Their UA seems to involve receiving "Maya Long Count Bonus" at certain intervals. The bonus may include great people. It's also speculated that their calendar display will change from the regular calendar to the Mayan calendar after having researched the calendar tech.
They also get an UB, the pyramid, but there's nothing really known about it. Palenque is their capital and their second city is Tikal.
Austria
​
Together with the Austrian UA, their UU the Hussar and their UB the coffee house were revealed, but stats for these are not yet known.
Other civs
We know now how Gustav Adolph, King of Sweden, will look ingame via
this screenshot
. Also noticeable is that neither the Aztec nor the Spanish UA will be changed to fit to G&Ks religious theme.
The Netherlandish UA has also been clarified. The Netherlands retain 50% of happiness from luxuries traded to other civilizations.
Units, Buildings, Techs and Wonders
Like expected, many minor changes happened, mostly moving wonders around in the tech tree, changes to the strength values of units, etc., please see the above mentioned direct summaries for that.
Notable are that catapults don't require iron anymore, that the Alhambra is confirmed as a wonder, we get a new tech named "Drama and Poetry" and that the classical era is finally longer, with 2 tiers. It is now also clear that the mysterious icon from the PAX is a police station, which is an counter intelligence building.
Arioch already put a suspected tech tree for G&K together, which you can find, with the related discussion
here
.
Religion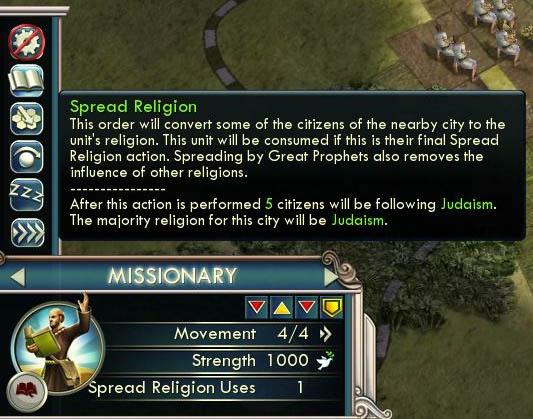 You will get a Great Prophet at 200 Faith points, and not randomly, like it was said in one of the first interviews. The special abilities of this GP are that he can spread his religion to max. 4 cities with an amount of 2000 Faith (what this exactly means is not known), will remove the influence of other religions in the respective cities, and it's possible to build a special improvement, a Holy Site, with this unit (
screenshot
for all of this). In contrast to the other GPs in the game, the prophets will not have any names, because anything which could happen to such a unit ingame could be problematic, as Dennis Shirk explained.
Missionaries can also spread your religion to other cities, but only 2 times, and with half the pressure.
For an interesting article about religion please see
this here at GameSpy
.
We now also know the Enhancer Beliefs, see list below:
Defender of the Faith: +20% Combat near friendly Cities that follow this Religion
Holy Order: Missionaries and Inquisitors cost 30% less Faith
Itinerant Preachers: Religion spreads to cities 30% further away
Just War: +20% Combat near enemy Cities that follow this Religion
Messiah: Prophets 25% stronger and earned with 25% less Faith
Missionary Zeal: Missionary conversion strength +25%
Religious Texts: Religion spreads 34% faster (68% with Printing Press)
Religious Unity: Religion spreads to friendly city-states at double rate
Reliquary: Gain 50 Faith each time a Great Person is expended
Resources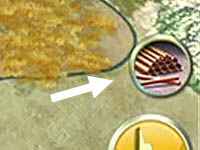 Finally more resources were revealed. Some more expected, some less.
We will get Salt as luxury, and the yet not specified maritime resource are crabs.
More unexpected we will, as it seems, get copper as some type of resource, and the suspected pig resources turns out to be truffles at the end.
Misc stuff
- In the diplomacy department was also some stuff revealed. e.g. you will need an embassy to establish defensive pacts, open borders and other things. Additionally you'll be able to see the other civs capital after you established an embassy in the other empire.
- The natural wonder Uluru will be added to the game, as well as some more city states like Jakarta, Manila, Mombasa, Zurich and others. Some, like Stockholm and Helsinki, were in contrast obviously removed, because they appear on the city list of Sweden.
- It also seems that we'll now get era dependent advisors, because some screenshots show them with other art. This again is not a big surprise, because the art itself is already present in the game (to be seen in
our image gallery
), but now it appears that it will finally be implemented.
- Female leaders will not longer get male titles. You will now see Lady Catherine instead of Lord Catherine ingame.
- It seems that something has changed with the appearance of the trading posts. What exactly? See
this discussion
please.
Empire Of The Smokey Skies scenario
TheVerge
has an nice overview showing some aspects of this scenario. The scenario is a complete overhaul of the game. You get 5 new factions with new (static) leaderscreens. A new tech tree with 2 new eras, beginning with the discovery of the Steam Engine. New victory conditions. You will get different types of land ships, air ships, Sky Fortresses, and so on. The only thing which had not been changed might actually be the terrain, but that we'll only see when we can play the scenario.
Besides of the mentioned article another screenshot can be seen
here
.
The article list
We got all the info from these articles. Many people were involved in finding the new things and analyzing the screenshots, thanks to all of you

.