I have made an
icon for Doane
. I had some other variations but considering the image should be 32x32 the rest didn't look right, so here it is the final version.
There are
3 sizes:
Doane --> Standard
Doane_BIG --> Bigger image (for those with icons using up to 132x132 sizes)
Doane_BIG_VISTA --> (png) version which only should work with newest SOs.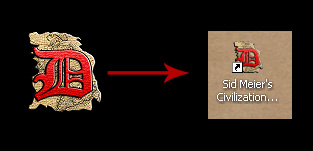 ​
Also, do you consider the
addition of new loading screens
? We could maintain the existing one and add some more. Is there a possibility to change the code to take a screen randomly from 4 or 5 different images?
If it's not possible, how about changing the existing one? That's said, the mod is using the same image in the menu and the loading screen. Maybe we could find other image which fits the theme of the mod.