Joined

Nov 8, 2002
Messages

2,636
Location
Description
This graphics mod enhances the building queue by showing various details about the units or buildings you might build. This makes it easier for you to select what you want to build next.
Credits
This mod uses the same symbols as "NemosQueueMod Version 2.1.21, compatable with Civilization version 1.21f". The
vanilla Civ3
and
Play the World
versions are also available in their respective threads.
Compabitility
This mod is made with C3C 1.00. The files for both
units and buildings
have been made epic games
and now also for all Conquests Scenarios
.
Screenshot
This composed screenshot shows what a build queue might look like with this mod. The small up-arrows indicate the number of upgrade steps for this unit, the number indicates the carrying capacity. Buildings show the maintenance cost and culture added per turn.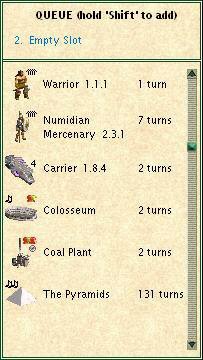 Download
The mod can be downloaded from these links:
Update 1
Small bugfix in Numidian Mercenary:
QueueMod-C3C-100-1.zip
(epic games only).
Update 2 Now including buildings for all Conquests Scenarios:
QueueMod-C3C-100-2.zip
Update 3 Now including buildings and units for all Conquests Scenarios:
QueueMod-C3C-100-3.zip
Note for Conquests users
If the Conquest doesn't have a Units directory, simply create it and place the units_32.pcx file in there. The game will look in that path before looking in the main dir.
Example: Civiliazation III\Conquests\MesoPotamia\Art\Units\units_32.pcx
Feedback
Do you want more information? Presented in a different way, more info? Did you find a bug? Comments are greatly appreciated. Please send me a
PM
.