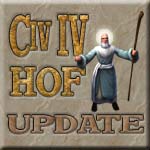 The Civilization IV Hall of Fame has been updated. 55 games were accepted since the previous update.
Congratulations to
the reverend
for the highest score of the update with a Standard, Marathon, Monarch, Domination game for 305126 points.
lymond
was the most active player during this update, submitting 7 games.
Only 4 players were brave enough to take on Deity this update:
hhhawk - 1170 AD, Small, Epic, Deity, Diplomatic game for 184078 points
jesusin - 1250 AD, Tiny, Epic, Deity, Cultural game for 145748 points
jesusin - 1340 AD, Tiny, Normal, Deity, Cultural game for 108652 points
neilmeister - 1420 AD, Huge, Normal, Deity, Cultural game for 60238 points
neilmeister - 1620 AD, Huge, Normal, Deity, Space Colony game for 149355 points
Seraiel - 1265 AD, Small, Epic, Deity, Diplomatic game for 51321 points
Seraiel - 1715 AD, Large, Quick, Deity, Domination game for 185166 points
Seraiel - 1820 AD, Huge, Normal, Deity, Diplomatic game for 21262 points
​
Gauntlet Results:
G-Minor 182 - Space Colony, Warlord, Ancient, Small, Normal, Great Plains
1
st
enKage
1590 AD
2
nd
lymond
1605 AD
3
rd
Htadus
1640 AD
** New Gauntlets Starting **
G-Minor 183 - Cultural, Deity, Ancient, Small, Epic, (check options)