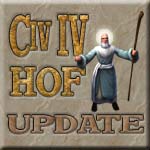 The Civilization IV Hall of Fame has been updated. 34 games were accepted since the previous update.
Congratulations to
bcool
for the highest score of the update with a Huge, Epic, Immortal, Space Colony game for 428465 points.
NobleZarkon
was the most active player during this update, submitting 7 games.
Only 7 players were brave enough to take on Deity this update:
jesusin - 1280 AD, Small, Epic, Deity, Cultural game for 114821 points
jesusin - 1295 AD, Small, Epic, Deity, Cultural game for 108482 points
Kaitzilla - 805 AD, Small, Epic, Deity, Conquest game for 87905 points
Kaitzilla - 1270 AD, Large, Epic, Deity, Cultural game for 112499 points
kovacsflo - 1340 AD, Small, Epic, Deity, Cultural game for 99160 points
kovacsflo - 1330 AD, Small, Epic, Deity, Cultural game for 92242 points
Pious_Pete - 1740 AD, Small, Epic, Deity, Cultural game for 39949 points
Pious_Pete - 1630 AD, Small, Epic, Deity, Cultural game for 54426 points
Pious_Pete - 1752 AD, Small, Epic, Deity, Cultural game for 53428 points
Pious_Pete - 1690 AD, Small, Epic, Deity, Cultural game for 45618 points
Pious_Pete - 1774 AD, Small, Epic, Deity, Cultural game for 58465 points
Seraiel - 1305 AD, Small, Epic, Deity, Cultural game for 92360 points
Seraiel - 1210 AD, Small, Epic, Deity, Cultural game for 97771 points
WastinTime - 1160 AD, Small, Epic, Deity, Cultural game for 109435 points
ZPV - 1200 AD, Small, Epic, Deity, Cultural game for 103239 points
​
Gauntlet Results:
G-Minor 183 - Cultural, Deity, Ancient, Small, Epic, (check options)
1
st
WastinTime
1160 AD
2
nd
ZPV
1200 AD 103,239 points
3
rd
Seraiel
1210 AD 97,771 points
** New Gauntlets Starting **
G-Minor 184 - Religious, Noble, Any Era, Large, Epic, Great Plains, Persia
>>
Civ IV HOF
>>
Full Update Details
>>
Discussion Thread