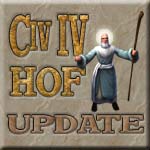 The Civilization IV Hall of Fame has been updated. 274 games were accepted since the previous update.
Congratulations to
Ironhead
for the highest Firaxis score of the update with a Standard Deity Domination game for 341169 points.
Alan_of_Dale
was the most active player during this update, submitting 15 games.
The
Quattromaster's List
has a new member. Kudos to
drepsed
for achieving the Hall of Fame's highest honor!
Per the BTS patches, new HOF Mods are available for Vanilla and Warlords and are required for the newest Gauntlets.
G-Major 14
focuses Deity/Standard/Cultural, inspired by a recent thread of our Cultural enthusiasts and experts. For those seeking less stressful fare (or if you just hate Incans and Romans)
G-Minor 24
is Small/Warlord/Conquest.
G-Major 13
has concluded. Eight participants were able to submit Emperor level Domination wins, playing as the Koreans.
The-Hawk
finished fastest in 815 AD, with
Moonsinger
and
Miraculix
finishing a few centuries later.
G-Minor 23
finished today, with the focus on Settler/Duel/Spaceship. As hoped, submissions were high, with no less than 64 players getting in a win.
Dynamic
fared better than anyone, launching in 860 AD.
Grey Cardinal
and
AAA
placed not too far behind on a list spread across 13 centuries, with a boggling number of positions sorted by score tiebreaker.
>>
Civ IV HOF
>>
Full Update Details
>>
Discussion Thread