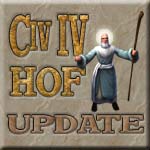 The Civilization IV Hall of Fame has been updated. 82 games were accepted since the previous update.
Congratulations to
The-Hawk
for the highest score of the update with a Standard Emperor Conquest game for 179,485 points.
shulec
and
cetti
were the most active playesr during this update, submitting 9 games each.
Only 4 players were brave enough to take on Deity this update
harveysburger submitted a 550 BC Duel Deity Conquest game for 60647 points
shulec submitted a 1575 BC Duel Deity Religious game for 37186 points, a 1200 BC Duel Deity Religious game for 43693 points, a 1060 BC Tiny Deity Religious game for 35756 points, a 1360 BC Tiny Deity Religious game for 46494 points, a 1000 BC Duel Deity Religious game for 36847 points, a 1300 BC Standard Deity Religious game for 33268 points, a 1200 BC Small Deity Religious game for 40678 points, a 520 BC Small Deity Religious game for 33438 points, and a 975 BC Standard Deity Religious game for 38051 points
Yardi submitted a 350 AD Standard Deity Religious game for 22067 points
yendor submitted a 2050 AD Duel Deity Time game for 10150 points​
Gauntlet Results:
G-Major 85 - Conquest, Emperor, Standard, Quick
1
st
Kaitzilla
650 AD
2
nd
The-Hawk
1320 AD
3
rd
bcool
1655 AD
G-Minor 108 - Conquest, Prince, Standard, Quick - Opts(No Razing, No Vassal, No PA, No OCC)
1
st
jesusin
1060 BC
2
nd
The-Hawk
400 BC
3
rd
bcool
40 BC
** New Gauntlets Starting **
G-Minor 109 - Score, Chieftain, Standard, Marathon on Terra
G-Major 86 - Space Colony, Immortal, Large, Quick on Oasis
>>
Civ IV HOF
>>
Full Update Details
>>
Discussion Thread