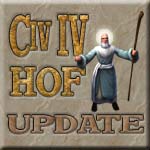 The Civilization IV Hall of Fame has been updated. 58 games were accepted since the previous update.
Congratulations to
WastinTime
for the highest score of the update with a Tiny Deity Diplomatic game for 297643 points.
AAA
&
shulec
were the most active player during this update, submitting 4 games each.
Only 6 players were brave enough to take on Deity this update
AAA submitted a 780 AD Standard Deity Religious game for 58972 points
mycivs submitted a 1705 AD Huge Deity Cultural game for 35814 points and a 1755 AD Huge Deity Cultural game for 32491 points
raistlin1967 submitted a 1860 AD Tiny Deity Domination game for 65420 points
shulec submitted a 1580 AD Tiny Deity Diplomatic game for 70978 points, a 1738 AD Large Deity Space Colony game for 71675 points, a 1888 AD Small Deity Religious game for 16221 points, and a 1896 AD Tiny Deity Diplomatic game for 29215 points
The-Hawk submitted a 1610 AD Standard Deity Cultural game for 45804 points
WastinTime submitted a 675 AD Duel Deity Diplomatic game for 153840 points and a 570 AD Tiny Deity Diplomatic game for 297643 points​
Gauntlet Results:
G-Minor 132 - Diplomatic, Immortal, Ancient, Duel, Quick (Barbs ON)
1
st
WastinTime
1100 AD
2
nd
Bugio
1655 AD
3
rd
Ric
1866 AD
** New Gauntlets Starting **
G-Minor 133 - Space Race, Settler, Standard, Normal on Great Plains (OCC, Raging Barbs, No Vassal, No Huts, etc.)
>>
Civ IV HOF
>>
Full Update Details
>>
Discussion Thread