A fellow named Aoiti has been posting on the
Colonization discord
about his new and rather impressive retro pixel art style Sid Meier's Colonization inspired game called
Imperial Ambitions
. He's made a steam page and is now regularly posting news updates if people wish to follow and also playtest his latest builds. One of the more interesting features is that he wants to merge Heroes of Might & Magic style tactical battles with Colonization kind like how the good old classic game
Conquest of the New World
brought those 2 things together.
Discover and colonize the world, Allocate your labor force, Monopolize markets, Fight tactical battles, Survive the age of imperialism...
store.steampowered.com
Updates, events, and news from the developers of Imperial Ambitions.
store.steampowered.com
Here's a copy of his about section from the steam page which breaks down the game's features:
---
Explore Colonize Industrialize Sabotage And Battle!​
Imperial Ambitions is a 4X strategy game where the players will take over one of the European superpowers that existed during the age of discovery and renaissance and lead them to imperialism.
Discover and colonize the world,
Allocate your labor force,
Monopolize markets,
Fight tactical battles,
Survive the age of imperialism.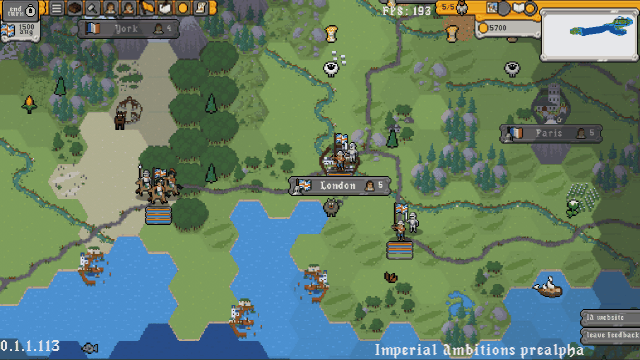 Tactical Wars With Completely New Mechanics​

Imperial Ambitions has a completely new strategy game design providing a unique 4X gameplay experience. Anyone who enjoys the Napoleonic wars will find the tactical thinking required for Imperial Ambitions to be much more rewarding. As you forge an empire, the battlefields will become more challenging. We've redesigned the way that armies move on a campaign map, so they act more like real-world military units. Large armies can move in column formation, making it harder to move and requires more tactical thinking to prepare for the battle. The regiments can be split from the main army for small tactical excursions, or sneak into enemy lines for crossfire. For the same reason, attention is required to avoid leaving gaps on your frontline.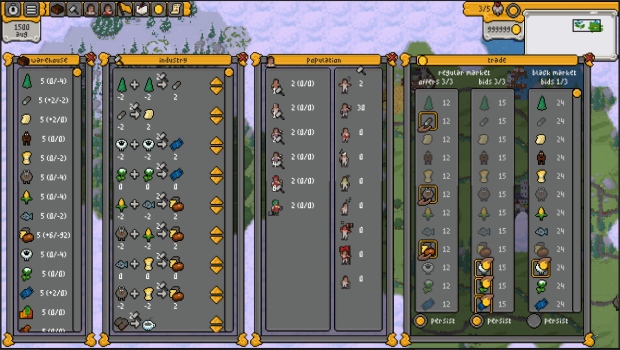 Production Chains​

Your Empire will grow beyond the mountains and the seas. As it grows you will have access to more and endemic resources. The more you invest into your roads and docks, the more resources that produced around the corners of your empire will be transported into your capital. With abundance in your capital, you can allocate your laborers to produce to higher quality goods. Imperial Ambitions has more than 40 different resources that can be extracted, produced or imported. Your population will demand products depending on their level of education. You must manage your resources and customize your production chains, while ensuring the wellbeing of your population. Some key resources may just not be accessible to you. You can resolve either by leasing the land from the natives, military invasion, trading with superpowers, or exploiting black market.
Black Market And Trade​

For the savvy entrepreneur and economist, the black market is a huge opportunity to boost your own empire. No longer do you have to go through the tedious and sometimes costly process of building a colony and maintain an industry. the game will include a black market besides the regular market. In regular trade, a player can initiate a bid for something they need and, if another player sells it to them, everyone is happy! Though, this trade is also taxed by any country that has lands en route. Black market, however works completely different. The resources in the black market is pulled from towns with high corruption. And players can bid for these resources, even if they belong to their enemies. The cost, however, is often higher than normal, yet no one can tax. This can be a boon for some players in need of certain products that are capitalised by their enemies and for everyone that prefers not to pay taxes. Instead, however, corruption and criminal activity will become more prevalent among the towns along the route. e careful not to get caught in a cycle of corruption and crime! To promote corruption player can send man of shadows to start a crime syndicate. It however requires opium to initiate (also only available at black market) However, the player is not defenseless. Players can use the man of shadow to start intelligence mission, to eradicate crime syndicates.
Social Classes​
The society in the game is divided into classes, slaves, peasants, apprentices, artisans and masters. Besides slaves, the citizens will be allowed to progress through four tiers of classes, with each step providing increased capabilities, but also requiring different resources from you. The education is the key for most of your citizens to climb this social ladder. Higher classes will provide exponentially more labor, but will also require unique luxury resources. The citizens may stop working for several reasons, such as training, hunger, epidemic, strike, accidents, criminal activities, exhaustion, rebellion or retirement. While higher classes are often preferable, they are also harder to maintain due to requirement of luxury. The units and agents are also required to be trained from respective classes. For that reason, the players need to find the optimal balance between these classes.
Undisclosed Tech Tree​

In our opinion, it is unrealistic for the players to be able to view the tech tree. In Imperial Ambitions, the player will only be shown the available techs they can fund without disclosing the whole tree. It makes the game more challenging and exciting. This is also part of the discovery experience in Imperial Ambitions - you learn by doing! Funding a tech is not enough for research. The player must have one of their gentlemen agent perform an action related to that technology to be able to discover it. This action is also not revealed to the player. Thus player has to make a guess to what actions would help discover that tech. For example, a gentlemen has to sail the ocean to be able to discover the "Sextant", a navigation tool for sailors. Or, to discover "Abolishment of slavery" the player need to actually working slaves.
Diplomacy​

We envision a simple diplomacy for Imperial Ambitions. The difference in IA from most 4X, is that an agent has to be sent to the opponent's capital or party in an effort to ceasefire, establish trade relations, embassies, defensive pacts and alliances. Once an embassy or trade consulate is established the agent is dismissed. On the other hand, cancelling an existing agreement can simply be performed from the diplomacy window. It takes days to build bridges but seconds to destroy them.
Pixel Art Design​
We chose a pixelated art style for the game since it's a fun and approachable way to communicate controversial events of our recent history such as post-colonial subversion. We also wanted a retro aesthetic design to assist players in imagining this alternate universe, mixing pop culture with classic cartoon representations of imperialism.
Last edited: