welcome to song of the moon 2
total conversion modification !

NEW VERSION AND REWORK STYLE IS UNDER DEVELOPMENT - 21/12/2013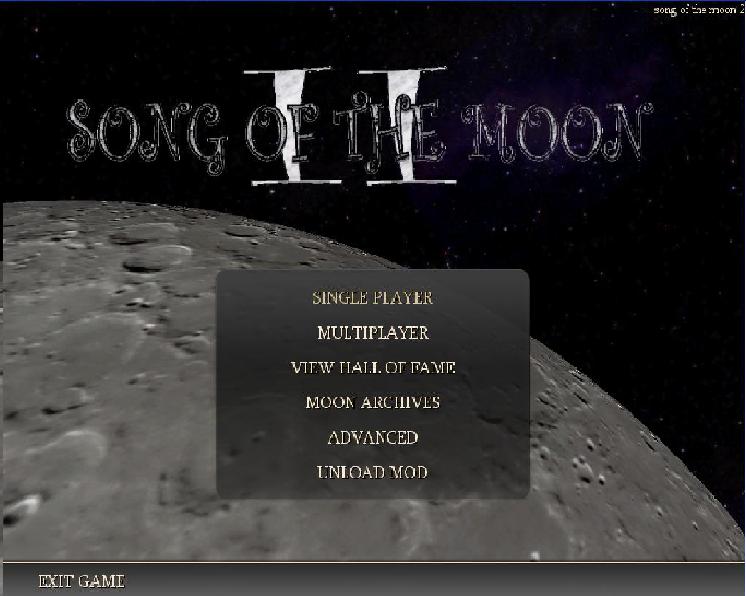 first ill start with the very important part, the credits, id like to credit those who first started this mod, so long ago, the first song of the moon creators :


Woodelf, GeoModder, DSquared, Belizan, Matthewv and JBG
They inspired the whole modding community with this first sci fi mod.
​
Introduction:

So, what the story line you ask? its simple: 15 mega earth corporations started on the race to colonize and control the bright side of the moon, for its abundant with metals, and the crowns jewel - helium3. the moon now is a more fruitful moon then before, since earth did some work prior to the invasion, it seeded the moon with bacteria's, crystals and some no atmosphere nutrients, so that the first colonists wont be starving too much. so do you have what it takes to stand in the coldness of the moon, the radiation - oh and the aliens that invaded the moon too (barbarians)?


here are the highlights of what song of the moon 2 includes:

1. You don't have a lot of food bonuses on the moon - each civ can import a unique bonus.
2. Helium is the most important bonus - it gives a lot of money with some buildings.
3. There are 7 unit class with different function in the game play.
4. Most units can walk all over the terrain.
5. There are 15 mega corporations to play with.
6. Religions are named ideologies - each have a unique unit.
7. Corporations for now are out - i will add them later.
8. New unit models by me, buildings and cool names


9. Theres no fresh water on the moon - instead you have energy - you build an energy node and its supplies you with
up to 3 energy on tiles away. most improvements require to be energized - lie irrigation for farms.
10. kmod 1.40
11. Units use multi bonus requirements.
12. Barbarians are now alien nation - they have their own units.
13. New Map Features.
14. complete music&sound conversion.
15. unique civ religion/ideology.

And Much more...

mod components included:

1. kmod 1.40
2. jeckel mod components - some cool improvement stuff.
3. platypang python mods
4. mountains back to service
5. fresh water from improvement by deliverator.

Credits = there's many people that made stuff thats inside this mod:
known issues:
* many buttons are missing, i did most for the units, there's still the building ones.
* no Much events - i need help with that
* for now there's only archipelago map - although any map can be used (Ask me How)
* the mod might not be balanced In some areas like costs, units and such.
To-Do:
- Change terrain art
- Build a music pack
- Add unique civ buildings
- Add aerial units
- Edit Promotions
- Add events
- Make a lot more button art
- Balance
- edit the improvements.
***************************************************
If you Have a crash, a bug or anything - plz attach a save game
***************************************************
Remember - the more feedback i get - the better youll help make the mod better.
thanks,
keldath, your friendly modder.
i'll Add more Pictures Later On.
mods original thread : http://forums.civfanatics.com/showthread.php?t=160498
http://uploading.com/files/da6m92c8/song+of+the+moon+2-1.2-beta-ready.exe/