Joined

Dec 26, 2008
Messages

233
Location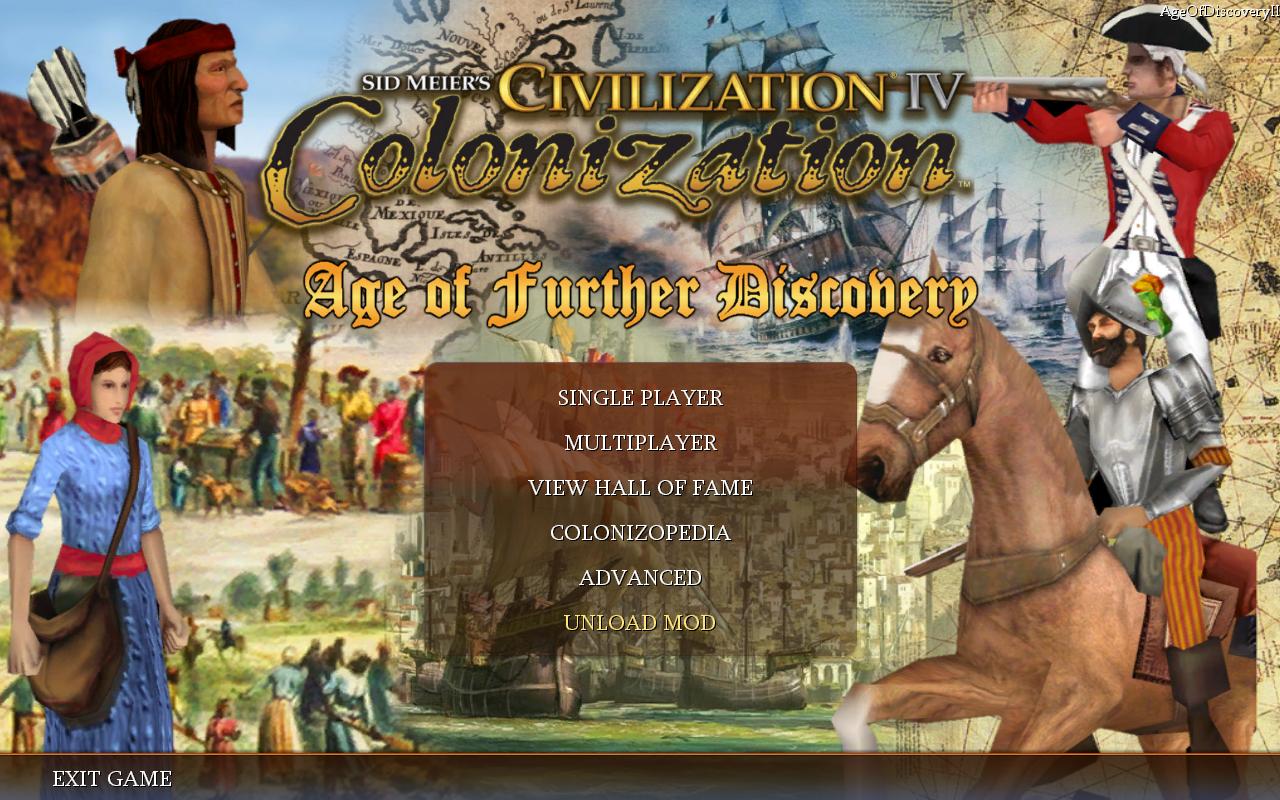 Summary:
By popular request, Deliverator and I have merged both BLUMod v0.6 and Plantation Economy v0.9b in this ModMod for Dale's Age of Discovery II v1.12.
Features:
Detailed features lists, credits and changelogs available on Mods forum thread:
Age of Discovery II v1.12
BLUModMod for AoDII
Plantation Economy ModMod for AoDII
Units:
* Conquistador (replaces Veteran Soldiers for Spain)
* Carabela (replaces Caravel for Spain)
* Marine (replaces Veteran Soldier for France)
* Veteraan (replaces Veteran Solider for Dutch)
* Custom Dutch browncoat musketman
* Improved Veteran Units and REF (using Oleg153's textures as a base)
* Expert Indigo Planter unit (reskinned Sugar Planter)
* Expert Coffee Planter unit (reskinned Tobacco Planter)
* Expert Gold Miner unit
* Aztec Warrior (reskinned Aztec Jaguar)
* Sioux Warrior (reskinned Dog Soldier)
* Sioux Scout, Musketman and Cavalry (by bernie14 with horse textures adapted from M2TW)
* Maya Warrior (added to the mod but not reskinned yet)
* Incan Warrior (added to the mod but not reskinned yet)
* Iroquois Warrior (merge of Logan Leaderhead and Native Warrior)
* Iroquois Scout, Musketman and Cavalry (by bernie14 with horse textures adapted from M2TW)
* Apache Warrior (Apache leaderhead merged with bernie14 unit)
* Cherokee Warrior (based on the vanilla scout but using Celtic Warrior animations)
* Various mounted units have "]more realistic horses
* New flag and colour scheme for France
* New Simon Bolivar Leaderhead (by Ekmek)
* Revised Dutch Leaderheads (by lionheart)
* Implemented sezereth's blood spatter effects in most units
* New flag for Spain (the Crown of Castile banner)
* Tweaked a lot of unit scalings
* Main menu graphics and music (Vangelis - 1492 Main Titles)
New Bonus Resources:
* Wheat (reskinned by
Walter Hawkwood
)
* Clam (Civ4 Clam bonus graphics)
* Buffalo (reskinned Bison bonus graphics by Refar)
* Prime Timber (reskinned and fixed Civ4 Evergreen Forest Feature model)
New Bonus Resources & Tradable Goods:
* Indigo (reskinned Civ4 Dye bonus graphics)
* Coffee (reskinned Coffee bonus graphics by WoC Team)
* Gold (reskinned Civ4 gold bonus graphics)
Improvements:
* Cotton Plantation
* Tobacco Plantation
* Sugar Plantation
* Indigo Plantation
* Coffee Plantation
City Buildings:
* Stone Wall Fortress (graphical only, reskinned Civ4 Wall graphics)
Interface:
* Zoom out more (allows you to zoom out further before switching to Globe View)
* Camera Controls (for panning and tilting the camera through 360 degrees)
Gameplay
* Maya civilization (using the standard Holkan graphic for the Warrior unit initially)
* A tweaked version of Cephalo's FaireWeather called FaireWeatherTweak
* Bonus placement reworked and optimized for FaireWeather/FaireWeatherTweak
* Spanish Carabela starts with Navigation I
* French Marines start with Amphibious
* Aztec/Maya Warriors start with Swamp Fox I
* Sioux/Iroquois/Inca/Cherokee/Apache Warriors start with Skirmisher I
* Farms now only produce food
* Mines can also yields *1 gold (gold bonus is require)
Download and Installation:
Manual Installation:
Download Age of Further Discovery v0.03 (Manual installation)
1) You need to have AoDII version 1.12 installed.
Get it here
.
2) MAKE A BACKUP of your AgeOfDiscoverII folder in Mods - this modmod will overwrite some files in that folder so be warned.
3) If you already have BLUModMod for AoDII installed, you can use the same folder but you MUST delete the "BLUMod" and the "GoldResource" Modules folder...
4) Either unzip this file to Mods or first unzip and then copy the contained AgeOfDiscoveryII folder over the top of your existing one, saying yes to overwriting of files.​
Change Log:
Code:
v0.02 Changelog:
	* Fixed Indigo and Coffee Bonus and Plantation in PlotLSystem 
	* Fixed Fur Bonus appearing on Grassland

v0.03 Changelog:
	* Compatible with AoDII v1.12
	* Added Kaibayashi's new city management building graphics
	* Added Wheat retexture by Walter Hawkwood
	* Fixed EuropeCost for Gold Miner
	* Fixed CityAttack and CityDefense for Conquistadore, French Marine and Dutch Veteran
	* Fixed Palisade graphics and CityLSystem
	* Fixed some Audio errors