Joined

Mar 11, 2005
Messages

3,293
Latest Contest:
Monthly Competition for Nov. 2016
____________________________________________________________________________
Da Rules
- read carefully! -
1. Anyone may enter a file, as long as:
-The submitter is the creator of the file.
-The file is completely new, not posted before either on this website, nor on any other. The 3D model for the file does not have to be new, though.
-Files that were the combined effort of more than one artist ought to credit every artist that made a significant contribution to their creation.
-Converted files and cut 'n paste files are also allowed, but this should be stated.
-The new file must be available for download for the civ community.
Unit makers
: Units that are a previously posted unit with changed pallete may join, provided permission is given in this thread from the original creator (unless he hasn't been logged on to CFC for the past 6 months).
Unit makers
: Upon submission a single preview file of selected unit animations needs to be provided! A sample submission is provided below, only submissions in this format will be considered.
PCX makers
: The new PCX must be in the same scale as it is in the game file, as it looks after indexing, previewed against a basic background. The exceptions to this rule are for types of graphics that make no sense out-of-context, such as interface files, borders, roads & rail files, terrain sets, and the like, though we reserve the right to limit the size of previews. A smaller preview can be linked to a larger preview.
2. Entries must be made between the first and the last day of the month prior to the next competition. So, if it's February, you should make your submission before midnight (2400 hrs) on the 28th. Unless it's a leap year.
3. Make as many entries as you wish, but keep it reasonable. A submission can be withdrawn, or changed, but on deadline day what's there is there and will be posted to the poll. The maximum number of total contestants allowed is 25, so I reserve the right to reduce the number of entries by any single author if that number is exceeded.
4. By submitting you declare that the submitted file is your own work and that the original artists on these pages (if any) have consented in its submission according to the rules of this competition.
5. A link to the file together with a preview needs to be posted in this thread before the end of the month. After that a thread will be launched in which the winner will be decided by a 1 week poll. Any complaints about a submission should be made before this deadline in this thread, complaints after the deadline will not be considered.
6. The moderator of the thread (that would be me) reserves the right to make arbitrary and capricious decisions regarding entries, though in fact, I will try to be fair. Don't complain about decisions; resistance is futile.
7. This is supposed to be a friendly competition, so please stay friendly and courteous to each other at all times. Let the games begin!
Sample submission
Artist: Flamand
Name of file: Puddle Jumper
Thread: link to thread/download
Additional Credits: as required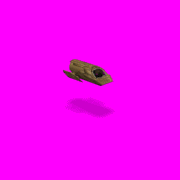 8.
Added September 2, 2016
: Creators may now sign up to have the contest moderator (me, at the moment) choose up to three units or pcxs that they've made that month to be entered, with the rules regarding the chosen works being the same as regular submissions (e.g, must have been posted to the database within that month, etc.). Creators may request contact by PM in their sign up*, but should know that if they don't respond within 48 hours, the moderator my act on his (or her) own.
Caveat:
I'm not perfect, no one is. If you sign up for auto-submission and I miss something, I'll try to make amends, but don't give me grief. If it's important to you that a particular Unit or pcx gets into the monthly contest, contact me ahead of time to be sure I saw it.
To sign up, post this way:
Artist: Your moniker
Auto Submission sign-up
Instructions: only one pcx or unit per month, Contact by PM.
*as Instructions: how many units (pick a number between 1 and 3). Can also say 'no contact necessary'.
This is the
Automatic Submission Creators List
so far:
1)
Last edited: