Joined

Nov 5, 2004
Messages

488
Location
Yes, finally, a vanilla user map.
There are no changes to the rules, just a normal map. It holds fourteen civs without extra moding, and is for "Vanilla" Civilization III v.1.29f.
Everything else is in the readme.
Here's the screenie: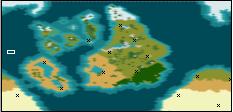 Oh, I forgot to explain something. The map is of an entire world. why is there desert at the bottom, you may ask? I came up with this idea when I started- the earth wobbles as it spins, at the same rate as the spin Thus, the top is cold and the bottom is hot. I like doing wierd stuff like that.