Multi Many Tasks man
Retired Moderator
Joined

Sep 1, 2002
Messages

18,162
Location
I've started to program a new editor for Civilization III. The goal is to have in one editor all the flags/parameters, and tools such as Gramphos copy tool.
No change in the gameplay, just an editor which is easier and faster to use (multiselection for deletion, alphabetical sort, filtering, etc.)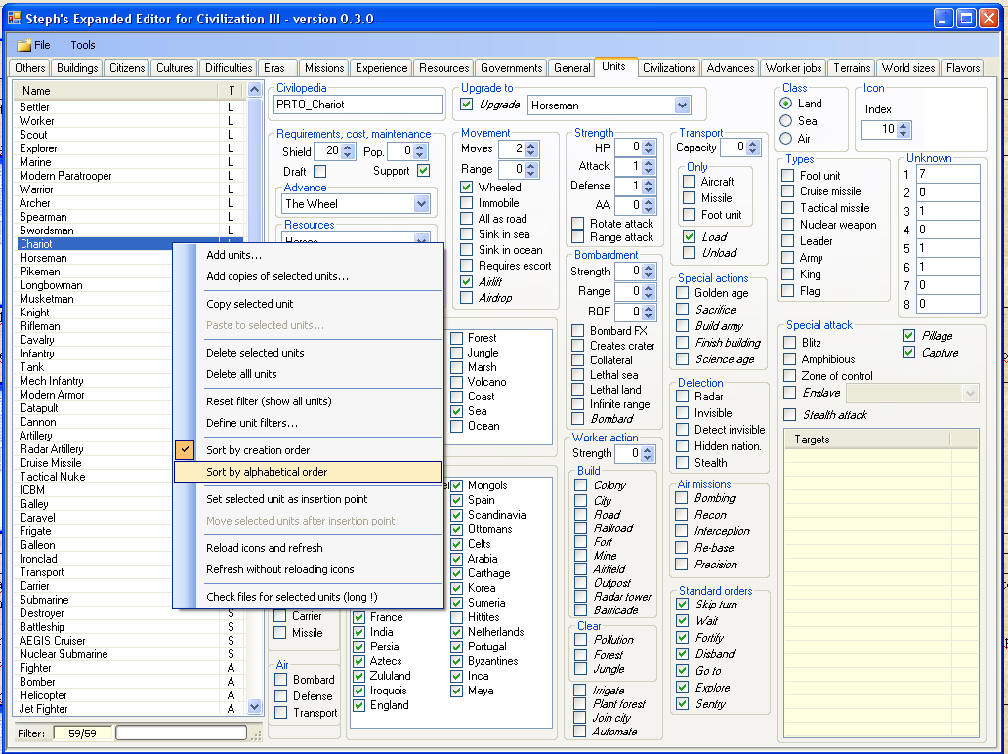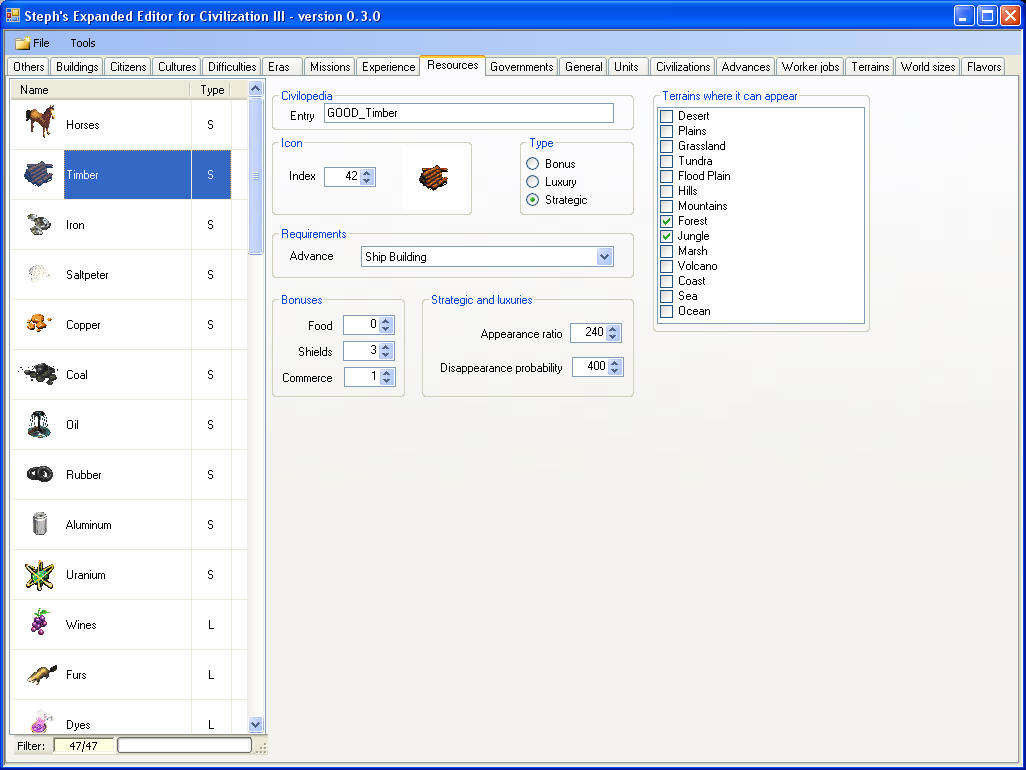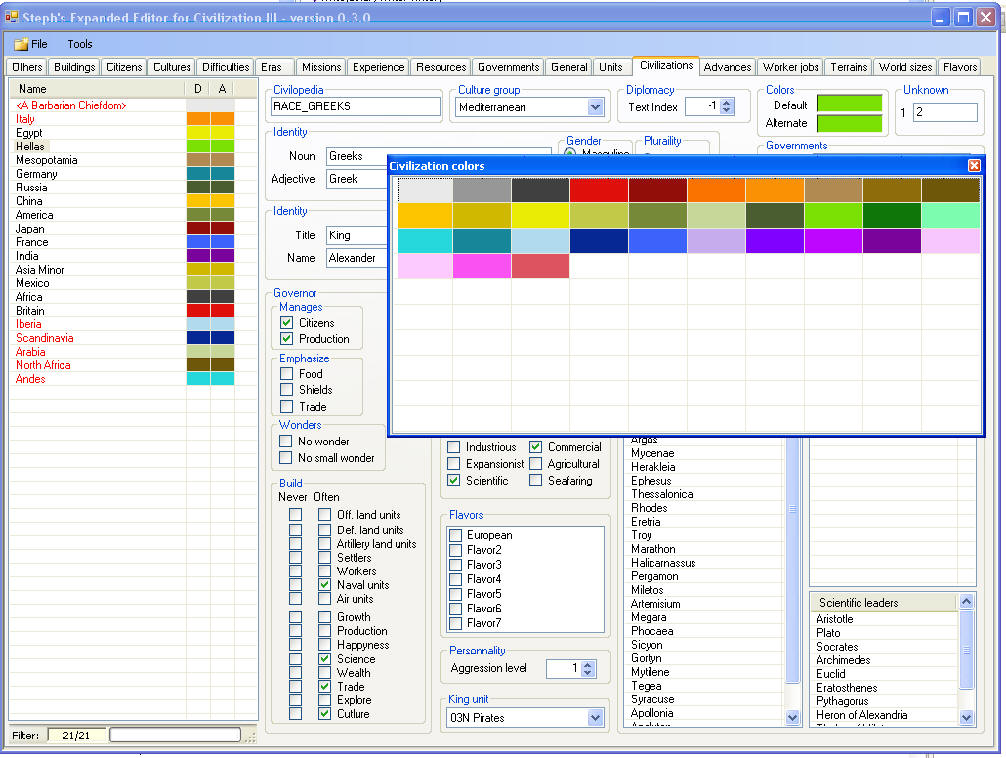 I need testers to, well, test it.
Requirement:
- Have conquest editor (it works only with conquest)
- Download microsoft Framework (the editor is made in C# 2005)
Download the editor
Try this one if you have Window 7 - 64 bits and the other link doesn't work
.
For the moment, it's a work in progress, so don't expect to do everything with it.
warning: my editor doesn't read compress biq files yet, so don't forget to disable compression before saving!
You'll notice I have changed the organization of the flags, and grouped them in a more logical way.
I read and save the whole file, I do not display all the parameters in the interface yet. All the rules are displayed, the scenario properties, custom players data and map data are not displayed yet.
version history.
Version 0.8.2, 16/01/2010
- Support added for charm and teleport options
-
Warning : saved game and expanded game management are work in progress, do not try to use them yet!.
Version 0.8.1, 22/12/2009
- Correction of a bug preventing the correct updates of the dates in the scenario properties
- Correction of a bug preventing changing the civpedia entry of a unit
- Compressed files with a space in the name should now uncompress properly.
-
Warning : do not try to open a saved game, it's still a work in progress and will not work yet.
Version 0.8.0, 19/12/2009
- Editor splitted in several smaller windows, easier to manage and update for me
- Correction of several errors with refreshing (ex: add something in a list, but refresh the wrong one, so you couldn't see the change)
- Correction of errors corrupting the file if adding/deleting some items (like Spaceship parts).
- Added a tool to count the number of units for each civ, each types, etc.
- Added a tool to edit the preplaced cities : change ownership, preplaced buildings, culture, size, etc.
Version 0.7.10, 30/08/2009
- Better error handling for compressed biq files.
Version 0.7.9, 20/08/2009
- Support of compressed biq files added
Version 0.7.8, 15/08/2009
- In the unit filter, possibility to filter on the "ignore terrain cost" option.
- In the unit filter, possibility to filter on the name of the unit or the civpedia entry. Use of "*" Supported; Example :
*Sword*
will show
French_Swordsman
and
British_Swordman
.
- In the building filter, possibility to filter on the name of the building or the civpedia entry. Use of "*" Supported; Example : Ca* will show Cathedral and Catacomb
Version 0.7.7, 11/08/2009
- In the unit comparer, new column to show the required advance, and sort on this column either by name or index (right click on the list to select the option in the contextual menu)
Version 0.7.6, 09/08/2009
- Correction of a bug : the required government for building was not saved properly.
- Correction of a bug : a great wonder was also a small wonder, and could be built twice. Now it's a proper great wonder.
Version 0.7.5, 05/07/2009
- Correction of a bug when cropping maps with cities that where not deleted properly if on the edge.
- Correction of a bug in the "create building to produce unit" function
Version 0.7.4, 01/07/2009
- When exiting the editor, a message proposing to save is displayed.
- Support added for recent files (up to 4 files are stored).
Version 0.7.3, 28/06/2009
- Correction of a bug where copies of building had "BLDG_" for civpedia entry instead of the proper entry
- Add a new feature to automatically create building to autoproduce units
Version 0.7.2, 20/06/2009
Correction of the bug that crashed the editor when using graphical mod for the modern era in the tech tree builder
Version 0.7.1, 07/06/2009
Correction of the bug where colateral damage was not saved properly in the PRTO page
Version 0.7.0, 30/05/2009
New map tools added (menu tools). To use when the scenario contains custom rules and custom map.
- Expand or crop the map in any direction, even if the map includes preplaced cities or units
- Remove every city, units, mines, roads, etc. from a map.
Version 0.6.0, 18/04/2009
- A new tool has been added. To start it, select "Compare unit.." or "Compare building..." (last command on the contextual menu in the BLDG or PRTO page). The tool displays the units or buildings in a multicolumns list. The columns can be reorder (drag and drop), you can sort the list by clicking on a column... and you can edit directly by clicking a cell!
Version 0.5.5, 16/04/2009
- Correction of a bug that preventing the correct update of technology requirement for units after a technology has been moved or deleted.
Version 0.5.4, 13/04/2009
- Support for scientific leaders in the game page (scenario properties)
Version 0.5.3, 08/03/2009
- Correction og the bug with the inversion of "Allow cities" and "allow colonies" flags in the terrain page
- Contextual menu (right click) with "All" and "None" added for the most important lists with checkboxes, so it's faster to select all of them or none. Done for Good/Terrain, Unit/Civilization, Unit/Ignore Terrain cost, Playable civs.
Version 0.5.2, 06/03/2009
Correction of a nasty bug that could screw a biq file after added a new tech or natural resource.
Version 0.5.1, 05/03/2009
-The filter for units has been modified to allow details for the resources.
-The preview for the "Extract scenario" function is available.
Version 0.5.0, 31/01/2009
- In the general settings, the Spaceship parts and culture levels have been added
- The filters have been added to the remaining pages
- The Add copy and copy for Buildings and Citizens have been added
- The Stealth targets has been added to the unit page.
Version 0.4.7, 25/01/2009
In the tech tree builder,
-a graphical mod has been added. It displays the tech tree as it should appear in game, with all the icons
-The logic behind the size of the techboxes has been reviewed.
Version 0.4.6, 19/01/2009
In the tech tree builder
-Tech boxes have the size they would have in game
-Tech boxes are displayed in white if they are generic (grey when selected), or in blue if they are civ specific (darker blue when selected)
-The cost of each tech is displayed in red in the techbox
-The cost of the selected tech is displayed at the bottom left, and can be modified directly from here.
Version 0.4.5 18/01/2009
-First version of the tech tree builder added (click on the Tech Tree Builder button in the Tech page)
-Correction of a bug with locked alliance when the civilizations were not all playable.
Version 0.4.4 16/01/2009
-Victory points, disasters and locked alliances addeds
-When adding a new resource, the list was completlty filtered. You add to use "reset filters" to see the resource.
-Change of resource type from Bonus to other is now save properly
-Bug when reanming a resource corrected
-The "move resource to insertion" menu is now enabled when it should
Version 0.4.3 13/01/2009
- Scenario properties added
- Correction of a bug where the worker strength was decrease by 1 everytime you selected it
- Support of advanced order as "automate", that was not saved in the previous version.
- Name of tabs changed to the 4 letters code, so they all fit with the scenario properties added (and there's still room for the plagues, alliances, victory points).
- Correction of the filter on bombard strength and range for units.
Version 0.4.2, 07/01/09
It's now possible to add, delete, sort and reorder buildings and governments. All the main commands are done for all the pages.
Version 0.4.1, 03/01/09
Custom maps should now be supported. You can add or delete units and civilizations, and the map should update correctly.
If you place units / cities / colonies for Civilization A and B, and the civilizations are A, B, C, and then delete civilization A, with the regular editor the units and cities that belonged to civ A are deleted, but the units and cities that belonged to civ B are then "reasign" to civ C.
With my editor, they remain assigned to civ B.
I've tried to test this feature, but I'm not sure it works 100% OK. The way colonies are saved in the map doesn't seem to match the description made by Gramphos. With my test, the update seems OK though... And for victory location, it seems it doesn't work well. If I place a victory location for civ A and then delete civ A, the victory location is reassign to none instead of being deleted as it should, and then it can crash the editor...
Version 0.4.0
-With the addition of building and governments, all the pages are now editable except for a few details like spaceship parts! Next; add the filter, add, delete, etc on the pages which still need them.
-It's no longer possible to browse the pages before you loaded a scenario
-The name of the loaded scenario is displayed in the title of the window
-When you save, a message indicates when the save is finished.
Note: buildings have a "CanBribe" flag, but in the sample I've used, it's always set to "false". However, it doesn't seem to prevent propaganda... So I'm not sure what is the real effect of this flag.
v 0.3.4, 2008/12/28
Bug corrected: list of civilization availability initially displayed as empty (bug created by yesterday correction, I hope everything is right now!)
v 0.3.3, 2008/12/27
-Bug corrected : error when selecting a unit after adding a new unit (recent bug created with the update of a deleted civ in the list of available civ)
-Bug corrected: the population cost of unit was not saved (recent bug created by the handling of multiple strategies units)
-A few more pages are now editable. The parameters can be changed, but it's not yet possible to add/delete/sort the items in the page. The "new" pages : Citizens, Culture, Diffiulty, Diplomat and espionnage, eras, experience, workr job, world size, and flavor.
v 0.3.2, 2008/12/26
Major update, all the pages are displayed completly, and the units, advances, civilizations, resources and general pages are editable, and show most of the new features.
v 0.2.0, 2008/11/26
- All the pages have been added, although some are almost empty
- I now read the whole file, including maps and players data. It should work with different options (custom map, players and rules on/off)
- It can save the file.
- Don't try to change anything in the interface, it is only for display: changes are not connected yet.
v 0.1.4, 2008/11/11
- General settings page added
version history.
v 0.1.3, 2008/11/11
- Government page added
v 0.1.2, 2008/11/10
- Windows resized to 1024x768
- Range of numeric fields updated to match the conquest editor
- Pages added:
-- Citizens
-- Cultures
-- Difficulty levels
-- Eras
-- Diplomacy and espionnage missions
-- Combat experience
-- Natural resources
- Pages updated
-- Building , with the link to the resources.
v 0.1.1, 2008/11/09
Initial version with only the building