Joined

May 5, 2005
Messages

8,201
Galactic Conquests Mod (GCM) for Civ 2 ToT- Betatest Version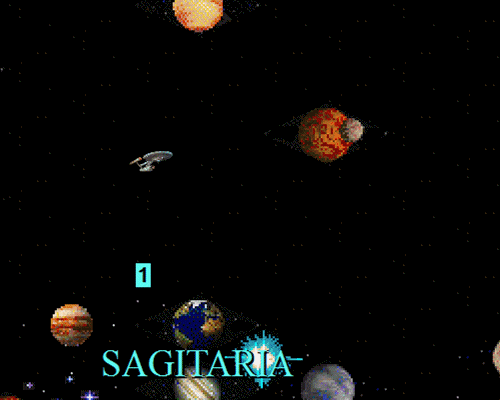 "Captain, sensors reading a battlewaggon coming out of hyperspace behind us."

"Relax ensign, this is a battlestar of the Lost Colonies, they are on our side. At least they were, when we contacted them the last time. Close up the Enterprise to firing range against the Kilrathi Ralari"

"What´s that - fireballs coming out from the Kilrathi ship!"
"Th - that was the Excelsior, captain"

"My god, the cats have plasma weapons - and behind us a bioterminator is on his devastating way to Sagitaria. Full speed ahead to the whormhole back to our galaxy."
(Reminiscence to CGW "Hanging from Orion´s Belt")
Galactic Conquests Mod (GCM) is a non-commercial spacemod to replace the Science Fiction Game in Civ 2 ToT, playing on two linked Kobayashi-maps (the galaxy Milkyway and the galaxy Andromeda) and randomized starting positions. There are 12 playable Civilizations, each with its own specific spaceships, assisted by a bundle of common spaceships that are available to all civs. This mod has animated units with attack and death animations as seen in the intro-image, done with Mercator´s CivSprite.
The Galactic Conquests Mod is dedicated to all civers who did boldly go, where no civer has gone before. A big thank you to the members of the Civ 2 Scenario League and here especially to Kobayashi and Catfish who told me a lot about modding Civ 2, the first one with his tutorials and scenarios about ten years ago, the other one with his friendly help in answering the questions I had, when finishing that mod these days. Another big thank you to the people of the SOC-Site who are kindly hosting this mod and to Mercator who created the tool CivSprite. The biggest thank you to all the artists, that made these beautiful units I used for the animations and other graphics that are used in this mod. As I started to do most parts of this mod about ten years ago, I can´t remember all of their names, but if you see a piece of your work here, I will do my best to give you the proper credit for your work.
Some free days around eastern were not enough to fine-tune every aspect of the mod, that I started long ago. So with your help, reports and hints I will do a revised version of this mod when my time allows it.
The mod can be downloaded here:
Edit: Download at present not longer available, as the hosting site was closed.
About installing this mod:
1. Rename the standard Civ 2 ToT Scifi-game to SciFi-old (or something like this), so you can simply replay it, when renaming this mod and giving back the old name to the standard SciFi-game.
2. Unzip this SciFi-mod in the Test of Time folder, so it appears as the new SciFi-folder.
3. Rename your Intro.dll to intro-1.dll (or something like that)and paste the Intro.dll of this SciFi-mod in the Test of Time folder. You can reuse your old file by renaming it and there is a reserve file of the original dll-file in your GCM-download-files.
Do the same with your Tiles.dll and the Credits-file (the last one is needed to show in game a mini-image from the new Tiles.dll about the SciFi-Techtree when clicking the Techtree-Button (replacing the " About Test of Time"-Button).
About starting the new SciFi game:
1. Start a Single Player Game
2. Start the Science Fiction Game
3. Start on Pre-Made Universe
This is important, otherwise the mod will be unplayable!
4. Load the map Milkyway contained in that mod.
This is a modified Kobayashi-map, based nearly complete on ground terrain. Only the suns are sea-terrain.
5. Click "No" to the question about randomized artefacts of the Mysterious.
This is important, otherwise it can happen that you won´t be seeing the suns in this mod (based on fish and whales resource graphics).
6. Select Dificulty level: Great Administrator or Cosmocrat are recommended.
7. Play with 7 Civilizations.
8. Select level of Alien Activity: Restless Tribes.
9. Use Standard Rules for randomized appearance of other civilizations or customize rules if you want to play with special other civilizations.
10. Select gender if you want to play with a male or female leader.
11. Select your own civilization you want to play.
For the other civs in the game: Only one of the civs in the horizontal column of the following screenshot can appear (so for an example in the same game there can´t appear the Federation and the Terran Solar Empire).
12. Enter the name of your leader.
13. Click on one of the city graphics. They are all set to transparency, so here you can only see the graphic of the planetary force shield.
14. Select map 2 for the game.
15. Here select the galaxy Andromeda.
This is another modification of a Kobayashi-map, based nearly complete on ground terrain, too. Only the suns are sea-terrain. Remember: Without this map the mod will be unplayable!
16. When you did all right, you will see the following startscreen.
When you change the starting civ after quitting a SCiFi game, there is a chance, that the game can collapse. In this case relaunch Civ2 ToT and restart the SciFi game.
Some hints about gameplay:
1) Don´t forget: This game plays on two fixed maps with random starting positions and random civilizations. Both maps are "ground maps", meaning the only "water-terrain" on these maps are suns and all units (with the exception of some wormholes given by an event)are ground- or air-units.
It also means that exploration is much quicker and the threat of attacks is much stronger than in normal civ games. Additionally you have to take care of the "third dimension" as big invasions can happen from the other galaxy by new-built wormholes, done by construction ships.
2) Any civilization that reaches Transcendancy (Future tech 7) wins the game; this is the "pure research" method of winning.
3) You cannot talk with other civilizations until you (or they) have researched Translators.
4) At the start of the game you should try to capture/destroy as many barbarian pirateships as possible, as each of them gives you 50 credits when you did attack them.
5) By all circumstances, take care of your construction ship. It is an unique unit, given you by an event that allows you to build wormholes for direct connection to the other galaxy. You only have one of them and you don´t get another one. If you loose your construction ship you are handicaped to use wormholes done by other civilizations or to wait until you have ships with intergalactic drive, that are strong enough to conquer a planet in the other galaxy where you can build a dimensional portal for a direct connection between the both galaxies.
6) You can win without beeing "Master of Orion". But why don´t take it, if it´s possible?
Last edited: