This is the
TARDIS
...was used in the British "Doctor Who" Television Program as a Time Machine, "Spacecraft" Transport.
TARDIS means Time And Relative Dimensions In Space.
Winner of the January 2009 Unit of the Month Contest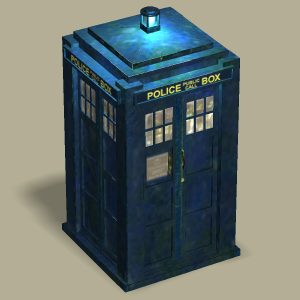 _

Preview Order: Teleport, Default, Run, Visible Fortify, Invisible Fortify, AttackAB, Optional Separate AttackA, Optional Separate AttackB, Fidget, Victory and Death.
...Please judge this Unit in Game because the Transparencies and Animations were specifically made to look and work well in the Game rather than the Previews.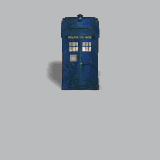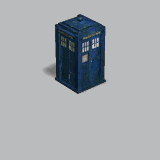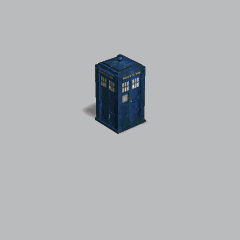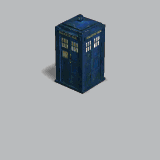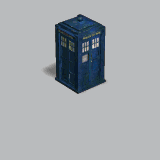 This Unit was made specifically for the "Steampunk" MOD
by request but if anyone has a game where the TARDIS can also find
a home, you are most welcome to add it

Included Files:
Civilopedia TARDISLarge.pcx and TARDISSmall.pcx
TARDIS_units_32.pcx,
Adjusted .ini file, (Set for AttackAB only and the Visible Fortify.
The Capture uses the TARDISFidget.flc if desired). The INI is the way I would use the Unit but, naturally, you can set it as you desire

This is the Reason for the included Extra animations.
11 Animations (flcs) (2280 Frames):
TARDISDefault.flc,
TARDISRun.flc,
TARDISFortify.flc, (Visible Fortify, Windows Darken and Light Out)
InvisibleTARDISFortify.flc, (Optional to set the Fortify Transparent)
TARDISFidget.flc,
TARDISAttackAB.flc, (Main Attack with Combined Attack A and B)
TARDISAttackA.flc, (Optional Separate "Energy Bolt" Attack)
TARDISAttackB.flc, (Opional Sepatate "Force-field" Attack)
TARDISVictory.flc,
TARDISDeath.flc,
TARDISTeleport.flc (Uses Paradrop setting)
Sounds: Mixed, Put together and Adjusted for all animations.
Altered some TARDIS sounds from (
http://www.kasterborus.com/tardis/tardis/
) and made and mixed in others.
Note
that CIV Specific Color was Not Wanted for this Unit as it is
intended to be a One of a Kind, Single Unit... However, if you desire
CIV Specific Colors, you can paint an area you prefer such as the small
front sign.
The Four applied Palettes contain the CIV #1 Red Specific Colors you
can use to Add Red Civ Specific Color.
Animations with the Same Palettes:
*Default and Run
*Attacks AB, A and B
*Death, Fidget, Fortify, Invisible Fortify and Teleport
*Victory
I made the "Energy Bolt" Long and the "Force-field" Large to
accommodate Bombardment distances if you desire a Bombardment
setting. I recommend One Tile Distance to Fit the animation and Set
"Ranged Attack" for the TARDIS unit in the CIV Editor.
I also recommend setting the TARDIS as a Transport Unit as that is
its basic functional intention

Set the animations and included Optional animations as you prefer to
use the TARDIS in your Games...for example, you can omit the
Attacks and simply use the TARDIS as a Transport Unit.
You can use the Invisible Fortify if you prefer it.
I Recommend setting the Run Moves to 5 or more.
I created animations to provide the Illusion of the TARDIS pulsing
as Transparent as possible for the CIV Game but with no
Real Transparent Colors available and a limit of 160 Palette Colors,
this was a Task. Due to the translucent light smoke and shadow
shades used, The TARDIS animations look much better in Game
than viewing them in a preview program such as "Flicster" or these .gif Previews.
The TARDIS is Not suppose to be able to be destroyed and I was
not sure what the TARDIS would use for an Attack but I made them
for use to be used as you desire this Unit to function in your Games.
All Game Tested.
You can Download the Zip File
Here
...I hope you will enjoy this SCI-FI Time Machine "Transport" Unit.
Last edited: