Joined

Feb 24, 2006
Messages

5,958
Location
(for BtS)
I'm not sure if Imhotep will mind if I use up a number in the Deviant Mind series, but I AM sure i don't care


This game won't be as whacky as Immy's, but should provide some unique challenges in its own right.
She closed her eyes. "The people I Learned the Law of Life from, Louis, are the people who actually gave the law that name, the Ihalmiut Eskimos, who lived in the Great Barrens of Canada, inside the Arctic Circle. Theirs was a strange life by our standards, but its strangeness makes it very easy for us to comprehend. The Ihalmiut were the People of the Deer. They were this because deer was what they lived on. They were completely dependent on the deer, because other animals were rare, and vegatation that's edible by humans is practically nonexistent inside the Arctic circle. It's hard to imagine living entirely on meat—never a piece of bread, never a piece of chocolate, never a banana or a peach or an ear of corn—but they did and were perfectly healthy and happy.

"They'd never have to explain who and what they were to their own children, but if they did, they'd say something like this: 'We know you look at us and call us men ad women, but this is only our appearance, for we're not men and women, we're deer. The flesh that grows on our bones is the flesh of deer, for it's made from the flesh of the deer we've eaten. The eyes that move in our heads are the eyes of deer, and we look at the world in their stead and see what they might have seen. The fire of life that once burned in the deer now burns in us, and we lie their lives and walk in their tracks across the hand of god. This is why we're the People of the Deer. The deer aren't our prey or our possessions—they're us. They're us at one point in the cycle of life and we're them at another point in cycle. The deer are twice your parents, for your mother and father are deer, and the deer that gave you its life today was mother and father to you as well, since you wouldn't be here if it weren't for that deer.' "
(from
The Story of B
, by Daniel Quinn)
Leader: Sitting Bull of the Native Americans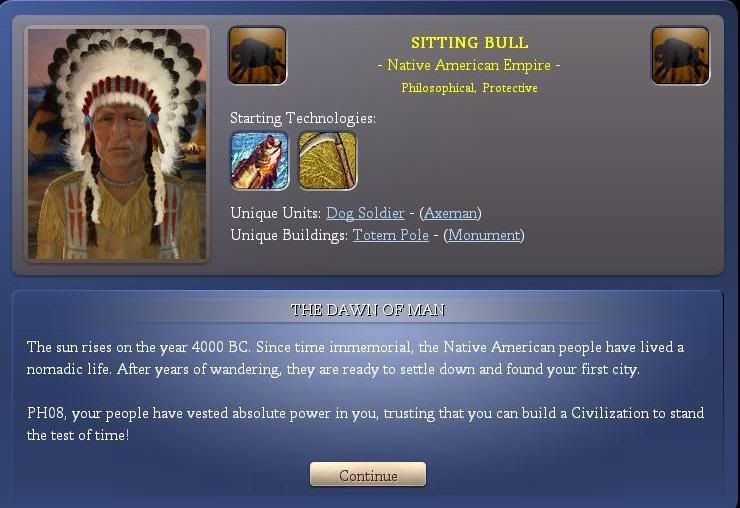 Rivals: 6
Difficulty: Monarch
Map: Boreal
Mapsize: Standard
Starting Era: Ancient
Speed: Epic
Victory Conditions: All enabled, but we can only win by Culture. Also, we will be borrowing the "Honorable" ruleset from Realms Beyond (w/a few modifications)
Finally, we will be using DM SG etiquette, so please familiarize yourself before signing up:
Here's the start:
And i'm looking for 5 other intrepid players, first come, first served:
Roster
Pholkhero
Pigswill
Njorls
Imhotep
Trieste
OPEN