Pie's Ancient Europe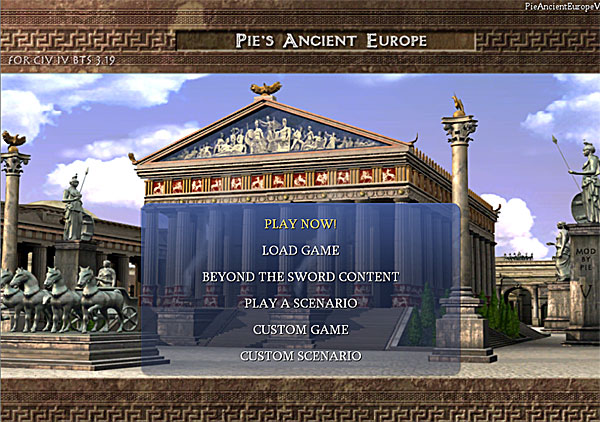 If you like the ancient era, you will love PAE!
Never before has a game come so close to the ancient times....
Closer than Rome Total War, Age of Empires and all the other games......
Let's play ancient history as you've never played before...
|BTS|BTS Ancient Era|PAE|Examples
Techs:|92|34|230|Spoke wheels, Cuneiform, Civic Soldiers, ...
Units:|123|56|300|Sea Peoples, Shortswordsman, Compositebowman, ...
Special Units per CIV:|1|-|up to 8|Warband, Principes, Hastati, Triarii, Sacred Band, ...
Buildings:|97|56|151|Smoking hut, Vintager, Palisade, Arena, ...
Special Buildings per CIV:|1|-|up to 10|Stone circles, Gymnasion, Levee, ...
National wonders:|14|5|16|Leagues, Mint press, Bible translation, ...
World wonders:|48|21|62|Sphinx, Olympic Games, Circus Maximus, ...
Projects:|4 (+7 Space)|0|3|Silk road, Akashic Records, St. Anthony monastery, ...
Terrain features:|6|5|11|Burnt forest, Dense forest, Fair wind, ...
Natural disasters:|0|0|13|Tsunamis, Meteorites, Vulcanoes, ...
Bonus resources:|35|26|73|Lead, Tin, Bronze, Terra Cotta, ...
Terrain improvements:|23|15|22|Salt mine, Lumber camp, Well, ...
City specialists:|14|14|20|Freed slaves, House/Field/Mine slaves, Reservists, ...
Unit promotions:|57|46|139|Skirmish, Furor, Parrying, Loyalty, ...
Unit ranks (new):|0|0|134|Centurio, Strategos, turtanu, ...
Unit formations (new):|0|0|22|Flight, Shield wall, Phalanx, Flank, ...
Unit classes:|10|6|13|Spearman, Skirmisher, Chariot, Elephant, ...
Civilizations:|34|21|33|Etruscans, Britons, Iberians, Phoenicians, ...
Leaders:|52|23|156|Sargon, Agamemnon, Salomon, Trajan, ...
Religions:|7|6|13|Zoroastrianism, Celtic, Nordic, Egyptian gods, ...
Cults/Corporations:|7|0|9|Isis, Cybele, Mithras, Hellenism, ...
Civics:|25|13|36|Dynasty, Diarchy, Codex, ...
Events:|159|92|155|Tomb raiders, Spartacus, Trade of women's hair, ...
Quests:|18|9|22|Leper colonies, Spread of cults, Provinces, ...
The full version of PAE V is finally there!
Games like Total War Rome II or Ryse Son of Rome for the Xbox seem to have brought antiquity into gaming more stunningly and realistically than ever. But once you're fed up with all the visual gorgeousness, what's left of long-term enjoyment and true immersion into the ancient world? Not much. Nothing against high resolution massacre and panoramic real-time battles, but depth, "soul" and historical feeling are things, which many players rather look for in turn-based strategy games.

However: founding cities, governing empires, conquering the world - we all know that. What should be expected new in a turn-based strategy game set in antiquity? Pie's Ancient Europe got the answer, a user-made, free modification for Civilization IV. Some commercial developers may just dream about this degree of atmosphere, playability and amount of innovative features. Here are just a few examples of the things you can do in PAE:

Spread food resources such as dates, olives, grain and wine strategically - starting with only one single resource, you found on your territory or that you traded from another player - and thus re-enact the agricultural development of ancient empires.

Promote your units in a new way: While they autopromote according to the terrain, in which they gained combat experience in, and automatically grade up according to their level of experience, you're still able to develop them the way you like. You may settle your battle-hardened veterans in provinces and reactivate them when needed. You might also let them rise up to legendary status and eventually become a hero, for example by killing an enemy unit, that already has that hero status.

Do not only fight barbarians and other civilizations but also the inner dangers of your empire: faithless generals, province governors going berserk, religious tensions, mutinying troops, rebellious slaves, renegading vassals, suddenly appearing mercenary armies some unknown enemy has sicked on you. Will the leader of those mercenaries reveal under torture which of your opponents is responsible for this band of mercenaries in your territory? Then pay him back by hiring your own mercenary army on his territory to destabilize him from within. But maybe the Gods themselves will punish him with a devastating natural disaster: witness tsunamis, meteorits, volcanos, locust and plague wreaking havoc on his empire - or yours.
Comment to PAE V:
Yes, it's definitely educational. Other mods bring historical elements into the game, but the shear scale of what you have done dwarfs any other mods I've seen. I'm about 18 hours into my first game of it, and I'm still discovering new things you've added--it's like as soon as I think, "It would be nice if it did x," I find out "Oh, it does." Just now I was wishing I could drag ships across the Isthmus of Corinth like they actually did, and I was browsing your Civilopedia entries and sure enough, supply wagons can portage ships across land.

You've added a ton of new features to the game that add to its historical feel and enhanced its game play with everything still feeling balanced and polished--nothing feels kludged and I haven't run into any bugs yet. I've been coding and gaming for over 30 years now, and I'm awestruck by both your design and implementation. You have earned my highest praise.
Comment to PAE IV:
Wow! I just began playing this mod today and I'm already hooked! I'm a retired professor of ancient history and classical archaeology so I can appreciate the work and study that went into this mod. I've played others dealing with this area of history (obviously), but find PAE the most accurate and well-balanced of the lot (at least so far). I started a game as Carthage and have played 280 turns at noble level so far. Thx ever so much.
Comment to PAE III:
Thorgal said:

PAE III - A game for all players, who were always annoyed that in the basic game the ancient time is neglected, and also for all other CIV players, who miss more game complexity.

On the one hand there is the possibility to go deep into ancient time and experience it in a way, no other mod before made it happen. Not only the Roman Empire can be led to its old size, there is also the possibility for all other ancient civilizations to rewrite history by showing their own historical strengths

On the other hand also the experienced CIV player will be enthusiastic by the improvements of the gameplay and the new tactical possibilities.
The combat system improved by long-range options, revolting stacks, the consequences of capturing a city, the new unit slave, which can be used in different ways, the resource wine, which spreads in a completely new way, the population drift from dissatisfied and unhealthy cities… the list is apparently infinite and everything without any restriction of fun!

Pie succeeded in changing CIV into a new game. Each round is an experience for itself in e.g. meeting new units or making tactical decisions, which were never present like that in CIV. But attention, the overwhelming bulk of new units, buildings and miracles and the unbelievable game depth will make you addicted.

PAE III - For all CIV players a must-have.
--------------------
More than 38 new game features:
-) An authentic, historical correct tech-tree (Arrowheads, Spoke wheels, runes,...)
-) Almost all standard ancient units (ram, slingshooter, skirmisher, threemanchariot,...)
-) Historical ancient special units for almost every CIV you never played in other games before.
-) Almost every unit has its historical based skin. Even some units have their second skin in classical times.
-) All units, buildings, wonders and projects depend on historical facts and some of them are related to religions and/or resources
-) An european map with England, Ireland, North-Africa and Asia Minor
-) All resources gather from historical maps, even 4 different types of cereals
-) 13 religions: Celtic, Nordic, Egypt, Phoenician, Sumerian, Greek, Roman, Zoroastrism, Judaism, Christianity, Hinduism, Buddhism, Jainism
-) 9 cults/cultures (corporations): like Isis, Mithras, Cybele, Hellenism,...
-) Units can defect to other CIVs during fight
-) Plot culture changes during won/lost battles
-) Mercenaries ! Merchants ! Pirates ! Sea peoples !
-) An amazing slave feature!
-) Ranged attack with archers and catapults (1 plot only). AI knows to use!
-) Religious expulsion with consquences !
-) Roman roads (can only be built by legions and mercenary legions)!
-) Terrain tundra and desert can not be settled. Endless barbarians !
-) Rivers, desert and tundra are natural borders (-25%, -50%, -75% defence)
-) Leprosy and plague haunt unhealthy cities
-) Christianity earns importance (slavery revolts)
-) Colony and Province Feature (with Auxiliary units)
-) Lots of wonders!
-) Fog of war gets black again
-) Exciting Sea Peoples, Huns and Viking invasion
-) More promotion steps (up to 5)
-) Lots of historical special buildings, special units and elite units!
-) Different city and unit skins!
-) A great new vassal feature
-) Ship feature
-) Wine distribution!
-) Automated battlefield experience (promotions)
-) Veteran unit commendations
-) Unit ranking
-) Distribution of some bonus resources
-) Hire or send mercenaries
-) Army supply
-) Provincial capitals
and more ...
Multilingual: Yes
(all important texts are now available in all 5 languages!)
English: 100%
German: 100%
Spanish: 98.7%
French: 84.3%
Italian: 67.5%
(Pedia texts can contain English material)
Multiplayer: Yes

Random Maps: Yes

For Version: CIV IV BTS 3.19

For WINDOWS & MAC Users(!)

----------------------
PAE V: Lots of movies (made by mourndraken):
LINK
------------------
------------------
PAE Avatar Creator
Examples:
FAQs - Frequently Asked Questions are ingame (PAE concepts)
Screenshots
If you miss the real ancient feeling, all ancient facets you know from books and films and the great roman scenario from CIV III, then ...
... try out and post your comments here.
Last edited: