Joined

Nov 27, 2002
Messages

6,641
Location
Announcement: the galaxy is now full. Anyone posting race/faction descriptions now does so at their own risk.
---
Welcome to Index Systems...
DaftNES4 is a fan tribute and complement to SLYNES and SysNES and MOO2.
Do you like creating your own sentient species and building space empires?
Well this is
Pre
-DaftNES4 (playtest / development). You are formally invited to post comments and/or help me crash-test the following rules for a few turns by playing a race of your own making, while I NPC the human race near the centre of the galaxy. Weird races and extreme actions are permissible, but this is not a 'lolz' NES as I am hoping to eventually run a proper NES based on this. Alternatively if you would like to play as pirates or mercenaries or merchants or something, let me know and we can work something out.
---
Who dares dream within a dream? In one small corner of the galaxy, an abundance of intelligent life has emerged, most at equivalent level of technology. Nobody knows why or how this should be. An unthinking universe of maths and physics would surely never produce such a convergence. And yet, here it is. These species are now about to meet each other...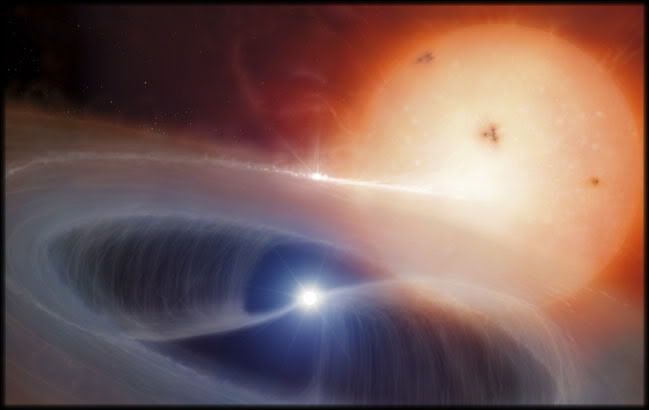 Stars and Things
Stars (and nebulas, and maybe other things) are the backbone of the map and of the game mechanics. They have up to four 'zones' or arcs or slots where you can put 'Bases' (up/down/left/right). Building Bases on Zones uses up Colonists, and this is how you expand. Each Zone can be single, double or triple value. These Zones represent different environment types that might actually be spread across several planets in the system. EG, a load of small rocky planets might be represented as one grey mineral Zone. On the other hand, two different Zones might exist on the same planet, like oceans and fertile land. And so, that is how things are abstracted. Zones have different settlement risks and benefits depending on your race. Some of the unsettled and seemingly empty Zones may have special features lurking, which will be explained along the way. A settled system will look something like this: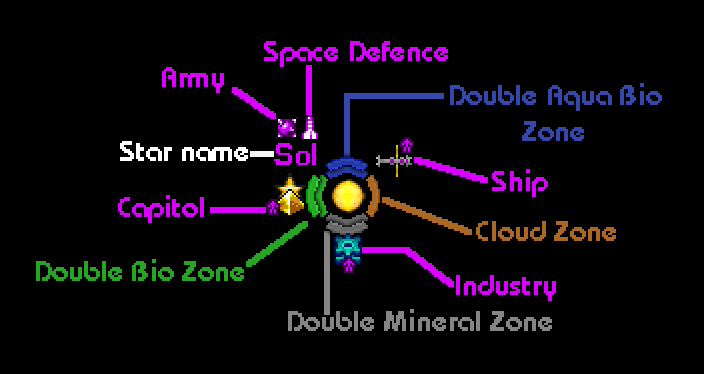 Zone Types:
Airsoup
is very thick luscious atmosphere with enough water vapour and nutrients to support a haze of floating and flying biomass.
Cloud
is useful isotopes and chemicals and things that may be scooped up from the mid-upper layers of thick atmospheres.
Aqua Bio
is water ocean that is clean enough and has enough nutrients to support life as we know it.
Aqua
is dirty/strange/frozen water that is not really life-sustaining, though it may have industrial uses.
Bio
is large expanses of mostly-fertile land supporting plants and animals and that sort of thing.
Mineral
is rocks and crystals, useful for industry.
Chemical
is a more hazardous landscape with extra toxins, though still good for industry.
Energy
is a zone where there is abundant free energy, perhaps from rare elements or the magnetic flux around giant planets.
Inferno
may be seas of molten metal and etc, not very pleasant but not necessarily worthless.
Races and Factions
Hopefully your race will be your
reason
for playing, not an excuse. I am thinking of my fun SLYNES experiences. On that note, you are allowed to have slave/servant/symbiont races if you want - you can list them separately or merge them into the same descriptions...
*I understand if you want to save your good ideas for the 'real' NES!*
Race Name:
~
Ruling Faction Name:
~
Start position:
Feel free to pick any star on the map (and rename it), within reason. If you really want to start around a pulsar or in a nebula then there will be some explaining to do.
Physical description:
Any variations on the humanoid form are welcome. If you really want a humanoid race that's ok. It might be better to think about the kind of homeworld you want, and then think of a sentient species that could have realistically ended up there. It doesn't have to be biological exactly (like the Kant of SLYNES).
Character description:
Basically how your species view themselves and their role in the universe. But they don't have to be limited to a single stereotype. Humans seem a diverse bunch, and so can your aliens be.
Home system description:
You can describe your whole starting system as well as your homeworld. In orbit around a gas giant? On the map, I will be abstracting this into the four 'zones' around the star, but the extra details may play a role in battles and events etc.
Brief history:
I am interested to know how your species developed technology, so I know what starting techs to give you. Were there some big global wars or disasters shaking things up? Or has it been thousands of years of slow progress? Etc.
Faction description:
You will actually play as a 'faction'. A single race may become split into multiple factions, or a faction may be an alliance of different races, etc. Anyway, here you can describe the kind of government you want. This may be tied in with your history.
Age:
Advanced start - you already have a colony or two, but maybe some extra problems. Feel free to specify which stars on the map you are interested in (and rename them if you want), and post a ship design or two - nothing over 20 Eco please. These will already be prototyped (see the Ship Design section).


Normal start - you've just built a spaceship ready to explore beyond your home system. Feel free to post a ship design along with your entry, it should be around 10 Eco or less. This will already be prototyped.


Slow start - you have no spaceships, but otherwise have a strong homeworld, and maybe strong Tech tradition that is currently focused away from space travel.
NOTE:
There is only so much awesomeness to go around. The more godly you make your race, the more problems I will add to balance out. And vice-versa.
With all that done, your race will then get a ninja info card similar to the following: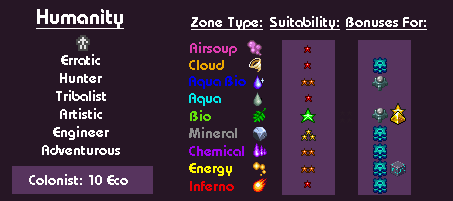 NOTE:
races can have certain special rules that overrule other rules, such as the above Humanity being able to build Colonists on the cheap.
Buildable Things
Ship: variable Eco (you design these customly, please see Ship Design below)


Army: 10 Eco (defends or captures bases, some ability to return fire against ships, needs to be escorted by a ship when invading)


Space Defences: 10 Eco (static, decent weapons against ships and armies, with minimal upkeep costs, can be used aggressively against enemy bases in shared systems)


Freighter: 5 Eco to build manually (keep your economy and military running smoothly)


Colonist: 15 Eco to build manually. Colonists are used up to build new Bases, which come in various forms:
Bases: The Colonization Procedure
If you are trying to build your first 'Base' in a system, you have to pay a Distance Cost, which is 10 Eco multiplied by the distance from your nearest settled system. You only need to pay this once per turn, per star, but it won't go away until you have some kind of Base in that system.
You then choose a Zone to settle, decide on a base/settlement type (see below) and decide how many Colonists to send. For simplicity, Colonists have instant travel across the galaxy - they are assumed to have tagged along with your ships, etc. But there is an element of risk involved, depending on the suitability of the environment in that 'Zone' (please see the right hand side of your race info card - a big green symbol means at least a 90% chance of success, while a single small red dot means 25% or less). Your Techs can improve the odds (notably Biology and Materials), and the risk is also slightly reduced if you have a Ship in the target system. The more Colonists you send in a single turn, the more chance you have of at least one being successful. Or if multiple Colonists succeed, this will give a head start to the new colony - fledgling colonies can be a net drain on your resources, as it takes some time for a new Base to actually become profitable.
By default, double and triple 'Zones' around stars yield double and triple incomes for any base. If your race has a bonus for certain types of bases in certain types of environment (please see the right hand side of your race info card), you can then expect the theoretical income to double again. But the Eco output of bases is never guaranteed. Note that if you have multiple races under your Faction, you can choose which race colonises where.
An
Outpost
base is special in that it is much less risky to settle (basically double the success chance), but gives absolutely no income by default. It will keep an eye on the system, and counts as a settlement for servicing spaceships and a foothold for further colonisation, but that's about it. Outposts can be built over later by other buildings.
A
City
gives ~ 2 Eco per turn once established, and provides more room for your Pop rating to grow over time. However, this can be affected by all kinds of social issues, and established Cities do not take kindly to being re-developed.
An
Industry
gives ~ 1 Eco per turn, but is more reliable and raises your Industry spending limit by one. It can be manually upgraded into various special things using Eco (all upgrades still count as being Industry bases for income and zone yield bonuses):
*A
Habitat
costs 10 Eco by default. It is a large artificial biosphere with easy access to space. It adds no income directly, but provides a convenient place for trade, culture and diplomatic exchanges. It also provides more room for Pop to grow, and encourages immigration into the system.
*A
Military Base
costs 10 Eco by default. It improves the performance of all military stuff in the system; nearby Ships are more likely to gain veteran status, while Armies raised in the system will also be of superior quality. It is a place to try out new weapons. It also has some weapons and things to defend itself against all threats.
*A
Shipyard
costs 10 Eco by default, now adds two points (instead of one) to your Industry rating, reduces fleet upkeep costs, provides more free Freighters over time, speeds repair of nearby ships, and might also boost any trade incomes.
A
Sci
base gives ~ 1 Eco per turn and raises your Tech spending limit by one. The more Sci bases you have, the more chance you have for some free random Tech advancement each turn. A Sci base might also be needed to research certain special artefacts.
A
Capital
represents a massive (and usually ancient) accumulation of population and industry, and is something you probably start with. It gives a whole bunch of free incomes and things depending on your race. Losing a Capital is usually a very bad thing, but it will not be so easy to destroy or capture. If you need to build a new Capital, there will be special rules depending on the circumstances.
All bases can also mutate into various special things, good and bad, which we shall describe if and when they encountered.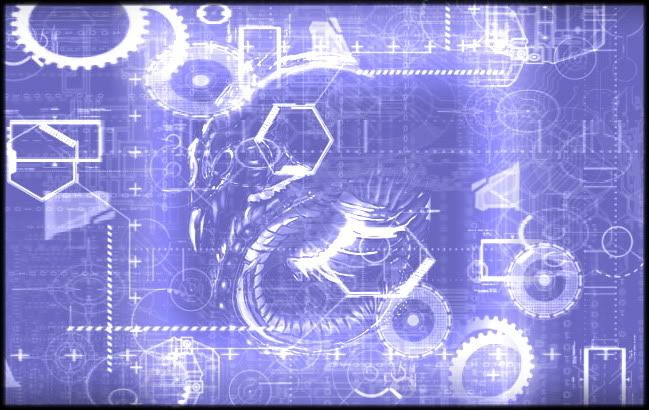 Stats
Example: Solar Federation (Human)
Manipulative Oligarchy - Capitalist
Fuel Cells: 0 (+0)
FTL: 1
Eco: 21 (+10)
Pop: 6 / Industry 8 / Sci: 5
* Sol: Homeworld, Capitol, volatile slum (+11e)
Upkeep: -1e
Ships: 2L
Armies: 1 (2)
Freighters: 2 (3)
Culture: +2
Colonists: 4 (4)
Tech Progress: 3 / 20 (Physics x2)
Tech Level: 3 (Physics x1, Materials x1, Energy x1)
--------------------------------------------------------------------------------
Your
Faction
can be pureblood or a montage of multiple
Races
Your
Faction Leadership
is described in a few words. There are no solid rules for this, but each type of government (or a lack thereof) will have big effects on just about everything. You can attempt to change this at will, but healthy regimes (a high Culture rating) are likely to fight back.
Fuel Cells
contain massive amounts of concentrated energy to give your fleets a boost in interstellar movement and combat. Or, they can be recycled for 3e each. They cost 5e to build manually, but you are likely to get some free production of Fuel Cells later on.
FTL
(Faster Than Light) rating is the maximum speed at which your ships can travel through interstellar space (see Star Travel section). This is not just dependent on your techs, but also on racial/social quirks.
Eco
points are not just money, they represent your potential to make stuff happen in general, which is affected by things like morale and organisation as well as more colonization/industry/tech. You cannot spend the number listed in brackets, that just shows how much you got last turn.
Pop
is your total population in abstract numbers. You cannot have more Armies than you have Pop (at least not until droid soldiers are invented). Generally, more Pop means more Eco income, although social problems can make overcrowding counter-productive. Your homeworld will have most if not all of your Pop to begin with - if colonies get any noticeable Pop, this will be noted. Populations can grow over time, depending on your race, and especially if there's a surplus of Bio resources, but the biggest factor is likely to be migration; you can build new 'City' bases to encourage pop growth and/or immigration to that system. Your total population size adds 'inertia' to your Culture, which has pros and cons.
Industry
is a limit of the amount of Eco you can
safely
spend on Ships, Defences, Freighters and/or Armies in a single turn. It is also the
safe
limit for the number of Fuel Cells you can build and recycle in a single turn. If you go over this limit, you may lose some of your investment to accidents and delays etc. It represents the limit of your hard industrial capacity, regardless of raw Eco. You can build Industry bases to increase this limit.
Sci
is the limit of Eco that can be safely spent on research per turn. If you go over this limit, there may be nasty accidents. You can build Sci bases to increase this limit.
Income and colony status is listed system-by-system.
Ship
numbers are listed as Light/Medium/Heavy, and will be your tools for exploring and conquering. If you want to think of them as actually being flotillas of ships, that is fine too. Please see the Ship Design section.
Armies
cost 10 Eco each, and are there to either guard or try to capture bases. In defence, they have limited ability to shoot back at enemy ships. Armies can travel across space when attached to a Ship - any ship will do, as they are really just escorting the transports, but it would be better to have a dedicated warship. Armies are vulnerable to enemy ships and space defences in transit. The number in brackets is the optimum number of armies you can have without paying extra maintenance costs - militaristic races can get random free armies while under this limit. The absolute limit is your Pop rating.
Freighters
cost 5 Eco each, and are miscellaneous ships that keep your economy running and your military supplied. The number in brackets is the optimum number needed - below this, you may lose income and/or your military will be weaker. They cost 5e each to build, though you slowly get random free ones if you are below the optimum. You can lose them to accidents or hostile action. You can also call them up to serve in defensive battles if you want to risk them, appearing as basic generic ships with short-range FTL drives - against any enemy with comparable tech, they will probably just be cannon fodder.
Culture
could be called stability, but this is also your level of influence over other factions. Culture will affect incomes in the richer systems especially. You can invest to improve it, but this is a hit-and-miss process - the average cost is your current Culture rating
multiplied by
your Pop rating (if your Culture is less than 1, then the cost is just your Pop rating). This can get very expensive for populous empires, but smaller populations can be more easily affected by random changes and foreign influence. Culture can be shifted both ways, as you may wish to deliberately de-stabilize your society in order to make it easier for a new government to appear. Note that you can attempt to influence another faction's cultures in the same way, with better chances if your Culture/Pop mixture is higher than theirs.
Colonists
can be 'spent' to build new Bases - with risks, depending on the environment, and new colonies are likely to be a net drain on your economy for a turn or two. While you can usually manually buy colonists for 15 Eco, the number will slowly/randomly recover to the 'optimum' shown in brackets.
Regarding
Tech Progress
, here you see the classic (eco spent) / (eco needed). In this NES, tech Level X costs a total of X Eco multiplied by
five
. So your third Tech will cost 15 Eco, etc.
You have an overall
Tech Level
, which can include special projects in different areas. Every time you start on a new tech level, you specialise the tech progress in a field of your choice, similar to SLYNES and the 'genes' idea of NESLife. These fields will affect just about every 'roll of the dice' situation and have many subtle effects. Some default Tech fields are: Biology, Energy, Materials, Construction, Physics, Nanotech, Neurology, Computers, Misc.
Special Inventions
are game-changing things and will be listed as and when they are invented.
Star Travel
On the map, most places have lines connecting them with others. These lines do not represent 'star lanes' or wormholes. They are just navigational aids. You can always make a direct journey between any two points on the map, which is equal in distance to the shortest route you can find by tracking along the various lines. The dots on the lines represent the units of distance - usually no more than 3 (see below). These distances might not all seem balanced, but we can say this takes into account that space is actually 3D (heh). Note that there are binary systems with effectively 0 distance between the stars, but they can still have their own bases, defences, armies, fleets etc.
FTL Speed
With a FTL rating of 2, your ships can travel a total distance of 2 in one turn, or 4 over two turns, etc.
Fuel Cell Usage
Fuel Cells are bonus power-ups that can be assigned to individual ships when they are in your systems. A Fuel Cell can then be spent to add +2 to the FTL speed of one ship for one turn, OR to boost combat, giving a big boost to manoeuvring, energy weapons, shields, EM pulse devices etc. Multiple Fuel Cells can be used on a ship in a single turn, but with random and diminishing returns, not recommended for early FTL drives. Fuel Cells will be visible on the map when assigned to ships.
How far can you go?
Please note there are different types of FTL drives (see Ship Design below). The cheapest ones cannot normally venture outside of your settled systems, and thus are not ideal for exploration. The most expensive ones allow four turn's travel (at maximum speed) outwards from their starting point. These ranges are however ignored on turns that your ship uses a Fuel Cell for extra movement.
Ship Maintenance and Staying in Touch: IMPORTANT
Note that unless you have Quantum Communications (Special Invention),
your ships will be out of contact
when they are outside your settled systems. This means you give you will be sending out expeditions where you give your orders beforehand, and then wait for the results. Also, ships cannot normally be maintained while in deep space - you won't be asked to pay upkeep, but the condition of the ships will deteriorate over long voyages. The same thing will happen to your home fleets if you decide to cut their upkeep.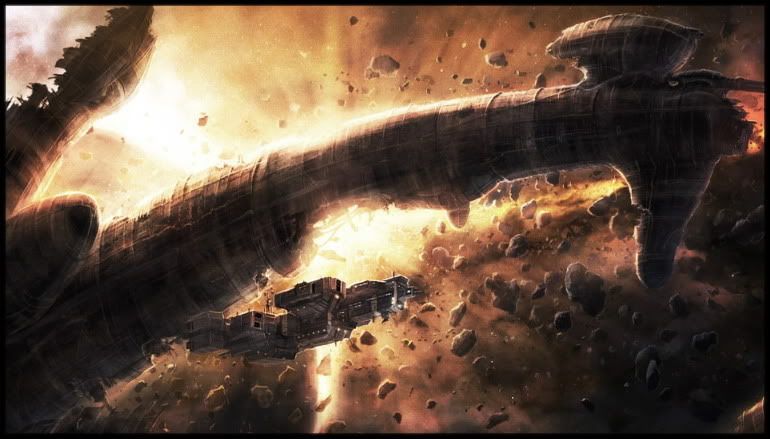 Ship Design
Ships consist of Modules, which require Eco points to build (please also see Industry, in the Stats section above).
By default, all ships have a basic set of systems like thrusters, computers, primitive weapons and engineering tools. Modules represent the special advanced extended features. A basic interstellar probe could consist of a standard FTL drive and nothing else. But a player ship must have some kind of FTL drive to qualify.
You may end up with a number of Ship Designs, and each individual Ship in the galaxy will belong to one of those designs.
Prototype Rule and Design Quirks: IMPORTANT
So you've designed a type of ship, but the first time you actually build one, it will come with a prototype cost. This prototype cost is simply +1 Eco for each
unique
module on the ship (see below). When the prototype is completed, there will be 'quirks' added to the design, both good and bad. These may be qualities like extra toughness, manoeuvrability, reliability, aesthetic appeal, reduced building costs, free bonus modules etc, together with penalties like unreliability, erratic systems, extra building cost, weak spots, etc. It is partly randomised, partly to do with the traits of your race(s) and faction. If you do not like the result of the prototype, you can just scrap it (see below) but you will need to build another one to proceed. Once you are happy with the prototype, each new ship will come with those 'quirks' and can be built without the extra prototype cost.
Tooling Bonus:
If you build a lot of a certain kind of ship design, it may randomly become cheaper, as your industries become experienced and optimised for building all the components etc. Otherwise, ship designs do not change.
Upgrading Ships
Whenever your Tech and/or FTL level increases, your ships will not get the full benefit until they receive maintenance for a full turn (IE not away from home, and no budget cuts). While you can't upgrade a ship from one design to another, the component modules will be updated to newer versions. However, as your Tech increases, older ship designs may become marked as 'Obsolete', meaning that technology has simply progressed too far since the original design, and any examples of that type simply can't benefit from the latest tech. Obsolete / non-upgraded ships are marked on the map and will be slower and weaker than otherwise.
Scrapping Refund
There is no exact formula for this. It will be randomly between 1/4 and 2/3 the ship's original cost in Eco.
Ship Classes and Maintenance Costs
Light (class I): 1-6 modules, Medium (class II): 7-14 modules, Heavy (class III): 15+ modules
There is no set formula for the upkeep cost that is deducted, but as a very rough guide, you can expect Light ships to cost 0.25 Eco per turn, Medium 0.5 Eco per turn, and Heavies 1 Eco per turn.
Repairing Ships
Damaged ships are highlighted on the map, and will slowly repair when parked in allied systems. You can aid the process by paying up to 1 Eco for every Module on the ship.
Modules
So modules are how you build ships. But first, an FTL Drive is needed, and these come in three flavours (please also see the Star Travel section, above). FTL drives do not add to the weight of the ship for deciding if it is Light, Medium, Heavy etc, but they will cost more for heavier ships:
FTL: Short Range costs 1 Eco, multiplied by the size class of ship. It can make journeys between your settled systems, with no journey longer than three turns.


FTL: Normal costs 3 Eco, multiplied by the size class of ship. It allows a ship to travel two turns out before heading back. It can linger at its destination, though.


FTL: Expedition costs 6 Eco, multiplied by the size class of ship. Allows a ship to safely travel four turns out before heading back - it can go even further out, but with increasing risk of being stranded.
As for the actual modules, below are some standardised components you might use. Similar to the 'genes' idea of NESlife, you can now add lots of individual abilities, or level-up in a certain area. EG, 'Scanner x3' would be three times as good as 'Scanner x1' at your current tech level, but weigh in as three separate modules.
Spoiler Default Modules :
So, you can add pretty much whatever you want. Unique things are welcomed, but only if they really need to be unique. If a weapon can be called a 'Beam', then it should really be listed as 'Beam' to aid comparison with other ship designs, and not 'Xongu Inflictor Device'. Etc.
An Example:
Dafpantheist Explorer Mk1 Prototype
FTL: Expedition
Explorer Team x1
Sensors x1
-
Ship class is Light (less than 7 modules), so FTL cost multiplier is 1.
Eco cost is 6x1 (the FTL) + 1 (Explorer Team x1) + 1 (Sensors x1), +3 (prototype cost for 3 unique modules), giving a total cost is 11 Eco, and you will need an Industry rating of 11 to build this in one turn.
Once a prototype is built, 'quirks' are added (*), the price is back to 8 Eco, and you need an Industry rating of 8 to build this in one turn:
Dafpantheist Explorer Mk1 (Light): 8 Eco
FTL: Expedition
Explorer Team x1
Sensors x1
* Reliable
* Sluggish
* Conspicuous