Joined

Dec 20, 2001
Messages

1,837
Location
RBC7 - Austrian Fascists C3C Patch 1.12
The goal of this game is to explore two features new to C3Conquests,
the government of Fascism and the civilization of Austria. They are
'hidden' to keep under the 32 civ hard limit, but with a simple BIQ
change they're available. Their UU is the Hussar, a cav replacement with
7.3.3 ADM. The map will be standard size, 60/40 pangaea, restless barbs,
and all opponents random except historical foes Ottomans and Germany.
To get the right mindset for the game there are a few variant rules:
- Feudalism should be the first govt tech we obtain and we must revolt
to feudalism asap. Up to and including this government there is no xenophobism.
- On obtaining Military Tradition we must revolt into a Monarchy (reflecting the
Hapsburg dynasty), and can no longer purchase or merge in foreign workers. Our
fear/hate of other civs is on the rise, and the mindset turns more warlike.
We're more prone to reject tribute demands at this point.
- We must research/obtain Fascism with all due haste in the Industrial.
age, then switch to it immediately and stay there. The goal from this point on
is to run over the entire earth with our Hussar, with a Conquest or Domination
goal. Style points (so to speak) if we can do this before Infantry and Tanks appear.
Preferably shut down research and once rails/factories are done, possibly new bldgs.
It's likely we won't need any libraries/universities at all. Even cathedrals are
unlikely with a good chance cities won't exceed size 12.
(Obviously this isn't "efficient" but will allow a good comparison of the various
govts in one game, and will add somewhat to the difficulty)
The politics in this game will be a blend of history and 'what-if', to give
some background to the idea of a Austrian Fascist SG game. For more info see:
http://www.encyclopedia.com/html/section/austria_history.asp
After several invasions by Huns, Ostrogoths and others, Austra was established
within the Holy Roman Empire by Charlemagne in 788. In the 11th and 12th centuries,
Feudalism was at its peak in Austria and several towns along the Danube rose to
prominance. Thereafter it became ruled by a King of the Hapsburg line. In 1526,
Austria, Bohemia, and Hungary were united under the crown of Ferdinand. Vienna was
sieged by the Ottomans but held out. There would be many more power struggles and wars
over the next centuries. Charles V was the Hapsburg Empire around 1519, and he essentially
had to rule both Austria and Spain. Their army would come to promote Hungarian light
cavalry known as Hussar. The Hapsburg empire was large and sustained, until it suffered
defeat by the Prussians in 1866. The period of 1867 to 1918 saw a dual Austro-Hungarian
Monarchy. This started with a reorganization of Austria and Hungary - a compromise where
the independence seeking Hungarians and the strong centralized desire of Franz Joseph.
World War I started with Austria at the center, and its current boundaries were fixed
in 1919, where political union with Germany was disallowed. This made for a somewhat
small country with 7 million inhabitants, mostly in Vienna itself. Engelbert Dollfuss,
the chancellor in 1932, favored fascism, and it wasn't until 1955 that military rule
was replaced by a Republic. For the purpose of this SG, the leader will be
Franz Joseph, and an alternate 'ending' of the rise of fascism in this country.
Here is our starting location: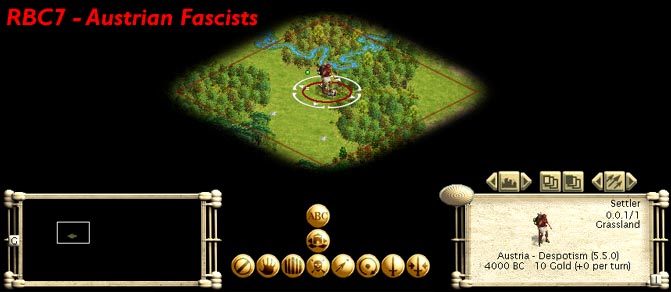 Roster:
Charis
Aggie
Rubber Jello
Bede (subject to your confirmation that you have beat Emperor and are
comfortable with Demigod level)
Open slot