Joined

Mar 8, 2009
Messages

36
Hi everyone. Long-time lurker posting for the first time because I'm feeling rather proud of myself for getting a unit to break the 100 XP barrier. In my current game (Mehmed of the Ottomans, Monarch, Standard/Epic) I found myself on a mini-continent with Cyrus, who I axe-rushed off the face of the planet and then went into relatively peaceful builder mode. Annoyingly I wasn't able to get a unit to level 4 so I couldn't build the Heroic Epic, and I eventually teched my way along to Astronomy and Chemistry, still without a Great General or level 4 unit.
I decided I'd have some fun preying on my backwards neighbours (I probably could have won this game through military ages ago, but was feeling lazy) and built some Privateers. Eventually I popped my first Great General and attached him to my most highly promoted Privateer, giving me a level 4 unit to build HE. For the next hundred to two hundred turns, Dread Pirate Heinz Guderian became the terror of the seas, sinking dozens of vessels from all nations and racking up XP thanks to the Leadership promotion. My rivals started to catch up with me in their naval technology and the age of the Privateer looked to be over, and then that idiot Monty declared war on me, so I teched to Combustion, hooked up some oil, and then promoted Guderian's Privateer into the world's most terrifying Destroyer. Here's Captain Heinz, relaxing off-shore after a busy day of sending some miserable Aztec sailors to rest in Davy Jones' locker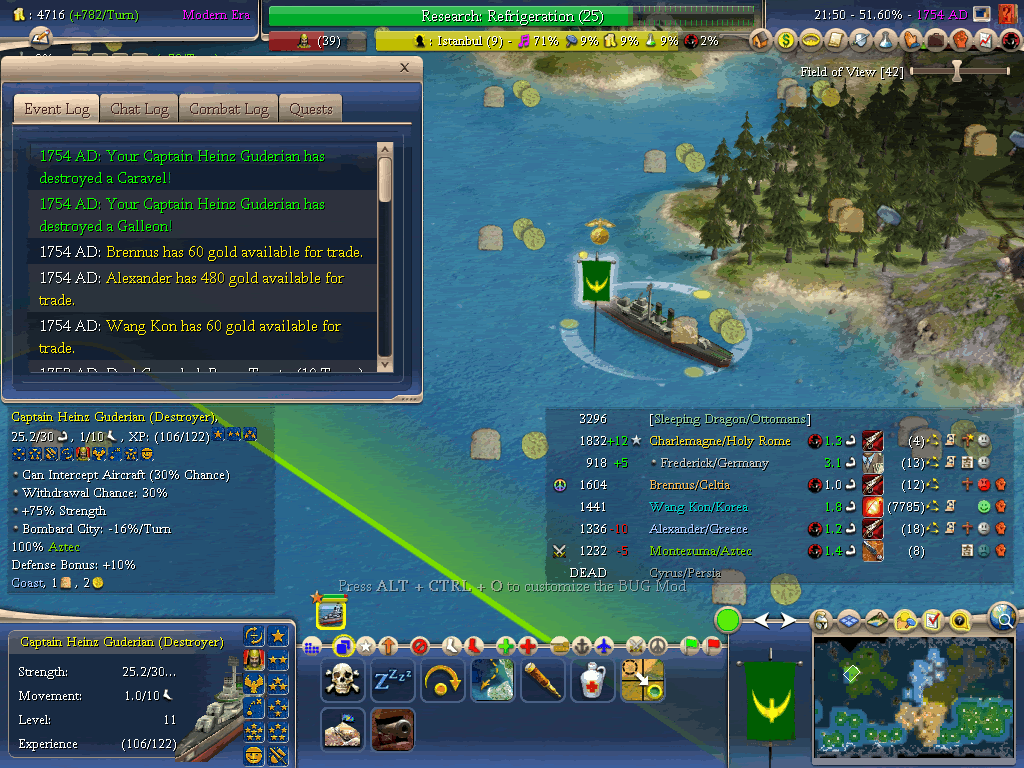 Anyone else managed to get any super-units?