This is the thread for Fanatikos' 2nd city, Civatonia. Below you see the interior of the village center. It's a house somewhere in the fields, waiting for people to come and settle.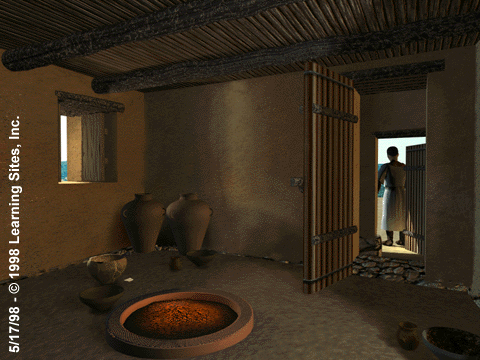 3050 BC -
The scouts have laid out a possible city site. It's a little risky, but it looks productive.

Civics
- Since the ruleset mentioned civics, I'll use the Civ4 civics. Naturally, I'll be using the one
here
, with a few liberties to assign techs to others.
Code:
	Government		Legal		Labor		Economy		Religion
	Despotism		Barbarism	Tribalism	Decentral.	Primitivism
	(no tech)		(no tech)	(no tech)	(no tech)	(no tech)

	Hereditary Rule		Vassalage	Serfdom		Free Market	Pacifism
	(Monarchy)		(Construct.)	(Fuedalism)	(Currency)	(Mysticism)

	Representation		Nationhood	Caste System	State Prop.	Freedom of Religion
	(Republic)		(Nationalism)	(Chivalry)	(Banking)	(Philosophy)

	Univer. Suff.		Free.of.Speech	Emancipation	Environ.	Organized Religion
	(Democracy)		(Print. Press)	(Repl. Parts)	(Ecology)	(Monotheism)	

	Police State		Bueracracy	Slavery		Communism	Theoracracy
	(Fascism)		(Writing)	(Iron Working)	(Communism)	(Theology)
Our current civics:
Code:
Government	Despotism	
Legal		Barbarism
Labor		Tribalism
Economy		Decentral
Religion	Primitivism