Joined

Sep 16, 2005
Messages

17,549
Location
The Emperor Challenge has ended. Check out these links if you want to read about the rounds played:
Round1: 4000BC - 2740BC
Round2: 2740BC - 1570BC
Round3: 1570BC - 1000BC
Round4: 1000BC - 0355BC
Round5: 0355BC - 0095AD
Round6: 0095AD - 0320AD
Round7: 0320AD - 0455AD
Round8: 0455AD - 0950AD
Round9: 0950AD - 1136AD
Round10: 1136AD - 1442AD
Round11: 1442AD - 1544AD
Round12: 1544AD - 1646AD
Round13: 1646AD - 1772AD
Round14: 1772AD - 1806AD
Some people have envisioned it. Some people have tried something like it. Some people are still trying something like it out. But here comes the Emperor Challenge

, another episode in the Civfanatics' quest for truth.
The goal of this Challenge, unlike the ongoing ALC and Lesson in Epics, is pure refinement. It seeks the opinions of the more experienced players and will hopefully give a detailed view of the best higher-level play this forum can offer. It is a medium through which Civ IV veterans can discuss strategy and tactics within the tangible scope of a game on a step-by-step basis. This way, I believe the thread would be most educational for players of almost any skill level. I am winning quite regularly on Emperor now so I should be able to guide the game, with everyone's advice, to as perfect a finish as possible. And I look forward to learning new things in the process.
Alright, let's get down to business. The map has been generated and I can't wait to put up the starting screenshot for everyone to scrutinize. But first, I must get the basics out of the way.
The Rules
This game will operate somewhat like an SG, except that it's always open to anyone's suggestion but doesn't feature multiple players

I will play 10 turns, stop and give an update of the situation. If something dramatic happens or an important decision needs to be made within those 10 turns, I will stop and ask for opinions. I don't think there will be a time when everything is so straightforward that I should play more than 10 turns in one round, but I'll have to see.
Before I begin every round, I will judge which advice is most suitable in a particular situation and apply it. If I feel that there is too few advice to base a decision on, I will ask for more. Those who are not playing on Emperor yet can also offer their opinions and I will consider them. I am sure some of them will be very sound.
No spoilers
, please.
The Settings
The Emperor Challenge is concerned with strategy and skill, not a particular leader, so I am playing random. The settings are standard (i.e. standard continents with default number of AIs and options). The game speed, however, is Epic, since I hope that there will be much warmongering and the chance to use as many unit types as possible whenever practical in every era.
And, finally, the game itself...
Guess which leader the dice picked? It's none other than... MM - Mansa Musa!
Mansa Musa is Financial and Spiritual (so you can serve both God and Mammon, apparently), starts with The Wheel and Mining technologies and has the Skirmisher (an archer replacement) as his unique unit.

I find it very funny because I've never played this guy and I hate him because he's almost always one of the more annoying AIs that will be more advanced than me. None of his traits are the traits I prefer, and he has a DEFENSIVE unique unit. Now, this should be interesting.
Check out the starting location.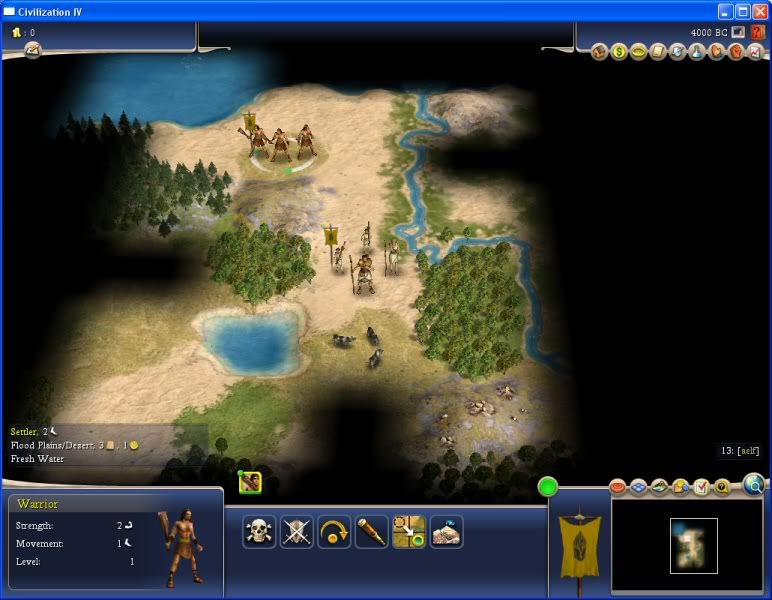 Forgive me for the small screenshot. I've had bad experiences of Photobucket resizing my images despite them being smaller than half of 1MB already. Anyway, there's nothing there that you can't see and you can always load the save in any case.
Flood plains and a gold mine. And Mansa is Financial and starts with Mining. The dark side (Mammon, that is) is strong in this place

The only downside to this position is health. Mansa is not Expansive. There is at least a few forests around, though, which will alleviate the health problems a little unless and until we decide to chop up everything. There are also cows, which makes AH an early priority. We would want to research Hunting anyway for Archery.
But the first move is not an easy decision. Settle in place or look for a possible better location? I would move the warrior first, just to check out the surroundings a little bit more, but where to? To the forested hill southwest of it or to the northeast?
I think we would want to settle on the river for the health bonus (which helps with the flood plains) and early trade routes so the warrior could move northeast to check out one more tile beside the river (probably grassland by the look of it). The lake can provide the health bonus as well on its own (I think the bonus doesn't stack with the river, right?), but from what I see I think we only stand to lose by moving away from the river. We can send the settler northeast to take a look at the other side of the river. I'd hate to settle on a forest, though, especially with so many flood plains around.
And whatever we choose to do with the settler, we can send the warrior southwest anyway in search of a nearby village. What do you think about that?
Looking to the future, with the river there we can make use of the Financial trait very early by putting cottages beside it, giving us a strong early economy. The gold mine would be a great help at that too, and we can use our economic power to fuel expansion. Since Mansa's UU is so darn good at defending cities, we should be quite safe and can focus on REX, settling as many cities as possible until there's no space left, instead of going to war early. We should still hook metals asap, though, to be able to deal with barbarian incursions. This early game strat should be sound unless we are surrounded by AIs nearby. Any thoughts?