I have been playing a few games with DoaNE 2.01 with Debug Mode enabled. Also played many games with AI Autoplay.
I have come to the conclusion that you (M07 & Dazio) should take a breath and seriously think about the changes made up to now and those you want to implement.
- Fix the multiplayer

- Upgrades IA

- Adding commercial company

- Improve the exploration

- Improve economy
I don't want to sound rude but the AI is not working at all... I'm a bit disappointed now and therefore I can sound pessimistic.
Up to now we have many cool features but are they really working as they should be?
In my opinion additions should only be made if the AI is capable to handle them.
Now is the point when we should take a look at what have we done and seriously rebuild all from the start, speaking in AI terms.
DIFFICULTY LEVELS BELOW REVOLUTIONARY ARE UNPLAYABLE
I mean, that forcing the Human player to use builder packs to create new colonies is great but how is that affecting the AI?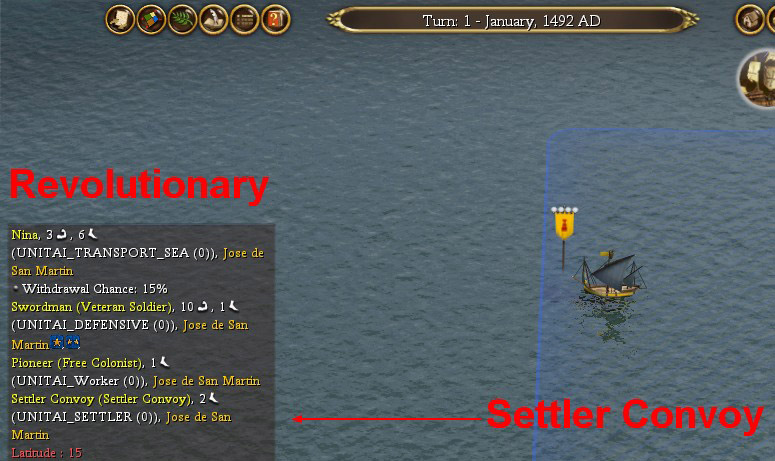 I have experienced that ALL DIFFICULTY LEVELS BELOW REVOLUTIONARY doesn't work properly.
The AI is not getting a Builder Wagon from the start and therefore doesn't establish a new colony since they don't know how to do it.
AI is not working properly
Automated Exploring doesn't work anymore due to the new "map System"
Your automated units will be moving in strange ways since path-finding is not working if every time you discover new tiles these are immediately converted to undiscovered tiles.
Also, after sending an unit far away from one of your cities, you can't send it again to your citiy... imagine you use a ship to explore the map, once you reaches the north for ex. you would want to send you ship to your colony so you get the new map.
You can not just send it directly to your city since all the sea already discovered is now unknown (!) and therefore path-finding is totally broken. I have tested this in maps with isles or continents and the ship doesn't know how to return since every turn it calculates new routes which cross zones that the ship can not move to...
The AI is not exploring goody huts which are placed next to their cities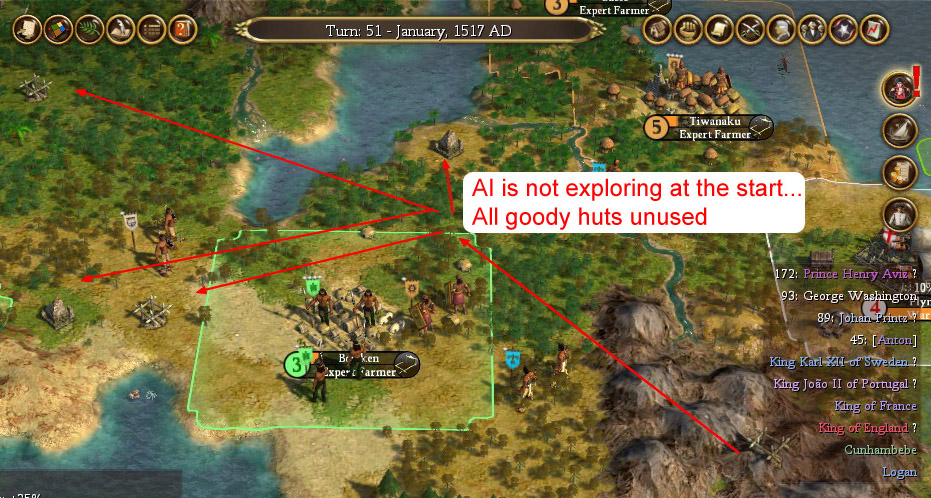 The AI doesn't know where to place their Colonies, use naval transports or colonize new lands:
The AI doesn't know what to build in cities and it seems that they just build a factory without needing it:
Some features added to the game not working properly
Agronomist and Able Seaman are still able to found new colonies:
When recruiting a new unit in Europe. the Costs are not displayed properly: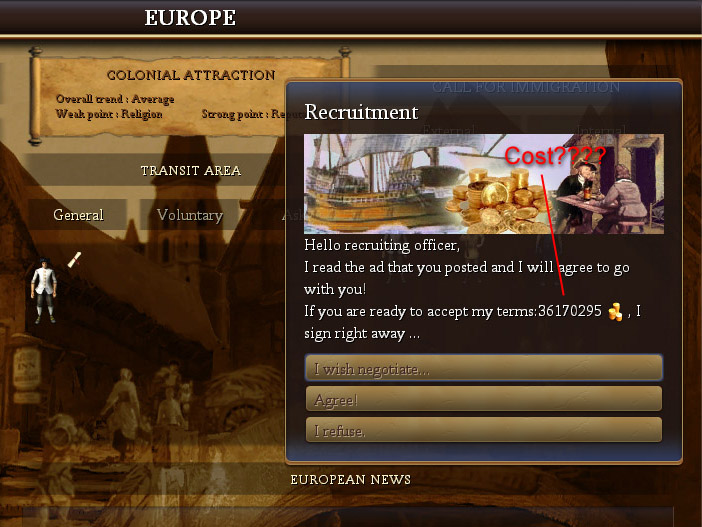 All things related with Native needs some adjustments since they seem to be either War Robots which will destroy all your colonies or Kids who don't mind you stole their lands:
Needed some balance here, their attitude is totally extreme. Also some minor features like Native Raids or trading still need to be polished (trading is still not working properly as I told you, not solved yet).
Citizen automation is totally broken. They seem to be placed anywhere without any logic. And probably this is related to the way the AI is using their citizens and why they don't care about what to buy in Europe...