% of success depends of difficulty level, land, luxuries and neighbors around. Tested under standard settings at emperor, immortal and deity level. Pretty robust strategy, this can be achieved as soon as you can settle 3 more cities and get at least 3 unique luxuries. 2 or 3 traders are at least needed. The goal is to get 4 cities and 3-4 workers as fast as you can. It's important because settled cities will focus on archers. You need them for composite bowmen for early defense or offense. The closest AIs will hate you and you need to be prepared. It's a good thing because you can get more cities(puppets) if you plan accordingly into warfare. Obviously, some civs are more powerful than others for this approach.
With help of Tradition, your cities will grow very fast. Fast production, gold and science will raise your civilization into a powerhouse. This strategy is focused on getting luxuries as fast as you can and use them to finance your expansion.
Part 1 : The expansion. Turn 0-60(Get 4 cities and CBs)

Policy tree order:
-Tradition opener
-Legalism
-Monarchy
-Landed Elite
Monarchy before Landed Elite because the extra happiness and gold will help you to sell more luxs and upgrade more archers.

Tech order :
AH or mining--->pottery--->2 lux techs(under capital, mining luxuries included)--->Archery--->lux tech--->construction
AH first if trapping ressources around or no mining/chopping required early. If not, start with Mining-Pottery. Some starts are more rough than others. Sometimes you get some jungle starts and you need BW to advance. If you need BW, skip AH. Pottery can be 3rd if you build a 2nd warrior before shrine.

Buy order :
-Settler
-Settler
-Worker
-Archers upgrade
Settlers before worker. More gold and production earlier from new cities is better than an early worker. The saving gold opportunity reduces settlers cost. You can rush buy a 2nd worker if you have a lot of luxuries and traders.
---------------------------------------------------------------
Now, your first worker will get out around turn 20. You need 500

to buy a settler. When first lux/horses is improved, sell it. Buy a settler as soon as you can. Loan some gold if needed. Try to sell a duplicated lux(from capital and land around) first. The idea behind this is to get that lux back around turn 55-60 when you gonna need it. Sort of rotation system, you can sell them before hitting too much unhappiness.
If you can settle your 2nd city on a luxury, do it now. Sell luxury and try to buy another settler around turn 40 after a 2nd lux improved into capital. Buy worker as soon as you can after these 2 settlers. A last settler will get out of the capital around turn 40-45. Steal a worker from a cs. Little diplo hit, but huge improvement for the game in process. Remember that these CBs can get you more cities!

2nd city : archer-archer

3rd city : archer-shrine

4th city : archer-shrine
Capital : scout-worker-shrine-warrior(3 or 4

)-settler-archer-archer
At deity it's useful to get a pantheon from the help of your first shrine(capital). But getting a religion is a lot more difficult. Skip other shrines if you feel that it will be impossible to get a religion. But an early religious ally can change your mind. Some civs are well suited about getting a religion at deity. Ethiopians, Mayans and Celts are some good candidates.
You can get 6 to 8 archers from 4 cities. I prefer shrines after 1st archer to get a chance for a religion later.
VIDEO: PART 1
Bad sound sorry

Link to video.
I made some mistakes because i played this pretty fast. I lost a stolen worker from barbs but i recuperated another one a bit late.
Part 2 : War or not to war? Turn 61 to 105(CS allies and NC, up to Metal Casting)
The following section is pretty variable. Lot of actions can modify decisions. Especially with the cs...while you are building libraries, it's a good idea to ally some of them. You will probably have a large amount of gold between the turn 70 and 90 from all these numerous deals. Quests begin to be interesting. CBs can chase barbs to gain more influence. They can also take more cities from the AI...
(Immortal level)Example of libraries build up after CBs while going for Philosophy...with a little gift :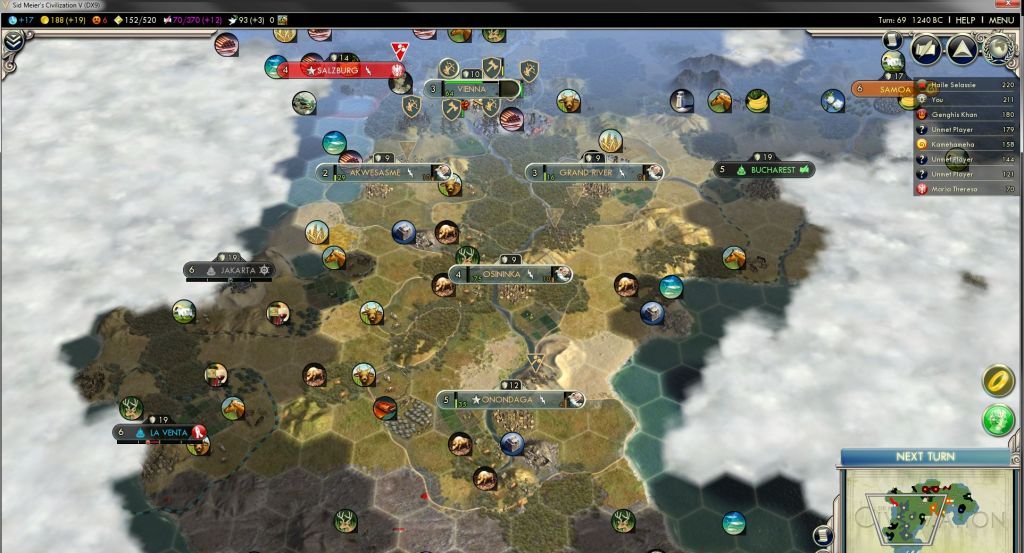 Tech path :
construction-writing-BW-philo-IW-Metal Casting

Policy order :
Aristocracy
Oligarchy

/
/

After libraries, i usually finish a shrine or 2 and start on granaries. I will rush buy 1 or 2 more units if needed into wars. But the most important are cs allies. These cs can help your civilization to grow at a faster rate. While finishing NC(with the help of Aristocracy) into Capital, it's time to see if there is some iron. Good for you if you get some! I can stop granaries and build some warriors if i find more than enough.

After finishing granaries and extra buildings/units, you can start building workshops. With the Tradition finisher, your cities will grow at lightning speed and build everything faster. Add a worker if you feel that you will be late for improvements. Your civilization is now well rounded to achieve any path of glory!
----------------------------------------------------------------
At Prince or below, getting gold can be a lot more difficult. Build a 2nd settler from capital and buy only one.
At Emperor or below, you can go for writing and philo before construction. Archers will be sufficient for defense(build 3-4 of them) until construction.
At immortal or below, you need a minimum of 4 CBs to ensure good protection for 1vs1.
At deity, it's better to get 6-7 CBs.