Joined

Jul 7, 2003
Messages

3,530
Location
Ok i cant take it anymore...
I have to figure out the secret of
YUMBO!
.
CT's obviously not going to help and i think all the beta testers are not either. So I propose a team to figure out the secret of Yumbo. Right now all we know is:
1. If you go to the very end of the credits it says YUMBO!
2. CT posted a pic showing Yumbo: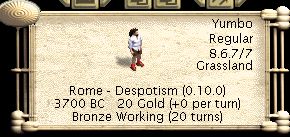 CT also mentioned that the stats have something to do with it. (Reason why its a powerful unit) BTW, Thats not her picture, nor mine.
Assumptions:
1. Yumbo is an acronym or Sids nickname.
2. The stats are a date. 8/6/77 or 8/6/07.
Elvis died on 8/16/77. So we might be on to something.
If you set your computer clock to Elivis Birthday instead of a king unit you get Elivis.
OR That is the date civ4 will come out...
Any help is welcome. I could also use a few more members so that when the Yumbo Reaserch Team figures YUMBO! out you'll be one of the few that get credit for it. (That is of course you contribute)
Current Members:
vbraun
Gogf
Just a Note: If youre the single person who figures it out you get the credit but if you used information gathered by the Yumbo Reaserch Team you then get half the credit.