Joined

Apr 19, 2005
Messages

158
Location
Tạ Dọc Thân said:

Whether they knew it or not, Holnists were confronting a timeless problem. It is impossible to tell an audience what has happened without also influencing how they feel about it. – Media and Modern War
Notwithstanding the near-catastrophe of 1973, Israel and Iran more or less ran the Middle East table from the late twentieth century forward, acting in concert themselves, or with the United States, to blunt the ambitions of neighboring states.
In early 1979, the Shah was dying of aggressive cancer, and Iraqi strongman Saddam Hussein thought he saw an opportunity to meddle in the succession. But Iraq's Intelligence Service was inferior to SAVAK in every way, and attempts to stir up pro-Communist sentiment failed, triggering an Iranian ground invasion that quickly gained the northern third of Iraq as a Kurdish homeland.
The U.N. spoke airily of experiments in national reconciliation, but retaliatory pogroms gripped the new Kurdistan Republic and two hundred thousand Iraqi Arabs fled its new capital of Mosul hot on the heels of the retreating Republican Guard. Among them was the extraordinary Essa family.
Awad Essa had been a conservator of manuscripts with the University of Mosul, but a vehicle wreck during the escape to Baghdad left him unable to work. Second son, Boualem, joined the army where he earned assignment to an air defense unit and trained under Soviet advisers sent to rebuild the Iraqi armed forces. Radar operators trained for three months in the Soviet Union, where Boualem saw his first computer, an Agat-7 micro-terminal.
Through black market trades, Boualem acquired an RCA Cosmo personal computer and a word processing program in the form of a ROM cartridge. Boualem's son, Gulzar, built and rebuilt the machine for the year it took to buy writable memory, at which point the real work began: digitizing the text of centuries-old documents their family patriarch had taken with him into exile.
Patriotic feeling had run dry among Gulzar's generation, and an uneventful conscription did not tempt him to make soldiering his career, but as a typist he made it onto a colonel's staff. That colonel ran interference with the United Nations on behalf of his political masters, and from those diplomats of the Mongkut School, Gulzar learned of the opportunities available to the descendants of war refugees like himself.
Gulzar Essa at training in France. Data Services personnel abandoned the standard togs of other mission branches in favor of uniform blouses and berets.
​
To grasp hold of the future, Gulzar first had to cut ties with the past. Enormous bribes and genuine transit papers provided by one of Boualem's former commanders took Gulzar northwest across the border into Mandatory Syria, then on a passenger flight to Marseilles, home of the United Nations Interlink.
Data services were the fiefdom of a Tạ Dọc Thân, a notorious martinet who used paramilitary language and stylings whenever his superiors were looking the other way. To Gulzar's surprise, he was taught less about the fundamentals of database management or electronics repair than the politics of popular memory. Thân, he noticed, had a taste for length. No documentary was too long, no memo too detailed. He delighted in knowing things that other people did not and once explained to a packed classroom that Data Services existed not to determine what should be stored in
Unity's
computer systems, but to know where to find what was.
A Data Services technician completes production of one of the 973 million hard disks that will deliver instructions to the Stasis and Fidelity Emergency Control System, the "brain" for all shipboard hibernation functions. With these instructions, colonists experiencing medical emergencies would receive a lengthy menu of automatic interventions based on declining vital signs.
​
Thân's leadership aboard
Unity
was decisive. He knew his purpose: defense of the Data Core, and abdicated other duties in its favor. For terrified subordinates like Essa, it was the obvious choice: a leader committing to remain with his people when he was most needed. They would not attempt to respond to what was happening ship-wide, Thân explained, and would instead fall back to tending the only machine that really mattered. Whoever was left, they would surely perish without the fund of knowledge held fast in the Data Core.
Gulzar Essa killed his first man for Tạ Dọc Thân in the sixth hour of the Disaster. A Holnist broke into one of two electrical closets abutting Memory Hall ψ. From concealment, Essa shot the man in the side of the head and recovered his rifle. In the finest traditions of the Data Services Division, he organized the defense of his position under heavy duress until the enemy's resolve flagged.
Brevet promotion followed, and once Planetside, Essa looked to reunite with the mentor he had come to idolize. Only then did he learn the terrible truth: the great man was dead and the Data Core lost—fallen, perhaps, into unfriendly hands. In Thân's place was a lieutenant, Sathieu Metrion, with a problematical interest in second-guessing his dead master's decisions.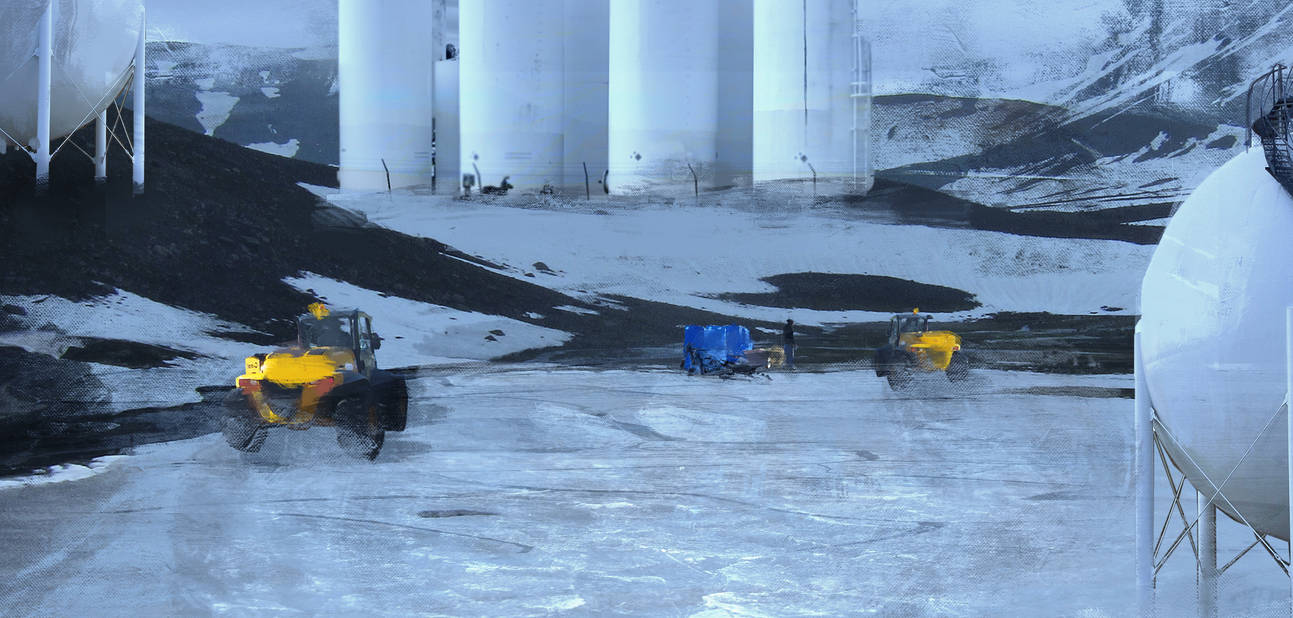 The Tomorrow Institute divided its energies between two objectives: accumulation of the inputs necessary to operate the largest computer system on Planet and recovery of the information to be stored within. "Forklifts and bullets" was Sathieu Metrion's clear and unhesitating answer to that infamous first question broadcast to the Planetary Network by Nwabudike Morgan: "What do
you
want today?"
​
Tạ Dọc Thân said:

A librarian is a field guide, not a creator, and certainly not a curator. There is no decision about what to take, only the most precise attention to where it will go. – Ancient Architecture
Sources:
Gulzar Essa is represented by Seth, a character from the first entry in the long-running
Command & Conquer
series from Westwood Studios.
Computer image is from IBM, included in
this
Business Insider
article from 2016.
Forklifts picture is "research" by Darnok9 on DeviantArt.