Joined

Oct 18, 2003
Messages

63
Location
This is the scenario I said I would release months ago, sorry it took so long but there where many problems that had to be sorted.
I would like to thank the creators of all the units I have used without asking their permission, or even bothering to remember their names.
This is C3C scenario only.
The map I used is the giga map of middle earth posted in the map section. The map size is 362 by 362.
Heres a Pic.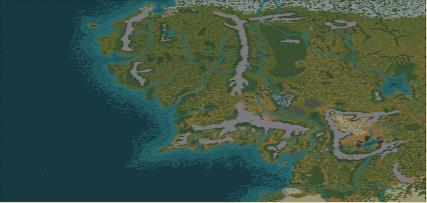 You may choose to be one of four civs:
Gondor
Rohan
Isengard
Mordor
There are 12 more unplayable civs which include
The Harad
The Lonely Mountain
Umbar
Rhun
Dale
Playing as Gondor:
The object of this scenario is to safely guide Frodo (Thermo Nuclear Weapon) to Mount doom (Minimum firing distance) and drop the ring into the crack of doom ( bombard Barad-dur and kill the Sauron King unit) Thus destroying the power of the dark forces of mordor.
Note: Some boats have been provided to help the fellowship sail down the Anduin to the falls of Rauros.
To survive the onslaught of Mordor You will have Take Aragorn, legolas and Gimli through the pass of the dead in order for you too wake the army of the dead and bring them to the City of Minas Tirith. From there you fight off the forces of Mordor and chase them to the Black Gate where you will fight the final Battle of the third age.
Note: Gimli is able to build roads enabling you to gain access of the dead warriors trapped in the White Mountains.
Playing as the other players:
Destroy your enemies.
OK, this scenario isn't working as well as I'd wanted it to be but if I don't release it now I probably never will. So I would appreciate any helpful hints.
Here are all the files, you will also need to download kinboats Balrog and Black Dragon these units where far too big too add here. When installing, just stick the first file in the scenarios section and the other files are just units that you can put in the unit folder of this scenario.
http://www.civfanatics.net/uploads6/FOTR.zip
http://www.civfanatics.net/uploads6/Units.zip
http://www.civfanatics.net/uploads6/Units2.zip
http://www.civfanatics.net/uploads6/Units3.zip
http://www.civfanatics.net/uploads6/Units4.zip
http://www.civfanatics.net/uploads6/Units5.zip
This is Black dragon. When downloading, make sure you put the dragon's sounds into the unit folder.
http://www.civfanatics.net/uploads2/Black_Dragon.zip
http://www.civfanatics.net/uploads2/Dragon_Sounds.zip
Here's the Balrog
http://www.civfanatics.net/uploads3/Balrog_Part1.zip
http://www.civfanatics.net/uploads3/Balrog_Part2.zip
P.S. Sorry there so many downloads