Download Link contains half of this leaderhead pack, download the second half here:

http://www.civfanatics.net/downloads/civ3/civs/neanderthals02.zip
Civ Name:
The Neanderthals.
Bonuses:
Industrious and Expansionist.
Title and Leader Name:
Primogenitor Ingo.
Favorite and Shunned Government:
Despotism and Democracy.
Aggression Level:
05 (too high).
Culture Group:
Middle East.
Noun:
Neanderthals.
Adjective:
Neanderthal.
Default and Alternative colors:
Brown and Purple .
Unique Unit:
Cave Man
Civilopedia entry:
RACE_NEANDERTHALS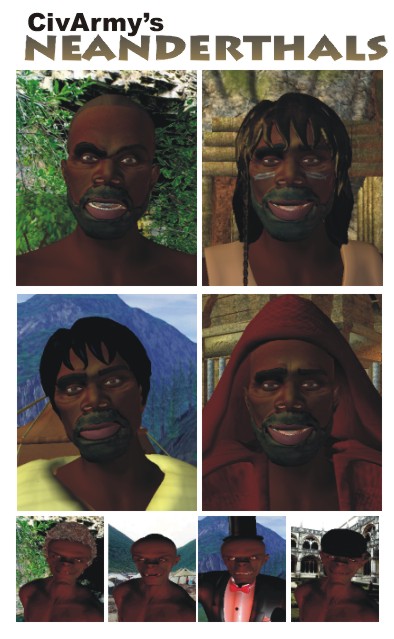 Military Leaders:
Lucy
Scientific Leaders:
African Simio
Homo erectus
Homo habilis
Homo sapiens cro-maignon
Australopithecus afarensus
City Names (sites where them bone were found):.
Shanidar (the race born in Middle East, so the capital must be there)
Zuttiyeh
Amud
Tabun
Dzhruchula
Kiik Koba
Staronselye
Teshik-Tash
Krapina
Kulna
Saccopastore
Monte Circeo
Neander
Spy
St. Cesaire
Le Moustier
La Quina
La Ferrassie
Arago
Bañolas
Lezetxiki
Pedreias de Forbes
Arcy-sur-Cure
Far East
Lascaux
Gibraltar
La-Chappelle-aux-Saints
Molodova
Terre Amata
Bruniquel
La Ferrassie
Dranchenlock
Regourdou
Basua Cave
Atapuerca
Brno
Mladee
Pavlov
Skhul
La Naulette
Saint-Césaire
Hortus
Cova Negra
Le Lazaret
Grotte du Prine
Cariguela
Agut
Macassargues
La Masque
Rigabe
La Crouzade
Les Peyrards
Bau de l'Aubesier
Zafarraya
Fond-de-Forêt
Civilopedia:
The spice
Homo neanderthalensis
born in Middle East in 100.000 b.C. and disappeared around the 35.000 b.C. These dates are refuted by some scientists, some of them says the Neanderthals survive until 10.000 b.C. and trade instruments with the modern men. These dates are so polemic that some people believe they were not dead, they are alive in some parts of the Planet that do not has contact with the "Civilized World", like small villages in Himalaya or they are alive in our genes, result of the crossing with
Homo sapiens
in the past. The causes of the extinction are not clear until today, maybe a strong flu present in humans and fatal to Neanderthals, caused it.
Neanderthals is not the ancestor of the
Homo sapiens
specie. Scientists believe the natural causes, like the ambient temperature, were the reason of the birth of these two species. They are stronger than present humans and have more piles, their brain is larger than ours, but was not so efficient to communication between members of the same specie.
Neanderthals inhabited Middle East and Europe, they lived in small groups, formed by families and were nomads. Some scientists says they used instruments did with stones created by themselves, others disagree. The first fossils were discovered in Neander Valley, Germany in 1856.
It is a fantasy civ, so the leader names and the bonuses are fake. So, I considered this race Expansionist (they were nomads) and Militaristic (because the image of the wild cave men, hunting bravely). You are free to choice your combo.
Civilopedia, Cave Man (UU):
Replace standard Warrior, they have these characteristics:
- Cost 20 shields, instead 10.
- Attack: 03, instead 01.
- Defense: 03, instead 01.
- Upgrade: none
This Civ does not produce any foot unit until the Industrial Age. Cave Man is a powerful unit that hunt human when the game starts. Few human units of Ancient/Middle age can defeat Cave Man, they must attack in larger groups to defeat few Neanderthals units. The Cave Man is really stronger, if the humans found a Neanderthal city, they must destroy it the faster possible before this city turns a centre of production of wild hunter.
Icon

Attack
Death

Fortify

Default
Victory

Run