Joined

May 20, 2003
Messages

409
Location
Here is a walk-through of my recent warlord game.there are some tactics and advices for players who want to play milking games.This write up is for low diffuculty level games.Maybe some of the tactics dont work on games higher diffuculty level than prince.

.And my English is not very good.

First of all my game settings:
Leader :
Asoka -- I am the only guy who submitted a HoF game with Asoka for low diffuculty levels.Common is Julius Caesar is the best leader of the game.BUT it is not.

.Asoka is Spirutial and Organized .Organizad is good for %50 civic up keep..Most important properties for Asoka is No Anarchy and Fast Workers.No Anarchy is good for civics.Changing civis is a big problem.in anarchy we get nothing(no food ,no production,no points.).if you change a civic at the late part of the game you lose 5 turns means at least 10k points.and Fast workers (+3 movement) ; it is the most important unit after Pretorians.(for me it is the best

.).
Opponents : I always pick them random.i dont want to lose time for changing them.But if you really want an advice ; choose a leader without scout.
Map type :
Balanced --I think it is the best map type.more resources are always good for milking.
Map size :
Huge for more land and population means bigger score.
Climate:
Tropical -- For maximum food
Sea Level :
Low --my earliest games i always use medium sea level.but by accident i began a game with that setting.İ realize that it has more land.For medium sea level land is 2400-2500 (i think ),but for low level 3200-3300 (i think).bad part for low sea level map is the deserts and mountain groups..if your starting position is in the middle of them just quit the game.
Game speed :
Marathon --The slower the speed the easier it is to conquer the AI's and bigger early points.
No barbarians (no time for terrorists

.) and no cheating.
Lets start the game ;
I start the game with a warrior and a settler.Normally we just build the first city and begin the game.BUT i didnt do that.Every game i play i use the settler for exploring.First i thought losing turns is very bad for early points but it was wrong.Because game is too long .And the benefit of exploring is too big.Getting a worker , settler or a scout make the exploring easy.
First i use the warrior and settler for exploring the map.My first hut gave me a worker.i think it changes the rest of the game.Worker has +3 movement and exploring is too easy .i was very lucky for the rest of the game.before i built my first city i got 2 scouts ,2 workers nad 193 gold from the huts.As you know you never get techs from the huts before your first city.so i had to build my first city .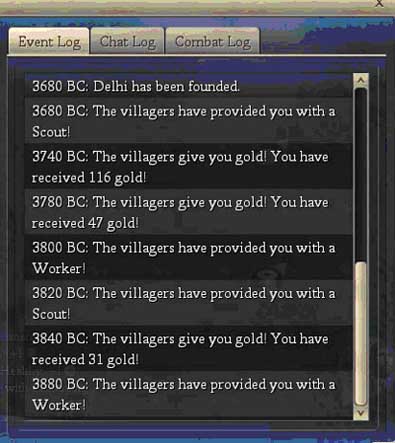 Before my first city​
I explore the map for 17 turns for huts.I found a suitable location for my first city.I choose that location because of two reasons.First lots of forest to chop; and the second is flood plains near the city.For the starting position flood plains with forests and without deserts are the best choice. they give -2 health.so you need resources for health.But try not to trap between mountais and deserts.
I never think about health or happiness.because of the diffuculty level you dont need health or luxuries at the early times.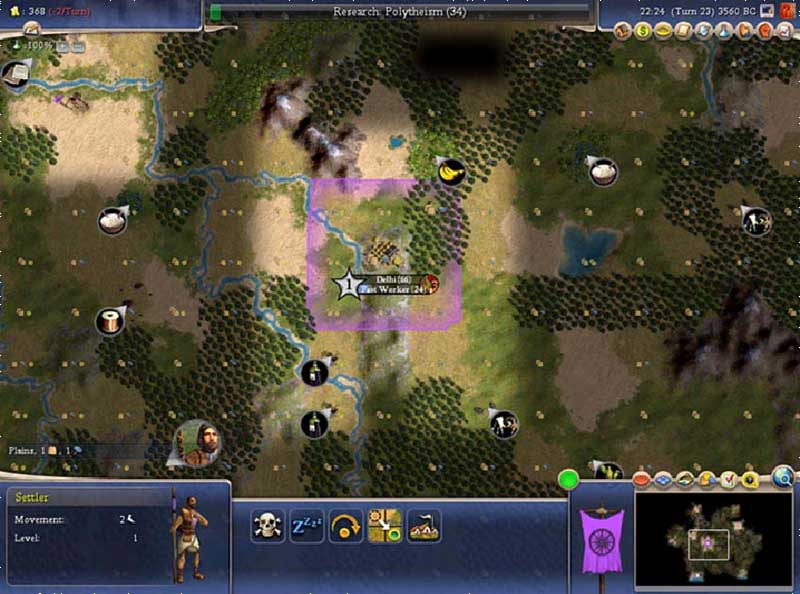 My Starting Posion​
I build my first city at 3680 BC.My exploration was damn too fast.3560 BC i got 2 Settler ,3 workers ,2 Scouts 368 gold and a warrior.I think it is a very very good starting .i didnt use the settlers for cities.they were expoloring with rest of them too(look at mini map.).i got 2 techs from huts.one is Fishing (3660) and the other is Bronze Working (3560).i got the Bronze Working just after my first city and that was my key for my fast expanding.
After Bronz Working ; I started chopping.Every city I built ; first one worker and than a settler.After I chop every forest around the city than start for granary.
Huts :
My experience ; if you are fast and lucky enough you can get 30 huts.For a good game you need at least 600 gold.(just before researching Currency.).Lack of gold kills your reasearch and expanding.
Getting worker and settler from huts is only for warlord and lower levels.
[
Before 3400BC and Free techs before Polytheism.​
As you see everything is about huts..
At 3380 BC I got 4 cities and researching Polytheism.
Expanding :
Fast expanding is the key for a good score.But city maintenance is the biggest problem.So you have to check for your tech <--> gold balance..Try to build your cities near rivers and flood plains. it gives your +1 gold per tile and +2 health for the city.and you will use +1 river tiles for cottages. Always place cities as close as you can.. Try not to get deserts and mountains and hills.One of the important thing is get as many coast , ocean tile and lakes as you can.Because they are not in the domination limit.
* * *
*
*
*
* * *
Red is the capital.I always use that kind of city replacing.
Early Game Techs :
As you know every player has his tech priority.Every player use different ways.In this game my tech tree is very simple.Always Bronze Working is the first tech.Polytheism is for early religion.You may choose Meditation but AI always get this first.So dont waste your turns.

.My first goal is Currency.As i said lack of gold kills our reasearch and expanding.Currency gave me 25 golds per turn (i dont know the exact number).and it helps me alot.
Continuing..
1970 BC i got 19 cities and 31 workers.my score was 51000 points.And researching Mathematics.i have 663 gold .At %40 reasearch rate i was losing 15 gold per turn.At this point i needed more golds.so i started to build cottages on flood plains.I never build cottages on tiles which can irrigate.
My map is very good.I have no jungles around my starting position ,have lots of fırests.coast shapes are good for cities and opponents are far away.
But there are two bad thing about my map.First I have no marble and map has no marble.second I am in the middle of the mountains and deserts
My last three games I have no marble in my maps.I don't really understand it.I think I have a bad luck about marble.
Lack of marble effects only '' Hagia Sophia ''.After researching Banking and Code of Laws ;I always change my civics to caste system and merchantaism.Banking is the milestone of the milking phase.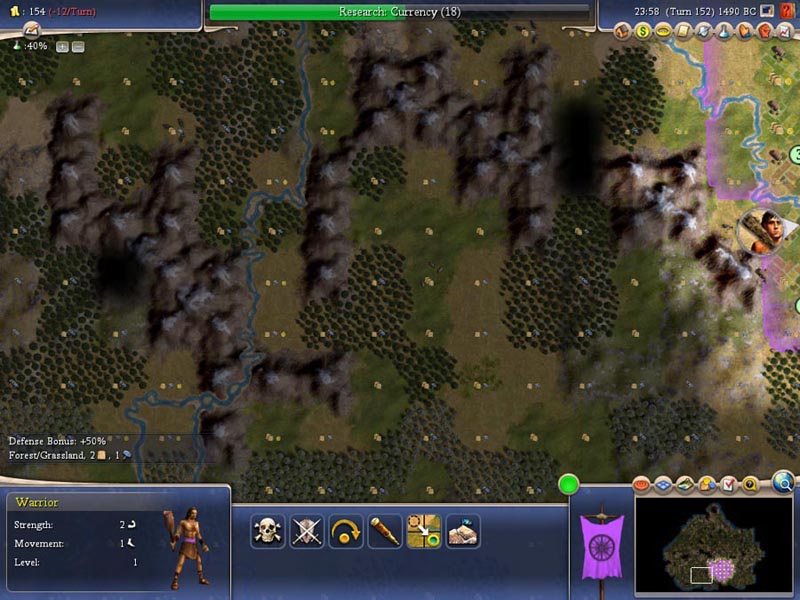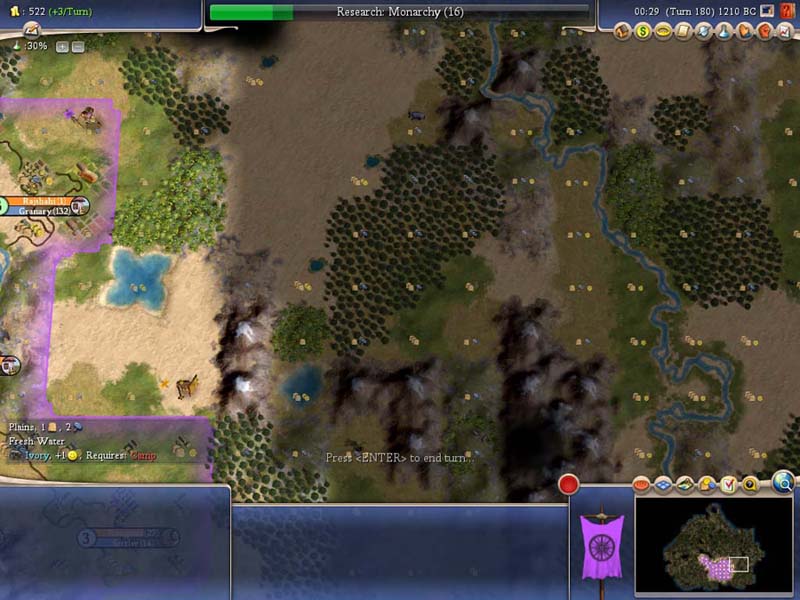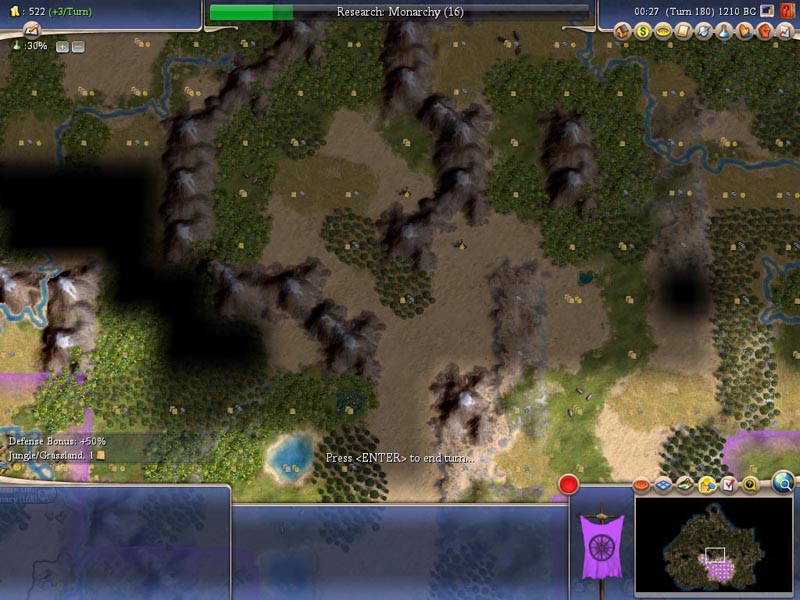 ​
As you see from the screenshots north, south ,east part of my map is full of desertsand mountains.they blocked my expanding direction. My headache ;mountain and hill groups.My expanding was stopped because of them.i can only expand to the north-west.that means losing more gold to the maintenance and can do nothing about it.
I started to expand to the north-west.Shape of my land is not good. Maintenance became too dangereous .Every city i built took 6-8 gold per turn.After a few cities i stopped expanding ,wait for Currency.My tech drooped %30 and i was losing 9 gold per turn.i focused my land improvement.I irrigated many tiles after Civil Service.
As you see At 1490 BC i got 18 turns go get the Currency and i was nearly run out of gold.I was trying to get gold from cottages.i nearly built cottages every non-irrigated tiles and every flood plain.i nearly irrigated every tiles near rives and lakes.At this time i dont have happiness and health problem.I got 5 health and 1 happy bonus.
I got Currency 1290 BC.And after researching currency i got 600 golds from the other guys and +25 golds per turn.
With 600 golds i was the king.I just built a few cities and changed my tech goal.Monarchy and Feudalism are my first goal.
1150 BC i was researhing Monarchy (9 turns) .I got 544 gold and +3 gold per turn with %30 tech rate and my score is 151 K.I nearly built cottage every tile and i built two cities to the north-east .
950BC i was reaserching Feudalism ( 19 turns).I got 670 gold and +3 per turn with %30 tech rate .my score is 172 K.​