Archiving Civ3 Content
Moderator
Supporter
Joined

Mar 17, 2007
Messages

7,719
Location
Screenshot status (2022):
Due to Photobucket watermarking hotlinked images, and Chrome and its derivatives not displaying HTTP images, many of the images are not displaying as intended. I am in the (very slow) process of re-uploading them to my own site. In the meantime, the first 30 sections are available in downloadable format, with links below the Table of Contents. You can also download the entire story (with images) at the
Civ Archive
, which is the recommended format for the time being.
Resoration status:
Parts 1 - 30 are fully restored!
Parts 31 - 96 displaying with watermarks via Photobucket
(Post #153 needs save uploads restored, but is out-of-story)
---------
After playing Civ 4 for more than a year, I decided to head back to Civ III and give conquering the world one last chance. I actually achieved this once with Rome on Chieftan, but that was only about a month into my experience, so it was time for a more difficult conquest. Thus:
Map: Huge Earth, modified to have 31 civs of about-equal strength. The last time I conquered the world there were only 16 civs.
Victories: Conquest!!! Time is also enabled (forgot to turn it off), but I'll ignore it if it comes up. So is Domination, so I can better see how I'm doing, but with 99% land and pop needed to win it, I don't think I'll get it

.
Difficulty Level: Regent. Could've tried Monarch, but decided not to.
My Civilization: Greece
My Starting Location: New Guinea. I set up the map so I'd have this spot for sure. Didn't want a really easy start.
Settings: This map has
no corruption
. I don't want to have a world with 90% one shield cities!
Table of Contents
- Opens in a seperate tab. Give it time to load, and it'll take you to the correct part.
The first thirty sections are also available in downloadable HTML format for offline or story-only viewing. Each file contains ten sections.
Part One - In the Beginning
So, in 4000 BC, my situation looks like this:
Nothing too surprising; I settle right where I start. Rather than rush to colonize my rather small island, I begin building The Colossus right away. Might as well have some glory.
I finish the Colossus around 1830 BC and then begin colonizing New Guinea.
By 370 BC, I've colonized the whole island and have a skilled Spartan army: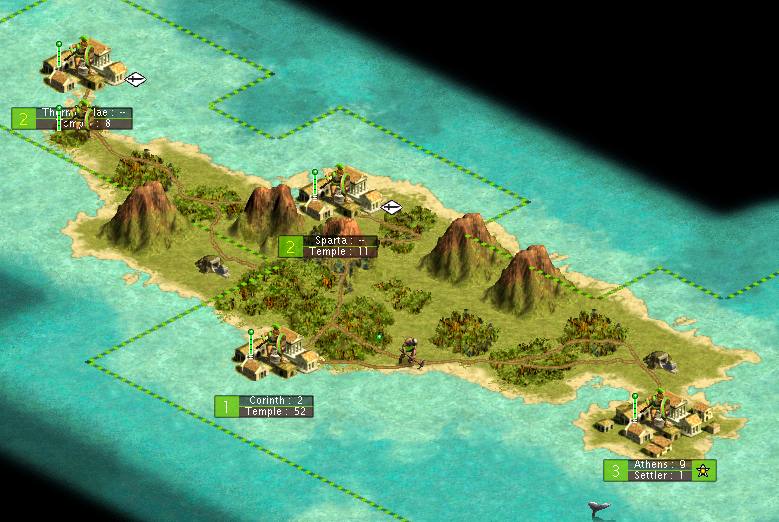 Unfortunately, it doesn't look like I'm set to dominate:

Knowing I'll have to expand elsewhere, I've focused my research on Map Making. During the next few centuries, I explore the neighboring coasts and train some Archers and Hoplites. I find my neighbors to be the French in Eastern Australia, the Dutch in Sumatra, and the Russians in Western Australia. I then set out to colonize my nearest neighboring island, Borneo.
But the Dutch got there first: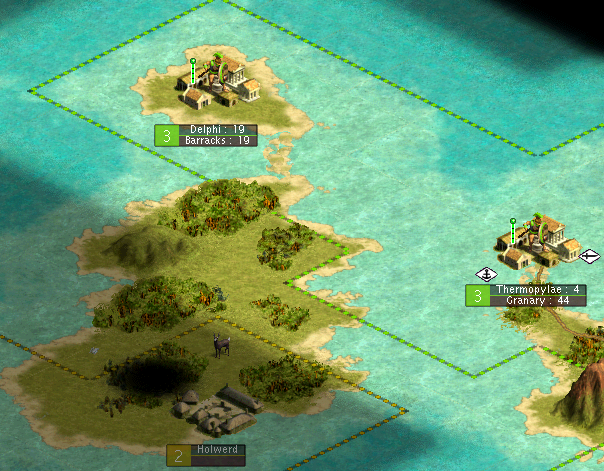 At this point, it's 300 AD. I've assembled a nice force to invade the French: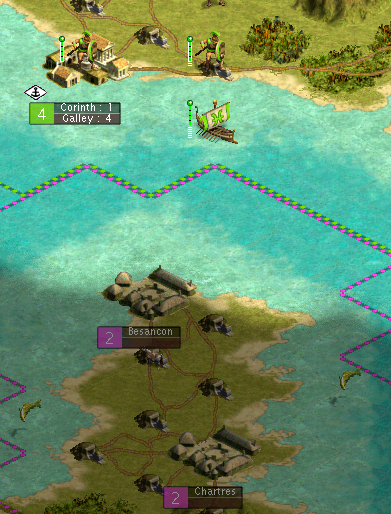 ...but I'm starting to think maybe the French aren't who I want to invade. I'm also keenly aware that the Dutch will get Swiss Mercenaries, and as I'm behind on technology and without iron, I'll have no way to stop them once they get Feudalism. Thus, I tell my troops to march northwest towards the Dutch. The invasion has been changed!
In 380 AD, I launch my invasion. Statistically speaking, this isn't the best idea ever. The Dutch score may be third in score, but they're first in power: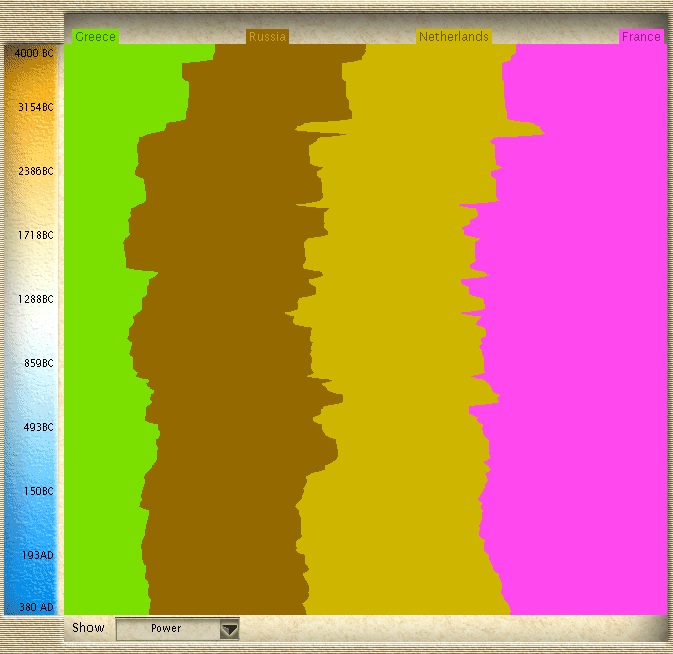 Nevertheless, it's just a short hop across the channel, and with 4 Archers, 4 Hoplites, and 4 Galleys, I'm feeling pretty good about this. I've even caught a worker outside the city.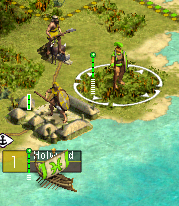 Usually I'm the person sending in 8 Archers, offense all the way, but with Greece I decided to use some hoplites. Fortunately I only lose one archer and the invasion is a success. The city is razed, and Greek settlers are already being trained to replace the city.
Somewhat inconveniently, the Dutch slip a ship past my Galleys and land a Spearman and Settler on Borneo again. Without any Archers beside them, I let them build a city, and then raze it the next turn. Short comeback.
After getting a few more archers to Borneo to replenish the lost, it's time to advance again. The choices are Sumatra, on the mainland on this map and the location of the Dutch capital, or Java, where there are gems. As I'm deciding, my scout galley off the Australian coast notices Dutch troops landing by a Russian city. Somehow this doesn't look like a nice friendly exploration group. I build an embassy in Moscow and check with my foreign advisor: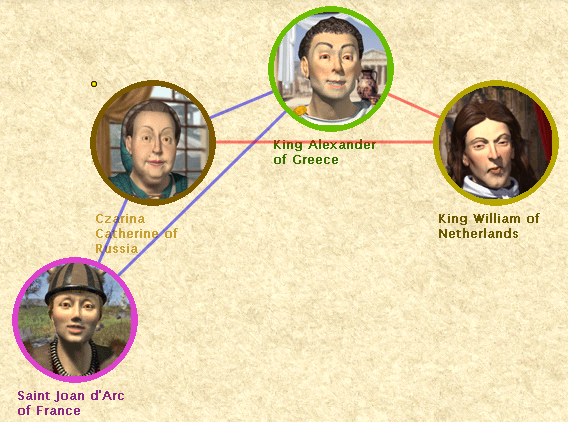 The Russians and Dutch are at war! This is looking much better than before! Still, I have to win the war before Feudalism. Seeing as the Russians are already targeting Java, I aim my next attack at Amsterdam, the Dutch capital on Sumatra. By now the year is 460 AD.
Taking full advantage of my unique unit and my enemy's terrain, I land my troops to create a double-blockade: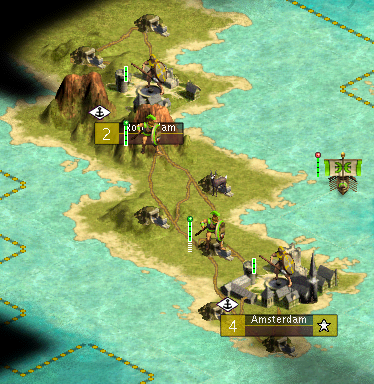 I don't attack immediately, instead ferrying across a few more archers. Meanwhile, the Dutch target the northernmost Hoplite. He defends the mountain pass mercilessly, and kills at least 6 Dutch archers.

Even better, he starts a Golden Age!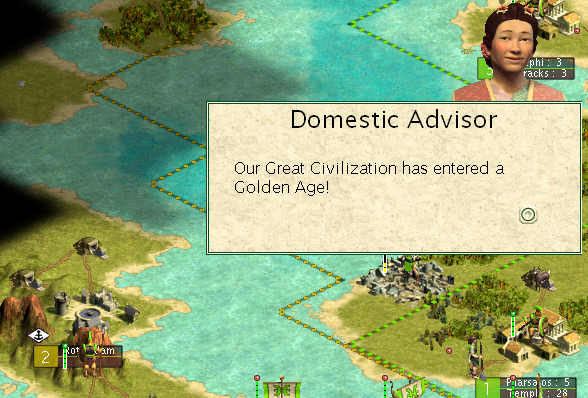 The attack on Amsterdam goes more smoothly than expected and casualties are low! The city is taken easily. About the same time I start a revolution to adapt my new government of Monarchy. The stalwart Hoplite to the north is by now down to 2 of 5 hitpoints, and I ferry across another to help with the blockade while my archers recover. My next target will be Rotterdam, a small town to the north on a hill. I check the tile Rotterdam is on and discover...iron! As the Dutch are already in the Feudal Age, it's of utmost importance that I capture this city as soon as possible! I get my archers in position, and a swordsman appears in Rotterdam.
Now that the Dutch have built a Swordman, I have no time to lose. The year is now 570, and I make my move. My archers launch an all-out assault, and take heavy casualties. Too heavy. They destroy all the spearmen, but when the smoke clears there's that one swordsman, with two hitpoints, left. All I have left is the new veteran Hoplite and my elite 2-of-5-hitpoint Hoplite. I consider my options. I have one regular archer being ferried over. I could wait for reinforcements. Then I realize I'm still in anarchy...that's my only reinforcement! So, left with two hoplites to attack an injured swordsman on a hill, I decide, here goes nothing, and attack with the full-strength veteran...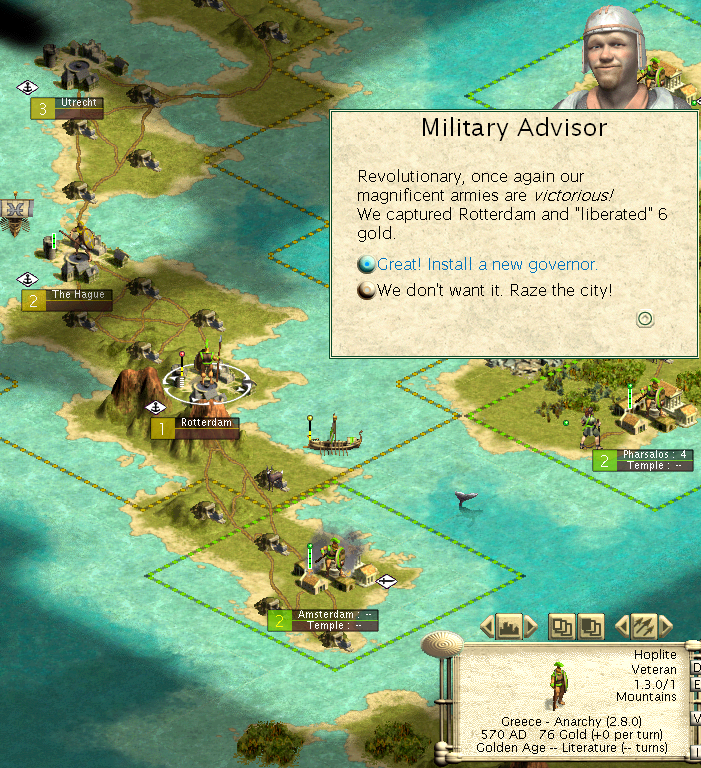 To my great surprise, he wins!

Unless the Dutch have more iron somewhere else, this war is won. I gladly occupy the city. Then...
I forgot that now I'll have iron! It might not be Hoplites and archers until 1200 AD after all!
Stay tuned for what happens next. The conquest has only just begun!
"Even the tallest tower begins with the first stone" - Hamurrabi, as quoted in the Civilization III manual.
Last edited: